Geek Squad: A New Business for a New Environment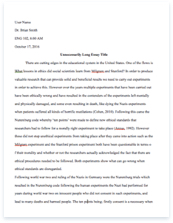 The whole doc is available only for registered users
A limited time offer! Get a custom sample essay written according to your requirements urgent 3h delivery guaranteed
Order Now
Over the past few years technology has changed and had significant impact on the way we live. Almost everyone has a smart phone, regardless of age or social status. We text and email instead of talk, because it faster and convenient. We can rent movies with a click of the button and stream it to our device or home. Everything is based on internet and although prices aren't cheap, everyone can afford something that suits their budget. I have also noticed that our textbook uses bar scan, assuming that everyone has a smart phone to retrieve it. Tablets, which are like mini computers, absolutely took over the market. Even small children know how to operate them. They are easy to use, convenient and have all the things needed in one place. You are able to connect to people from all over the world in seconds. Not only you can hear them, but you can also see them. Things that seemed to be impossible a few years back now are only one click of a button away. The cars are equipped in road maps and phone systems, so it makes our driving more safe and helpful. We probably think it can't get any better, but we are almost guaranteed to be introduced to a new phenomenon at least once every few months.
Question B:
Have you observed other changes in consumers, competitors, regulations, or the economic environment related to consumer electronics.
Along with rapidly improving technology, needs and wants of anybody that is influenced by it are increasing as well. People are changing the way they live, shop and function on daily basics. Our lives are run by technology and make them so much easier. We are able to do so much more in the shorter amount of time. We also are spoiled, because there are a lot of options out on the market, which makes it more competitive place for different companies. They continuously have to come up with new products and ideas, to be chosen as provider and keep to keep their inventions on the market. There are more regulations for privacy and copyrights laws. Everyone has an easy access to all the online data and information, so a lot of the websites and companies have strict regulations as far as using and sharing the contents. According to various resources, the financial situation of our society is getting better, which means an increase in sales and demands for better and newer models.
Question C:
Describe how the changes you have observed in the marketplace might lead to the need for new services.
Marketplace, especially in technology business is growing fast and constantly bringing the new offers to the consumers. As a society we have an ongoing strive for newer and better things. It's a part of the nature and it might seem like a race, but we tend to think that we can always have something improved. We get a phone, but the new model comes out a month later. We are most likely to go and get the new one, because it has more functions than our other phone. Do we really need that new phone? Probably not, but it's the need for the newer and better things that will always be there and rule the marketplace. It is a great opportunity for the businesses to grow and to satisfy the consumer's needs.
Question D:
Are you familiar with Geek Squad? How?
I am familiar with Geek Squad, when I was referred to them when I had an issue with my computer. Best Buy told me I need to drop off the computer at Geek Squad counter and they will take care of it for me. They were very prompt with their answers and got my computer fixed within couple of days. They had answers to all of my questions and delivered better customer service than Best Buy ever did. I'm assuming that they were more informed, since they were not just sales people, but really trained and passionate in technology.
Question 1: As stated in the textbook. Be sure to fully explain your answer.
When Geek Squad got invented by Stephens, there was no business like it. He had no competitors, so it was very easy for him succeed in this filed. He noticed that there are new electronic products coming constantly to the market and not everyone is able to keep up with it. He knew there are people out there that will need help with their fancy new TVs, computers and phones. He also was aware of that this electronic market is constantly growing, so he's idea and services will always be on demand.
Question 2: As stated in the textbook. Be sure to answer in detail both part (a) all consumers and (b) women.
a) When the new models of electronics started to come out, many of the consumers were frustrated on how to assemble parts and devices together and on how to use it. Not every employee at Best Buy was able to explain and guide on how to do so either. People eventually were demanding of that kind of service, which actually decreased the returns of their products.
b) Women now are more into technology and its inventions, so they like to be informed and educated about the products and their functions. After purchases they like their devices to be put together, connected and installed, which Geek Squad is fully capable of doing it all.
Question 3: As stated in the textbook. It may be helpful to create a chart similar to the one. shown below. List the five environmental forces (factors) and identify the trends likely to influence Geek Squad in the near future. State a minimum of two for each environmental force.
ENVIRONMENTAL
FORCE| ENVIRONMENTAL SCAN FOR GEEK SQUADKEY TRENDS|
Social| People love new electronic "toys" and they go with trends. The newer, fancier, easier, lighter product is, the more people would be interested in it. The more the product is talked about and you see all of the people around you having it, you have the need to get it too, often not knowing how to operate it. | Economic| Trends show that median income for women will increase along with the interest in modern technology. That forecast more sales and need for technological service. | Technological| Products that are coming out are only more complicated, which mean more need for help from a service technician. | Competitive| Since Geek Squad establishment, there are new companies that appeared on the market and they are trying to provide outstanding and unique service to the consumer. | Regulatory| GS need to comply with all the law and privacy regulations. They need to monitor it because of the rights for music, movies and software electronic transfer.
Question 4:
As stated in the textbook. Hint: As stated in Chapter 1, Promotion is one of the 4 P's within the marketing mix. Promotion includes advertising, personal selling, sales promotion public relations and direct marketing. State the communication tool(s) and give examples of the activities to be used.
* Use social networking for the promotions and offers (Facebook, Twitter etc.) * Advertise special coupons and new deals on Groupon or Living Social * Offer discounts for referrals in order to generate new consumers * Ads in radio, television and magazines with consumer's reviews * Outstanding ads on cars the technicians drive.
Related Topics