Forestry Industry Impact on Economy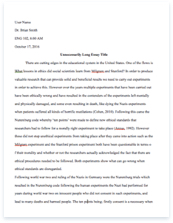 The whole doc is available only for registered users
A limited time offer! Get a custom sample essay written according to your requirements urgent 3h delivery guaranteed
Order Now
What is happening to the Earth? Our home is becoming a barren mass of sorrow. Most people in America are blind to what is going on. Could it be that every individual is just turning a cheek the other way? America is faced with an extremely serious problem, and if it is not acted upon there will be nothing left on Earth. Hopefully, it will still be able to thrive after the numerous accounts of human destruction. Deforestation in America is a huge problem with devastating effects on humans. The root causes of this travesty are mainly the ongoing need to increase America's economic growth and the idea of frontiers. These two aspects of deforestation tie together well. Together they help define the thought process that Americans have adopted through the years. The essential part of a successful country is their economy. America is one of the largest consumer societies on the planet. Why? The need to gain more and more possessions is ridiculous. Since the nineteen fifties, America has seen life through material objects. This has fueled the economic growth in America tremendously. Deforestation is affecting individuals in American society through their need to peruse the consumption of paper products, lumber for homes, heating systems, and furniture. The action that is being taken to solve the negative effects of this ongoing obsession is limited.
The forestry industry is an economic sector concerned with logging Timber trade in the production of Forest Products Timber Lumber primary force in Wood Products and secondary products for the paper industry. Deforestation clearance are clearing as a removal of a forest or Santa trees were land is there for converted to Non-forest use. A few examples of deforestation include conversion of forest lands to Farms ranches or Urban use the most and occurs most commonly in tropical rainforests. the removal of trees without significant reforestation has resulted in habitat damage, biodiversity loss and increases the atmospheric carbon dioxide. Deforestation causes Extinction changes to climatic conditions decertification and displacement of populations as observed by current conditions and in the past through the Fossil Record. According to"" assonance farming is responsible for 48% of deforestation; commercial agriculture is responsible for 32%; Logging is responsible for 14% And fuel would remove moles make up 5%. The D graduation of forest ecosystems has also been traced to economic incentives that make Forest conversion appear more profitable than forest Conservation. many important Force functions have no markets and hence no economic value that is readily apparent to the forest owners or communities that real and forests for their well-being. According to"" deforestation is a contributor to global warming and is often cited as one of the major causes of the enhanced greenhouse effect. Plants remove carbon in the form of carbon dioxide from the atmosphere during the process photosynthesis but release some carbon dioxide back into the atmosphere during normal respiration. deforestation causes carbon dioxide to linger in the atmosphere. overall we the people are affected the most by this.
The presence or absence of trees can change the quantity of water on the surface and the soil or groundwater were in the atmosphere this Intern changes of erosion rates and availability of water for either of echo system functions or Human Services. forestry operations themselves also increase erosion through the development of roads in the use of Equipment. Deforestation on a human scale can result in a decline in biodiversity and on a natural global scale is known to cause Extinction of many species, therefore, forests foster medicinal conservation.
In the US alone, we continue to utilize lumber for building houses and wood pulp for paper. people rely on wood for heating and cooking and Forest products industry is a large part of the economy and. short-term economic gains made by conversion of forest to agriculture or over-exploitation of wood products typically leads to loss of long-term income and long-term biological productivity. the new procedures to get mounts of wood are causing more harm to the economy and overpower the amount of money spent by people employed in logging.
Rapidly growing economies like the United States also have an effect on deforestation. our fastest growing population cause for more homes to be built resulting in more trees and Forest to be taken down.
Related Topics