First Impressions of Beatrice and Benedick – Much ado about Nothing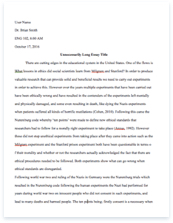 The whole doc is available only for registered users
A limited time offer! Get a custom sample essay written according to your requirements urgent 3h delivery guaranteed
Order Now
In the first line said by either of these characters, we learn a lot about them both. Beatrice is the first of the two to speak when she enquires:
'I pray you, Is Signor Mountanto returned from the wars or no?' – Page 66, Line 23
As Hero explains two lines later, Beatrice is referring to Benedick but she is mocking him. She believes that Benedick is stuck up and through this line she also mocks his pretensions as a swordsman by calling him 'Mountanto'. This first line gives the impression that Beatrice either does not like Benedick or is maybe just pretending not to like him.
As part of the same conversation, a messenger sticks up for Benedick and shows that people trust Benedick. It also shows that he is a good person despite what Beatrice says. This makes Benedick look good to an audience because someone is sticking up for him but it displays a jealous side to Beatrice. She could be jealous that Benedick has someone to defend him and she doesn't, but it may also be that he has chosen to be alone rather than to be with her. This is especially shown when she suggests that a fool's weapon is the most appropriate for him.
'He set up his bills here in Messina, and challenged Cupid at the flight: and my uncle's fool, reading the challenge, subscribed for Cupid and challenged him at the birdbolt.' – Page 66, Lines 29-31
By using Cupid in this little story about Benedick, it shows that Beatrice is thinking about love and Benedick together and also that she is intelligent enough to make up a story so easily. The way she thinks and displays her thoughts could give the impression that she does have under-lying feelings for Benedick but does not want to admit them to people, or maybe not even herself. This is shown even more when the two first meet in the play and a conversation begins.
'I wonder that you will still be talking, Signor Benedick, nobody marks you.' Beatrice – Page 68, lines 86-87
Beatrice is trying to make the point that no-one is listening to Benedick so he might as well stop talking, yet in making the point she has proven that she herself was listening and paying attention to him. This reinforces the idea that she might not even realise her own feelings for him. Benedick's response to Beatrice shows that he can also mock her and may also have some hidden feelings.
'Are you yet living?' Benedick – Page 69, Line 88
This could suggest that Benedick thinks she is living in a dream world and is inquiring as to whether she has joined reality whilst he has been at war. They are both confident characters that are bold enough to banter with each other yet that is only on the outside. On the inside they appear scared and confused of their feelings for each other and because of this their little arguments seem like a 'lover's tiff'. The arguments are caused by tension that the two characters create through their wit and it shows that they care enough for each other to always want to look better and win the banter.
Other people in the play keep their feelings about these two characters hidden and they do not really join in the banter. An example where this does not happen however, is when the messenger is talking to Beatrice and sticks up for Benedick, but other than this, Benedick and Beatrice are left alone when they talk to each other. This shows that other characters may be scared of them because of their anger towards each other:
'Well, you are a rare parrot-teacher.' Benedick
'A bird of my tongue is better than a beast of yours' Beatrice – Page 69 Line 103
However, the other characters may stay quiet because they think it is funny to watch and displays good entertainment. In either case this gives the impression that the other characters hold some form of respect for Benedick and Beatrice.
Beatrice and Benedick both have very strong personalities and they hold together an interesting storyline within the first act. This keeps the audience interested because they make the play have a comical element and this makes them key characters to the story. This is especially shown when Benedick says that Beatrice would ruin the life of any man by scratching his face, and she responds by saying that his face could not be made any worse.
'God keep your ladyship still in that mind, so some gentleman or other shall scape the predestinate scratched face.' Benedick
'Scratching could not make it worse, and 'twere such a face as yours were.' Beatrice – Page 69, Lines 99-102
Beatrice's response here also reinforces the idea that she likes him because when he mentions another man, she makes it him, as if wishing that she were with him and not another man.
In the First Act of this play, I think first impressions play a very big part because they can determine how the rest of the play will turn out. In this case the audience can tell that it will be comical between these two characters, and that it is likely some form of relationship will occur, or at least attempt to occur.
Related Topics