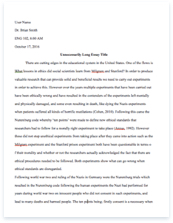 The whole doc is available only for registered users
Pages: 2
Word count: 444
Category: Poems
A limited time offer! Get a custom sample essay written according to your requirements urgent 3h delivery guaranteed
Order Now
1.What metaphors does Holmes use to describe the ship in stanzas one and two of "Old Ironsides"? "The meteor of the ocean air" in stanza 1 and "The eagle of the sea!" In stanza 2. 2.In 1830, the 44-gun American warship Constitution, the inspiration for "Old Ironsides," was scheduled to be scrapped – that is, stripped of everything valuable or reasonable. What proposal is put forth by Holmes, in the last stanza of his poem? In the last stanza he states that if the ship should "die" in a sense then it should sink, the ocean was its home and should be its grave. 3.What do you think Holmes wants the ship to symbolize?
I think that Holmes wanted the ship to symbolize strength and hardship, because he compares it to an eagle and mentions the blood shed there. 4.The term,"Harpies," in line 15 of "Old Ironsides" is an allusion to predatory flying creatures in Greek mythology, which have bodies of vultures and heads of women. The name meant "snatchers" or "robbers." Why do you think that Holmes uses this allusion in his poem? I think that he wanted to get an image to represent the people who are trying to strip the ship of everything it earned and represented. 5.In Longfellow's "The Tide Rises, The Tide Falls," how does the title foreshadow the fact the traveler will not return? This title foreshadows the fact that the traveler wont come back because a tide comes and goes and if a person was described as a tide then they would surley be either leaving or going.
6.Do you think Longfellow's poem is about one specific traveler, or could it apply to all in general? Explain your answer. I think that this applies to all in general because he is trying to say that a tide is never ending it will always leave and come back but a person won't, there is nothing uniform or repetitive with people like it is with an ocean tide. 7.Personification is a figure of speech in which an object or animal is given human feelings, thoughts, or attitudes. Cite an example of Longfellow's use of personification in "The Tide Rises, The Tide Falls." In this peom the author personifies the ocean, and the waves, he says the ocean calls when darkness falls and gives the waves "hands" that remove footprints from the sand. 8.How does the division into stanzas reflect the passage of time in the poem? Example: Stanza One presents twilight darkening into night. What do stanzas two and three represent? The second stanza represents night fall, while as the third represents morning or afternoon.
Related Topics