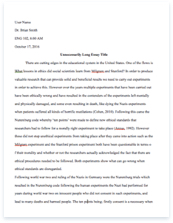 The whole doc is available only for registered users
A limited time offer! Get a custom sample essay written according to your requirements urgent 3h delivery guaranteed
Order Now
The Film Miss Congeniality (2000), directed by Donald Petrie, attempted to show typical stereotypes of women and show how they can be disproved and unfair in a slightly dramatic and comical way. This holds true throughout the whole movie. The film shows a typical tomboy whom no one notices to be attractive change into a stunningly beautiful woman that most definitely everyone notices. This happens because Gracie Hart (Sandra Bullock) who is at the bottom of the ranks in her FBI division takes on an assignment that changes her life and how every one of her colleagues view her. The assignment is to go undercover at the Miss America pageant to find out and try to prevent someone from doing terrorist acts at the pageant. Agent Gracy Hart is then forced to become Gracie Lou Freebush "a.k.a. Miss New Jersey? so get an inside position in the pageant. Because of her doing this assignment, everyone sees her beauty and she does an excellent job against everyone?s beliefs and catches the terrorist in the act.
The genre of this movie takes the taste of three different types of movies and blends them cohesively together to make a somewhat dramatic action-comedy. John Belton describes this type of comedy in one of his works. It talks about women in the workplace rising up to show everyone they are just as qualified as men. Belton says, ?In Working Girl (1988), the traditional office hierarchy (the status quo) is upset when a lower-class secretary, Tess (Melanie Griffith), puts together a big deal without the knowledge of her upper middle-class boss (Sigourney Weaver). Working outside the prescribed system, Tess pools her efforts with an upper middle-class male executive from another company (Harrison Ford).
Together they create an ideal business team, which functions more efficiently and effectively than any pairing within the existing system. This new order, which democratically combines members of different classes, ultimately triumphs over the old, more hierarchic, stratified system. Thus, the film celebrates the comic virtues of independence, innovation, and a willingness to break the rules? (Belton, 138-139). This is a very similar situation as the one Sandra Bullock and Eric Mathews (Ben Bratt) have with their FBI jobs at the pageant after the chief tells them to pack up and leave. They instead stay and catch the terrorist proving they were right. Despite this obvious comical stint in the movie, there were many controversial topics also relative to the movie.
The first of these topics involves race. Despite this being, a very subjective movie to who you are or how you look, race was not an important subject in this movie. There were never scenes that depicted any racial remarks or actions. However the next two topics of discussion were prevalent throughout the movie.
Class was a major issue in this movie and was somewhat influenced by gender and vice versa. There were many examples of in the movie. The obvious one is how Sandra Bullock?s boss is always putting her down. One of the scenes shows her bringing food for all of the other agents as if she is a pledge. In addition, she is sometimes reprimanded and seems to be the scapegoat for many of the happenings around the FBI team. Moreover, at first no one believes her at the pageant when she tries to tell her boss that the real bomber was not caught and was still there. No one listens and the agents leave but Bullock, knowing the threat is still there, goes against orders and stays.
These are all obviously a result of her class and gender. Her Job as an FBI agent is a male dominated area. In addition, her being new to the team puts her even farther down the totem pole in the class issue. This is described in Crook and Martinez. ?It also links these concepts to biology to imply that the rankings are fixed, permanent, and embedded in nature. That is, dominant groups define race, gender, and sexuality as dichotomies, where, whites, men, and heterosexuals are deemed superior? (Crook, 21). However, these are not the only interesting topics of the movie.
Another obvious topic is that of sexuality. Bullock goes from being an unattractive tomboy to a stunningly beautiful woman. Because of the change Bullock starts to catch attention everywhere she goes. According to Roger Ebert ?, and that after Bullock's transformation, the scales fall from Bratt's eyes and he realizes, gosh, she cleans up real well? (Ebert). As you can see from Ebert?s comment this is when the love interest between Bullock and Bratt begins. Despite all of these topics, the biggest one of the movie is yet to be discussed.
This biggest topic is that of stereotypes, which is the main argument of this paper. To begin with, a stereotype is particularly resistant to change; it keeps us from seeing the truth, should the truth be at odds with our beliefs (Crook, 45). Ceteris paribus, then, a stereotype is a bad thing because it is unfriendly to the truth (Crook, 45). This makes it very clear on how to think of a stereotype. Most often, they are bad, as in the case of this movie. The three main stereotypes of this movie are directed at women. The tomboy being unattractive is one. However, Bullock proves this wrong when she goes from FBI agent to beauty contest finalist (Ebert). Another stereotype directed at women is that women are inferior in the work place and cannot do their job especially in a law enforcement related position. Once again, Bullock pulls through and disproves this stereotype by going against orders and trusting her gut to stay behind and find the real threat when no else feels there is one. The other stereotype is that of beauty pageant contestants being stupid and air headed. Bullock was anything but that and as a result disproved this stereotype as well.
In conclusion Bullock was a great inspiration for all people especially woman and girls. She did many great things when everyone was against her. She defeated a lot of the typical stereotypes women face. She also showed that no matter how tough it gets if you believe in something you can do it whether or not any one wants you to or believes you can.
Works Cited
Belton, John. American Cinema/ American Culture. New York: McGraw-Hill, Inc., 1994.
Ebert, Roger. ?Miss Congeniality.? Current Review. 22 Dec. 2000. Chicago Sun-Times. 1 Mar. 2004 http://www.suntimes.com/ebert/ebert_reviews/2000/12/122210.html.
Multicultural Film. Crook E. and Martinez M. Boston: Pearson Custom Publishing, 2004.
Related Topics