Features and Advantages of Having a Student Web Portal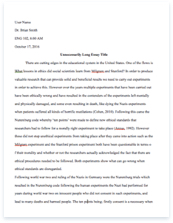 The whole doc is available only for registered users
Pages: 3
Word count: 711
Category: Student
A limited time offer! Get a custom sample essay written according to your requirements urgent 3h delivery guaranteed
Order Now
A student web portal would allow UC Berkeley students to access online campus services, websites, and course information from one convenient location, using a single user ID and password. They would be able to customize the portal to their own liking, adding or deleting links to internal websites, internal news channels aimed at particular groups of students, and external information such as sports, weather, entertainment, etc.
Our project team was asked to report on why the University should develop such a student web portal; interview Berkeley students, staff, and faculty to assess their level of interest in a portal and ensure that those who develop the portal understand the features these stakeholders feel a portal should have; investigate best practices at other Universities that have already deployed student web portals; and suggest management models for the portal project. We were also charged with presenting three possible user interfaces, and recommend names for the Berkeley student web portal.
The central goal of the Chancellor's e-Berkeley Initiative is to transform the day-to-day operations of the University by reducing paperwork; putting more information services and transactions online; and streamlining access to course information and content. A student web portal would collect these campus services and functions into a single website, making it easy for students to find and use online services, and thus increasing the likelihood that the University can attain the strategic goals laid out in the e-Berkeley Initiative.
We used a combination of surveys, focus groups, and one-on-one interviews to gather information from Berkeley students, faculty, and staff, and from key personnel at other institutions that have operational student portals.
Berkeley students, and the staff who deliver services to them, are very excited by the possibilities a student web portal offers. Roughly 70 percent of student respondents said a portal would make their lives easier. However, when forced to rank-order a portal amongst a list of other applications that would need to be built in order to deliver campus services through the web, both groups put the portal at the very bottom of their list. A portal would not make much of an impact on their lives unless the University builds these other applications either concurrently with or prior to a web portal.
These groups want a portal that is easy to use; that is secure and protects student privacy; and that is linked to a roles database so that information can be targeted to particular groups of students. The roles database is crucial to the success of a portal, as it will allow students, staff and faculty with similar interests to identify each other. Students, faculty and staff expressed several concerns about a portal, including the need for the project to be sufficiently funded; the need for a campus infrastructure robust enough to handle increased web traffic as a result of a successful portal; and that as many systems as possible be integrated into the portal, since the portal's usefulness to them will largely be a function of how much campus business students can conduct online.
Other institutions that have successfully deployed student web portals reported that their portal development project encouraged the development and integration of existing and new systems, and pushed data owners to think about which audiences they want to reach, what services they want to offer, and how to best package information and applications. Students immediately began using these portals in high numbers, even though the portals were still works in progress at the time of launch. Students are satisfied with the ways that portals make it easier to conduct campus business, and portals heighten student expectations of other campus online services.
We found no common model for managing the development process as a whole. For example, some schools set up a steering committee of stakeholders from across campus; some let the campus information technology group guide all aspects of the development process; and others gave ownership to a campus-wide "E-initiative" committee similar to the e-Berkeley group at UC. And there was no common model for the management of content once the portal was deployed. Some gave this responsibility to the university public information office, others to the campus "E-initiative" group or a special steering committee established for this purpose.
Related Topics