Fashion Industry during Global Lockdown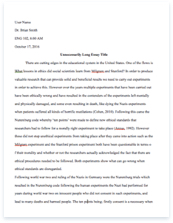 The whole doc is available only for registered users
A limited time offer! Get a custom sample essay written according to your requirements urgent 3h delivery guaranteed
Order Now
2020 — the year that marks the end and the start of a decade that everyone looks forward to, especially within the Fashion industry. New styles and trends are about to grace the runways of London, Paris, New York and Milan and being way ahead of time is key in this business. However, the world as we know it changed on an unprecedented scale within just a few months into 2020 and has impacted every single human being on Earth. With the rise of Covid-19, an infectious disease that comes from a new breed of coronavirus (WHO, 2020), the entire world had to shut down and stay at home; leaving the medical frontliners, researchers and public servants to fight this battle for humanity.
Over the years, the fashion industry has become more and more complexed with its massive global supply chain. As the industry evolved from small-scale artisans to huge multinational companies coming from different sectors and countries, it has become so cutthroat and fast-paced. With that, the rules of survival in today's fashion business is defined by one's flexibility and eagerness to respond to any hurdles thrown along the way (Pedersen et al, 2016). The decline of this industry would heavily impact the global economy and cause millions of unemployment within its supply chain (Elle, 2020).
In the 2020 State of Fashion report by McKinsey & Company, they identified the top 10 themes to look out for this year. These include crucial concerns that will reshape the industry such as sustainability, digital recalibration, cross-border challenges and the global economy on high alert. Surprisingly, the latter tops the list and it is described by Mckinsey & Company as a turmoil that can disrupt both developed and emerging markets within the global economy. Moreover, this high alert could possibly turn into another global economic recession that calls all industry players to re-establish their resilience (Mckinsey & Company, 2020).
As we look into the current situation of the world, we can tell that this crucial turmoil finally unfolded due to the global pandemic. Being under the spotlight as one of the fashion capitals in the world, the resilience of the French fashion industry is being challenged on how they will be able to recuperate from this crisis. Companies within the luxury goods sector and multinational fashion retail brands may be confident enough with their financial reserves but how about the small-scale ateliers? How about the other actors in the supply chain? As McKinsey & Company suggests, Is this something that French industry players could have prepared their businesses for?
Back in 2016, the French government took pride in their fashion industry with a 2.7% share of the economic GDP, as well as a direct turnover of €150 billion. On top of that, they have always been proud of their fashion industry, as it is one of the things that France is known for (IFM Report, 2016). As everything seems to run very smoothly, the country has actually been faced by local economic issues that may have prepared them for the pandemic.
In November 2018, the Yellow Jacket Movement already caused a huge stir most especially in Paris, when around 14,500 protesters stormed the busiest streets of the capital to fight against multiple political issues. This includes Champs-Élysées where flagship stores of luxury brands such as Bulgari, Boss and Lacoste were destroyed (Rascouet, 2019). In December of the following year, the sales within the French fashion industry began to dwindle down once again. This is due to the strikes made by public transit workers against the pension reform proposed by President Emmanuel Macron. Fashion brands such as Zara under the Inditex SA group, reported that during the second week into the transport strikes, their sales dropped down to 25-30% (Williams, 2019). Furthermore, some fashion designers were forced to cancel their Paris fashion shows, the Men's Fashion week was moved to a later date and some international brands failed to collaborate with French brands due to the restrictions on mobility (White and Pineau, 2020).
As the strikes happened during the most anticipated shopping time of the year, retailers are challenged by the thought that they may not be able to bounce back from this chaos. The Managing Director of Procos, Emmanuel Le Roch, shares that "lost sales from these disruptions will leave them (businesses in general) without the means to adapt." However, Roch also mentioned that due to these disruptions the retailers are already being challenged to reinvent themselves (Williams, 2019). With that being said, how exactly is french fashion industry affected by the Covid-19 crisis when they have already been on high alert due to local economic challenges?
When French Prime Minister, Edouard Philippe, announced last March 14 that all stores with the exception of essential establishments will be closed due to Covid-19, retailers had to suddenly shut its physical stores to the public. Following that, the Fédération de la Haute Couture et de la Mode had to cancel the anticipated men's and haute couture fashion week that are both scheduled in the middle of the year (Clark et al, 2020). This already speaks volumes on the economic impact of the pandemic to the French fashion industry as the capital caters to over 300 fashion shows per year and brings roughly €1.2 billion in annual economic benefits based on the IFM report in 2016.
Big names in the French Fashion industry such as Hermès, LVMH and Chanel, have all donated funds for hospitals in Paris such as Assistance Publique-Hôpitaux de Paris and other charity groups. On top of that, the said brands produced thousands of masks and tons of hydroalcoholic gels that were distributed to medical centers for free. Sandro also announced that they have repurposed their old collections and fabric stock into reusable masks and will be distributed to the most affected cities in the world. As for the multinational retail brand H&M, the company pledged to produce personal protective equipment such as masks, gloves, and medical gowns, and will be donating $ 500,000 to the World Health Organization (Bougro, 2020). As huge companies with strong confidence in their financial reserves, they also announced in their respective corporate statements that they will continue to pay their employees.
However, where do the small-scale retailers and ateliers stand? The Alliance du Commerce shares that due to the on-going Yellow Jacket movement and recent transport strikes, the French retail businesses are already struggling to survive (Clark et al, 2020). That being said, their financial state and resilience has been shaken up by three consecutive economic blows — the pandemic being the worst. Although the Covid-19 crisis is something they could have prepared for given that they had the opportunity to restrategize with the previous protests and strikes, this is not enough as it is something that no one saw coming. Small ateliers and retailers may have been preparing for disruptions like protests/ strikes but not at this magnitude. Some of these businesses will either have to rely on online sales, lay off workers indefinitely or the worse — shut down.
As bad as it already sounds, that is just the overview of the grand scheme of things. This Covid-19 Crisis created a seismic domino effect that hits every industry in the world and its supply chain from A to Z. Some of which are the designers and manufacturers that cater to France and other fashion brands worldwide.
Steven Tai, a London-based designer, shares with Forbes how his business was affected by the global lockdown. Tai owns his own factory in China and was supposed to present his samples in his showroom in Paris for the upcoming fashion week. However, since most of his workers are from Wuhan, he was only left with two seamstresses to help him finish the samples. On top of this issue, he shares that it was very difficult to get fabric due to the lockdown in China. Luckily for Tai, he was still able to reach 50% of his buyers through a 360-virtual lookbook and the rest of their production orders were not cancelled (Roberts-Islam, 2020).
Speaking of which, this is where it gets really hard as mass cancellations are being experienced by fast-fashion manufacturers (Roberts-Islam, 2020) in countries like China and Bangladesh, who caters to multinational fashion companies all over the world including France. In a survey conducted by the Center for Global Workers' Rights among 319 factory owners in Bangladesh, it was revealed that 72.4% of them were unable to compensate their workers when the global confinement began. Moreover, only less than 20% of these factory owners were able to give out severance pay to their workers (Roberts-Islam, 2020). With this drastic situation, employers are left with no choice but to justify their inability to pay with force-majeure due to natural disasters (Alam et al, 2020), leaving almost 1.2 million Bangladeshi workers severely affected (CGWR, 2020).
The Center for Global Workers' Rights suggests that the responsible approach to this problem is for brands and retailers to take responsibility and find ways to compensate their suppliers. May it be through finding lines of credit or seeking financial assistance from the government (CGWR, 2020). In the case of France, President Emmanuel Macron announced that the government will be providing financial assistance worth €45 billion to businesses affected by the health crisis. This includes deferring corporate taxes, social security charges for the month of March and compensation for laid-off workers (Hansrod, 2020). This is definitely some good news for small-scale ateliers/ retailers, most especially to the workers who have been laid off. Hopefully, this financial aid will be able to help fast-fashion brands/ retailers in France to re-evaluate their financial reserves and be able to pay their suppliers, most especially those coming from third world countries.
With all of that being said, how will this crisis reshape the future of the French fashion industry? As Mckinsey & Company shared in their 2020 State of Fashion report, this will be a challenging time for the global economy.
Related Topics