Fanthorpe is a master in speaking in the voice of another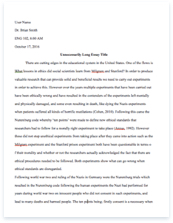 The whole doc is available only for registered users
A limited time offer! Get a custom sample essay written according to your requirements urgent 3h delivery guaranteed
Order Now
I believe that Fanthorpe is indeed a master of speaking in the voice of another. She is capable of seeing things from various perspectives and points of view, and expressing that view in her writing. Fanthorpe herself once mentioned that she enjoyed working for voices in the 'Browning' way, and this can be seen in her somewhat humorous perception of her character's experience.
Fanthorpe has become the master of voices she is today as a result of going through many different experiences and meeting a huge variety of people. She was once a nurse and was also previously a schoolteacher. The latter profession undoubtedly gave Fanthorpe an insight into the mind of a child; an advantage which enables her to create such wonderful poems as 'Reports', 'Dear Mr. Lee' and 'Half-past Two'. Going into as many professions as Fanthorpe would have possibly given her all the interview experience she needed to write 'You Will Be Hearing From Us Shortly'.
One thing that makes U. A. Fanthorpe a master of speaking in the voice of another, and separates her from most other poets, is her ability to understand and correctly use the language of the character that she is trying to portray. Fanthorpe once said, "I take all language as my province (including slang words, rude words- whatever)- use anything that's necessary to get the words right".
An example of this can be seen in the poem 'Dear Mr. Lee'. In this poem, Fanthorpe uses incorrect grammar- the entire poem contains just two full stops. However, this technique is purposely used to portray the style of an excited teenager writing to her favourite author. The improper grammar is typical of the average teenager, especially one who has just failed their English exam- as in the case of 'Dear Mr. Lee'. It also shows that what is contained in the letter is a result of one excited stream of thought.
A further example of Fanthorpe's clever use of language can be found in the poem 'Half-past Two'. Once again Fanthorpe portrays a child- this time a much younger one of about five years of age. She uses language to encourage the reader to empathise with the young boy. This point can be seen in the use of such compound words as 'Timeformykisstime' and 'notimeforthatnowtime'. These words represent the language used by a young child and give the reader a picture of a sad, lonely, innocent and confused boy. These compound words, and other grammatical errors made throughout the poem, make it clear that the 'narrator' is a child, as children often write many words together as one word and have not developed their English properly.
The poem 'Reports' does not only count for another example of Fanthorpe's competence in using voices, but is also a wonderful display of her effectiveness as a poet. This poem is full of puns, ambiguities and double-meanings- with the whole poem itself being a metaphor for human life. Fanthorpe seems to be trying to convey the words of a teacher, although it could possibly be a student.
Whoever the narrator may be, it is clear that they are giving advice, most probably to another teacher, on how to write school reports. The content is both shocking and wryly humorous. Phrases such as 'Satisfactory should satisfy them' are both very witty and deeply scandalous. This is most probably what Fanthorpe would have intended. Her experience as a schoolteacher enabled herself to analyse a teacher's mind, and to discover the shocking reality of what the teacher is really thinking!
Related Topics