Face-To-Face Communication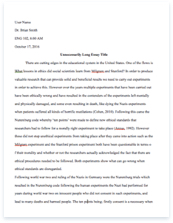 The whole doc is available only for registered users
A limited time offer! Get a custom sample essay written according to your requirements urgent 3h delivery guaranteed
Order Now
Besides the traditional communication way – letters, email and telephone calls are available too. They make people's communication easier, faster and more convenient. However, in my opinion, face-to-face communication is better than the above types of communication. There are several advantages of this personal communication. When people communicate to each other in person, they can have instant feedback. Thus, they do not have to wait hours or days to get reply. In the first place, communicating is based on not only language but also some subtle non-language parts such as facial expression and body language. For example, people may show their true feeling throw their pose of hands or legs unconsciously. (Santoro, Stryker, 2012) Although many good reasons are proposed for the convenience of communicating devices like emails and phone calls, I still believe that face to face provide a better circumstance for people to know each others' true feeling and thus being able to respond more properly when they want to achieve their goals no matter he or she simply wants to maintain relationship with others.
Face to face is always more effective that other kinds of communicating, especially when I'm talking with acquaintances. Due to the intrinsic unfamiliarity, misunderstanding arises inevitably. (Tracy, 2013) However, if the misconception can be explained without delay, many quarrels could be prevented in advance. You can easily make out whether the person is sincere through his manner or not. For example when we receive an unexpected gift, our face expressions can tell if we are surprised, disappointed, happy or angry. Therefore, in a face to face communication our interlocutor can get more response and understand our feelings and emotions during the whole conversation. In fact obviously we cannot analyze by receiving an email or a phone call. (Arleta, 2014) Advantages
In 2006, one of the research reported that face-to-face communication is faster, easier and more convenient than other computer or telephone communication in the educational context. Face-to-face communication represents a high social presence i.e. a quality of a medium to convey the presence of sender. Traditional way of communication is an efficient method of communicating in business world as face-to-face communication has given better result in overall performance. Face-to-face communication is best use for communicating ambiguous tasks, making decision and completing complex tasks. Traditional communication ways are more effective in all time and helpful in establishing the bonding and honesty with people. (Tracy, 2013) Conclusion
While writing this paper I understood how face-to-face communication can have so many advantages. I came to know that face-to-face communication is helpful in creating positive image of the person but also bonding an honest relationship. There could be many ways of computerized ways of conveying messages but texting, emails, video calls and phone calls will never replace the traditional communication way. I believe that not only in social life but also in corporate world people should always prefer to have meetings & conversation in face-to-face. By practicing traditional way of communication we can save the delay in communication.
Peer Review
My friend Nitin reviewed this article I wrote and seemed impressed by the content put here. He appreciated my research and told me that he was not aware of the many advantages of traditional ways of communication. But after my article he said that I never knew face-to-face communication could make long lasting bonding with the person and its importance in our daily hectic schedule. He suggested I should have put more researches and statistical data to convince the people to use traditional communication way instead of texting, emailing or phone calls.
References
Arleta, R. (2014). The influence of face-to-face communication: a principal-agent experiment. Print ISSN: 1435-246X Santoro, M. D., Stryker, J. B. (2012). Facilitating Face-To-Face Communication in High Tech Team. Print ISSN: 0895-6308 Tracy, K. (2013). Understanding Face-to-face Interaction: Issues Linking Goals and Discourse. Print ISBN: 1 13669112 X
Related Topics