Extrovert and Introvert How They Might Affect People in Sporting Situations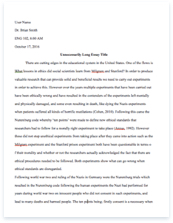 The whole doc is available only for registered users
A limited time offer! Get a custom sample essay written according to your requirements urgent 3h delivery guaranteed
Order Now
Introduction
In this assignment I am going to explain what extrovert and introvert means then investigate the affects of being an extrovert or introvert in sporting situations. I am also going to assess two sports people in each football, tennis and rugby and identify who is an extravert or introvert. At the end of the assignment I am going to discuss whether I think we are born with our personalities.
Extroverts
Extroverts tend to be energetic and enjoy being around people. The like attention and getting interaction from other people, extroverts tend to be enthusiastic, talkative, and assertive. Extroverts enjoy doing activities that involve other people, such as taking part in community activities; their affinities to large groups allow them to enjoy large social gatherings including parties usually they are the life of the party. As such, an extroverted person is likely to enjoy time spent with people and find less reward in time spent alone.
Introverts
Introverts are "geared to sit back and watch" rather than to act in social settings. In a large social setting, introverts tend to be quiet, low-key, shy, and disengaged, and this is due to introvert's loss of energy when with a large number of people. Introverts gain energy when performing activities alone. They tend to enjoy reading, writing, watching movies at home, inventing, and designing and doing these activities in quiet, non interactive environment such as home, library, parks/gardens, and quiet coffee shops. While introverts avoid social situations with large numbers of people, they tend to enjoy intense, one-to-one or one-to-few group interactions. They tend to have small circle of very close friends, compared to the extroverts' typically larger circle of less close friends.
Benefits and negatives of being an extrovert in football, rugby and tennis
It tends to be more affective to be an extravert in sports like football and rugby because
– Extroverts perform better when performing with other people
– extroverts are very competitive
– they can help build up confidence in there team mates using verbal encouragement
– extroverts can show a lot of aggression the benefit is that it can intimidate opposition players
– they react very positive to encouragement
– extroverts like attention and can handle the media well
It can hinder being an extrovert in football and rugby because:
– an extrovert can be too aggressive and get sent off which would put the team at a disadvantage
– they may be too confident in there own abilities and may waste chances
– they need a team environment to perform well
– they don't have very good self esteem
– they need a lot of encouragement
Benefits and negatives of being an introvert in football, rugby and tennis
It tends to be more affective to be an introvert in sports like tennis because
– introverts perform better when performing activities alone
– introverts have good self esteem
– introverts don't need encouragement to have belief in them selves
– introverts don't need a team environment to perform well
It can hinder to be an introvert in tennis more than football and rugby because:
– introverts don't like attention and don't usually respond to media well
– introverts are not outspoken and can not help build up confidence in there team mates using verbal encouragement
– introverts are a lot easier intimidated
Football
The two footballers I have chosen to investigate are Gary Neville and Michael Owen:
Gary Neville
Gary Neville is an extrovert footballer he is not shy of showing his authority, passion, enthusiasm on and off the pitch also you often see him screaming encouragement and instructions to other united players on the pitch. Before he was appointed captain he had been captain for some games when Roy Keane was injured. This shows he would have to have similar characteristics on the pitch to the very extroverted (on the pitch) former captain.
In season 2003-2004 there was a head butt incident with Manchester City's Steve McManaman. This also supports that he is an extrovert because introverts do not like confrontation.
Gary Neville is not shy to the media he is often speaking his opinions in newspapers or on TV He has a reputation as the 'Shop Steward' because of his outspoken defence of team-mates against the FA and media. He was allegedly the ringleader of a plot to boycott a Euro 2004 qualifier against Turkey in support of Rio Ferdinand who had banned for missing a drugs test and was believed to be behind a player protest in support of Alan Smith, after he was dropped from the England squad.
I believe this justifies that Gary Neville is an extravert he is very outspoken on and off the pitch. He has shows he is not afraid (I believe he likes the media attention) of media attention and speaking his mind which is often controversial. If he was an introvert he would keep away of the media and would not be outspoken on the pitch.
Michael Owen
Michael Owen is an introverted football player he tends to keep to himself on and off the pitch. He is not a big lowed authority figure on the pitch more of a quiet player.
He only speaks to the media about football and does not voice any opinions concerning other players or the FA etc. Michael Owen has a low yellow and red card record which shows he does not like confrontation. At the beginning of Michael Owens career he was very introverted hardly anybody new of him before the 1998 world cup and the Argentina goal that made him famous. Through his career he has got used to the media attention and the pressures of football, I believe that he is less introverted know than he was at the beginning of his career but still is an introverted football player.
Tennis
Although Tennis is thought as an introverted sport there are many extroverted players. The two tennis players I have decided to investigate are Andy Murray and Tim Henman one an extrovert the other an introvert.
Andy Murray
Andy Murray is one of the more extrovert tennis players on the tennis court and is known for his frequent outbursts of passion and his aggressive style of play. In December 2004 he was named the Young Sports Personality of the Year which supports my theory that he is an extravert.
Also Andy Murray does not shy from the media he often talks about his game, coaches and even family members such as: After a match against Stepanek, he spoke to the media saying;
"I was pretty happy with the way I played and you could see that by the celebrations and my mum making an idiot of herself"
A more introverted person would usually just talk about there performance and there own reaction.
Tim Henman
Tim Henman is one of the more introvert tennis players on the field he is quite conservative and quiet. His celebration (the trade mark fist clench) supports that he is conservative though he may have an outburst of passion it usually is quirt and short.
Tim Henman does get a lot of media attention because he is England's number one, though he can handle the media spotlight know when his career first started he did not like all the media attention and tried to avoid it. That showed an shy introverted characteristic. A more extroverted person would of liked being centre of attention and looked forward to meeting with the media.
Rugby Union
The two rugby union players I have chosen to investigate are Martin Johnson and Johnny Wilkinson.
Martin Johnson
Martin Johnson is one of the well known and accomplished captains of all time. He captained England to the 2003 Six Nations Grand Slam and led club side Leicester Tigers as they won four consecutive Zurich Premiership titles and a European Cup double.
He has also toured with the Lions three times. He became the first man in history to captain them twice when he led the Lions on the tour of Australia in 2001, after leading the winning tour of South Africa in 1997.
On the pitch he is a player who inspires the best out of his players by leading by example and shouting encouragement and instructions which shows extravert qualities. Off the pitch when Martin Johnson talks to the media he does not like talking about himself which is unusual for an extravert but when talking to the media he always focuses on the collective which shows he is a big team man. In the interview after the winning world cup final he said: "It was a huge effort by the entire squad of players, coaches and backroom staff, everybody. Thanks to the fans – they were incredible" he also said "I can't say enough about the team" What he said to the media reinforces that he is a big team man. This also shows an extravert characteristic of enjoying doing activities that involve other people
Johnny Wilkinson
Johnny Wilkinson is an introverted rugby player but the drop goal during extra time that won England the World Cup in 2003 made him the most famous players in international professional rugby. On the field he has a reputation for accurate kicking and fierce tackling; off the field he has a reputation for practicing incessantly and avoiding publicity.
This shows two introverted characteristics one of doing things alone (training) two avoiding media attention (publicity) being shy.
Are we born with our personalities?
The answer is well there isn't one there is only theories weather we are born with a personality. I believe we may be born with a personality disorder (mental disorder) but they are the ones that have been scientifically proven. I believe our personality depends on environmental factors (schools physiology etc) and hugely how our parents interact with us and other people. Children learn from copying others and they copy there parents more than anybody. 'Parents are gods in the eyes of their children 'I think that phrase sums up how much a parent affects a Childs personality and life.
Related Topics