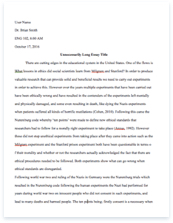 The whole doc is available only for registered users
A limited time offer! Get a custom sample essay written according to your requirements urgent 3h delivery guaranteed
Order Now
Conflict permeates every aspect of our lives, it is inevitable and inescapable. But It is how we choose to conduct ourselves in these times of conflict that define who we are and how we are viewed in society. "Conflict builds character. Crisis defines it." Those were the words of Senior Master Sergeant Steven V.Thulon, which demonstrates how conflict can change us. When individuals encounter conflict, many find themselves in unfamiliar situations where they must face new challenges and struggles. It is in these moments that we can experience a change, for we may come to a sudden realization, understanding or insight of ourselves. Ordinary people acting out in the face of conflict in an extraordinary way can be seen when placed under extreme pressure in situations involving war, love or threatening situations.
On June 4th 1989 student demonstrations that were supported by local residents took place in Beijing in an attempt to expose the deep splits in the Chinese political leadership. Military generals and politicians with little remorse for these protestors ordered armed riflemen and tanks to enforce martial law in the country's capital. The military opened fire on those unarmed civilians who tried to block their advance towards Tiananmen Square killing 6000. This event became known as the Tiananmen Square Massacre. The following morning of the massacre a row of 17 tanks made their way down a wide avenue patrolling the area.
An ordinary man with his shopping bags walked out into the avenue and stood directly in the path of the type 59 tanks. The tanks attempted to maneuver around the man but he just moved in front again until the tank stopped and turned of its engines. This man, that no body knew, just like everyone else was angered, frustrated and saddened by the massacre and decided to take action. The 'Tank Man' is a perfect example of someone acting out in an extraordinary way in a time of conflict, as he was just a bystander.
In Graham Green's The Quiet American, Thomas Fowler and Alden Pyle could be described as an ordinary people placed in an extraordinary situation. Fowler is a British reporter who left his wife and came to Vietnam and meets a beautiful young girl called Phuong, though he cannot marry her due to his wife not wanting to be divorced in Britain. Fowler meets a young man called Alden Pyle. Fowler is threatened by Pyle at the possibility of Pyle stealing away Fowlers Girlfriend Phuong and marrying her. Fowler and Pyle meet in a war zone. They end up captive in a tower, and spend an extraordinary night talking about everything from sex to god. As they escape Pyle saves Fowlers life. Fowler goes back to Saigon where he lies to Phuong that his wife will divorce him so they can marry.
Pyle exposes the lie and Phuong moves in with Pyle. When Fowler returned he went to confront Pyle but instead Pyle came to Fowler for 'drinks' and discussed his upcoming marriage to Phuong. Later that week there is a terrible explosion and many innocents are killed. This is a desperate attempt from Pyle to remove Fowler from the equation as he knows the Fowler is the only threat to his success of stealing away Phuong and make her his wife. Fowler puts the pieces together and realizes that Pyle is behind the bombing. Fowler feels the same as Pyle and sees him as the only threat and knows that Pyle must be eliminated, so Fowler has a group of Vietnamese hit men assassinate Pyle.
"Knowing when to fight is just as important as knowing how" those are the words of author Terry Goodkind. These words demonstrate the bravery and courage of those acting out in times of conflict just like the Tank Man. Unlike the Tank Man, Pyle's attempt to kill Fowler and Fowlers successful assassination of Pyle is neither brave or courage's.
Related Topics