Every individual is different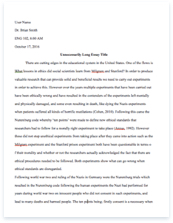 The whole doc is available only for registered users
A limited time offer! Get a custom sample essay written according to your requirements urgent 3h delivery guaranteed
Order Now
Every person has his own personal ways of thinking and his personal outlook on life. Many find difficulty in understanding themselves. In my situation the study of philosophy helped me enrich the understanding of myself. My ways of thinking and my attitude towards life also were improved.
'The Apology' (from 'The Republic') written by Plato helped me understand more about life and changed my ways of thinking. In the Apology we have the last 24-hours of Socrates. In this dialogue Socrates is brought to court with the Athenians accusing him of not recognizing the Gods of the city, of introducing new gods and of corrupting the youth of Athens with his new teaching. In this dialogue I realized where jealousy and hatred can lead. Socrates for this was found guilty and sentenced to death.
In his speech he seems less interested in refuting the charges, which he easily shows to be made up and inconsistent, than in explaining the hatred towards him and defending his "philosopher's mission of searching into myself and the people." He has been an annoying person to the state, urging its citizens to self-improvement, and in his search for wisdom he exposed their ignorance. In fact he asked the politicians, the poets, and the craftsmen and found that he had an advantage over them, because he had no pride of knowledge. I found this very true. His true enemies, he realizes, are not his prosecutors but all those who oppose the life of reason and virtue, who disappear before his conviction that "the unexamined life is not worth living". I agree with this phrase because I think that I have to question and reason things out to understand. I believe that cross-examination makes you feel worth living. A relaxed and not questioned life is not life. So this helped my attitude towards life.
I admired Socrates who preferred to sacrifice his life rather than to take upon him in any way the unrighteousness of his accusers. He seems courageous and filled with honor because he did not reject the principles he believed in. This taught me a lot. I found that one must not be afraid of death if he is doing the good and saying the truth, although I think this is difficult to do.
He says that the good is based on virtue (the right way of conducting life) which includes; wisdom, courage, discipline and justice, which all end up in harmony and justice. The exercise of the good life is the attainment of wisdom, while the responsibility for evil is the action of man misguided by ignorance. For Socrates the right way of life was the only subject of the real importance. His aim therefore was to get people to think about the real nature of qualities such as justice and courage instead of simply guiding their lives by usual concepts. He believed that all wrong was due to ignorance. I agree with this because if people only knew what is right they would have no difficulty in doing it.
This is the meaning of the celebrated saying attributed to him that, "Virtue is knowledge" and that "No one does wrong willingly". He gives importance to how one could win self-knowledge. I liked when Socrates always claimed "I know nothing". Socrates presents the case for the philosophic way of life as a process of the perfection of the soul. The meaning of one's life is understood as a search for true knowledge. The attainment of true knowledge through self-examination is the method by which the soul is refined. The attainment of true knowledge is a life-long process toward wisdom. The perfection of the soul, and therefore goodness, is exactly this grounding of one's own being on the truth about oneself.
Socrates, who has often faced death in battle, will not make any condition in order to save his own life; for he does not know whether death is good or evil. Therefore there is no need to be afraid. But this is not easy and I do not agree with it. He also says, "Necessity is laid upon me: I must obey God rather than man".
To think philosophically is to think questioningly and reflectively. With 'The Apology' and with the study of philosophy I learned to question, think and reflect more about my life. I learnt to examine things more deeply and not to pretend that I know everything but to be open to knowledge.
http://en.wikipedia.org/wiki/Apology_(Plato)
Related Topics