Equality, Diversity, Inclusion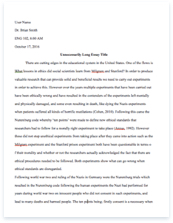 The whole doc is available only for registered users
A limited time offer! Get a custom sample essay written according to your requirements urgent 3h delivery guaranteed
Order Now
Diversity:
The meaning of diversity is difference, as people we are all different although we have a lot of things in common with each other we are also unique in many ways. Diversity recognizes and values the differences people have. These can include personal characteristics such as background, culture and the work style we use. When we recognize our individual differences we can create a productive environment in which everyone can feel valued.
Equality:
Treating everybody in the same way regardless of their characteristics. Equality includes any issues which could result in a less favorable treatment to an individual based on, for example a person's disability, gender, age, sexual orientation, religion or beliefs.
Inclusion:
A human right for every individual. The aim of inclusion is to embrace all people irrespective of race, gender, disability, sexual orientation, culture, age, religion. It is about giving equal access and opportunities and getting rid of discrimination and intolerance.
Describe the potential effects of discrimination
1.2 The effects of discrimination can be detrimental to the individual it concerns. There are many ways they can feel effected. These could be emotional effects, making an individual feel unwanted, becoming withdrawn and depressed, losing the confidence they may have had, showing a sudden change in behavior and having a low esteem. There could be physical effects causing poor appetite, sleeplessness, lack of personal hygiene showing a general deterioration of physical health. There could also be social effects, lack of friends becoming withdrawn and not have the ability to build relationships, lack of achievement and poor job prospects and a loss of motivation.
The effects listed above are not only ones that can affect the individual person, family and friends of the individual could be affected too. This could cause the individual's family to become isolated from society through trying to protect the person and will often experience verbal abuse for having a family member that is perceived to be different, family members can sometimes feel embarrassed about the shame the victimized individual brings to them and may distance themselves from the individual.
Explain how inclusive practice promotes equality and supports diversity
1.3 Inclusive practice promotes someone's right to access equal opportunities, by ensuring this happens promotes diversity. There are various pieces of legislation which have been put in place to promote equality and reduce discrimination.
These include:
• The Disability Discrimination Act 2005
• The Special Educational Needs and Disability Act 2001
• The Race Relations (Amendment) Act 2000
• Racial and Religious Hatred Act 2006
• Convention on the Rights of the Child (UN, 1989)
• The Human Rights Act 1998
• The Sex Discrimination Act 1975 (as amended)
• Employment Equality Regulations 2003
Explain how legislation and codes of practice relating equality, diversity and discrimination apply to own work role 2.1 Diversity is about valuing individual difference. A diversity approach aims to recognize, value and manage difference to enable all employees to contribute and realize their full potential. Diversity challenges us to recognize and value all sorts of differences in order to make our environment a better place for everyone to work Equality is about making sure people are treated fairly and given fair chances. Equality is not about treating everyone in the same way, but it recognizes that their needs are met in different ways.
Equality focuses on those areas covered by the law, namely the key areas of race, gender, disability, religion or belief, sexual orientation, transgender and age. People must not be unfairly discriminated against because of any of these factors and we must all contribute to creating a positive workplace and service delivery environment where discriminatory Discrimination can only have negative effects on people. This could affect the progress of an individual, discrimination can negatively impact their overall health and Well-being.
The Equality Act 2010 brings together all previous acts relating to equality and discrimination. The Act applies to all organizations that provide a service to the public. The Act protects all individuals and groups from discrimination and must be aware of these laws and have in place a policy to ensure positive attitudes to diversity and difference. Within my work setting we have an Equality and Diversity policy and these policies must be followed by staff and integrated in to our working environment.
Describe how to challenge discrimination in a way that promotes change
3.3 The way to deal with discrimination is to deal with it as soon as it has arisen. This could be done by challenging this behavior, in a calm and professional manner. Encourage talking about discrimination, a lot of discriminatory actions are caused through ignorance or the person may have been discriminated against themselves. I would explain it was unacceptable behavior, and a disciplinary matter as stated in the policies and procedures. I would report the incident and document the incident.
Example of how to promote change, taken from Mental Health Practice magazine: Mind has used the Freedom of Information Act requests to reveal that people from black and minority ethnic communities continue to face barriers to mental health care. It has produced a briefing, aimed at commissioners, to explain what they should do when planning crisis services. It recommends that commissioners should:
Consult Black and Minority Ethnic groups about services.
Take cultural differences into account
Commission a range of options to meet diverse needs.
Provide information to empower people from Black and Minority Ethnic groups
Inclusive practice promotes someone's right to access equal opportunities, by ensuring this happens promotes diversity.
Related Topics