Engage in personal development in health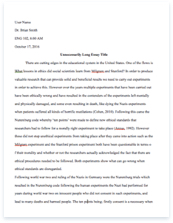 The whole doc is available only for registered users
A limited time offer! Get a custom sample essay written according to your requirements urgent 3h delivery guaranteed
Order Now
Outcome 1 Understand what is required for competence in own work role
The learner can:
1. describe the duties and responsibilities of own work role It is the duty of the carer to provide care in the home of the service user whilst adhering to the rules and regulations set out by their company and by general health and safety regulations.
2. explain expectations about own work role as expressed in relevant standards. As a care worker it is my responsibility to ensure that I do not cause injury to myself or others by anything I do or fail to do. To cooperate with my employer
To use protective clothing and other items provided for my safety To report any accidents, near misses or new hazards to the office immediately. In addition I must:
Understand the concept of domiciliary care
Understand the individual
Carry my ID card at all times whilst on duty
Wear my uniform at all times unless otherwise agreed and to keep it clean To remember that I am in a service users' home by invitation To attend training sessions when required and to take responsibility for my own development To comply with all Health and safety regulations.
Outcome 2 Be able to reflect on practice
The learner can:
1. explain the importance of reflective practice in continuously improving the quality of service provided It is important to continuously reflect on how you carry out tasks in a care environment, the order an manner that you carry out these tasks needs to be tailored to the individual and continuously monitored and adjusted in order to provide the most efficient and effective service possible. Continuity of care is important in order to build a good working relationship with the service user, learning what phrases they understand best, which order they like things to be done in etc.
2. demonstrate the ability to reflect on practice
3. describe how own values, belief systems and experiences may affect working practice. It is important to realise that not all people have the same beliefs or experiences as you do. It is best not to express personal religious and or political beliefs and to allow the service user to divulge as little or as much personal information as they wish to.
Outcome 3 Be able to evaluate own performance
The learner can:
1. evaluate own knowledge, performance and understanding against relevant standards It is important to know which training units need to be kept up to date and to attend all training courses offered by my company. At present I need to renew my training in: Safe moving and handling
Emergency aid
Food Hygiene
Infection control
Fire awareness
Protection of vulnerable adults
According to Domiciliary Care National Minimum Standards 2000 "Newly appointed care/support workers delivering personal care who do not already hold a relevant care qualification are required to demonstrate their competence and register for the relevant QCF in Care within 6 months of employment and complete the full award within 3 years" I am currently working towards my Level 3 certificate.
2. demonstrate use of feedback to evaluate own performance and inform development. Outcome 4 Be able to agree a personal development plan
The learner can:
1. identify sources of support for planning and reviewing own development The company I work for has a good training policy and our training manager is always available to assist with training requirements. There are a number of online sites which provide free training materials.
2. demonstrate how to work with others to review and prioritise own learning needs, professional interests and development opportunities
3. demonstrate how to work with others to agree own personal development plan. Outcome 5 Be able to use learning opportunities and reflective practice to contribute to personal development
The learner can:
1. evaluate how learning activities have affected practice
The training I have received thus far has greatly improved my confidence in providing good care. For example safe moving and handling in particular when working with hoists, slide sheets and rotundas 2. demonstrate how reflective practice has led to improved ways of working
3. show how to record progress in relation to personal development.
It is a good idea to keep a spreadsheet of training required and completed and to keep a file of your certificates in good order and up-to-date: for example
Related Topics