Effects of Modernized Gadgets to the Students of CCSPC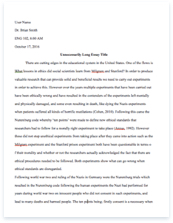 The whole doc is available only for registered users
A limited time offer! Get a custom sample essay written according to your requirements urgent 3h delivery guaranteed
Order Now
Laboratory high school is identified as one of the users of modernized gadgets cause by modernization of the world.
The present status of the school needs prompt guidance of their parents or teachers, self-controlled, and implementation of rules and regulations for the usage of modernized gadgets for their protections and to practice self discipline in accordance with the effects of modernized gadgets towards their studying habits.
With this study, it will promote a sense of concern, awareness, and sense of responsibility among the student of Laboratory High school in terms of using modernized gadgets and involves self management where the student takes responsibilities for controlling their selves and following the rule and regulations pertaining to their protection for wise usage and adaptation of modernized technology.
2.5 SCOPE AND LIMITATION OF THE STUDY
The study focuses on the Effects of Modernized Gadgets (e.g. cell phones, tablets, laptops with internet connection, portable play station, portable DVD player etc.) To the students of Laboratory High School towards their studying habits; it aims to identify the advantages and disadvantages of different high-tech gadgets to the studying habits of each student, its socio-economic effects, financial effects, health effects and effects in the personality/behavior of a student. And the threats and causes of bad effects of modernized gadgets to the students.
All the students in the campus of the CCSPS-Laboratory High School will be involved if the population of the Laboratorians be less than 100 respondents. But if the entire population is large, sample survey is applied. Unrestricted random sampling will be used to get samples from the population (all year levels) wherein each student in the population has equal chance of inclusion in the sample. Data gathering will employ questionnaire which the proponent admits has the limitation of bias. Thus, the questionnaire will be supplemented by observation,
interview, and analysis regarding to the effects of high-tech gadgets to every students of Laboratory high School. However, the result will be used as basis for similar studies that may be conducted at other times and in other schools.
2.6 DEFINITION OF KEY TERMS
Modernization- refers to a model of an evolutionary transition from a "pre-modern" or "traditional" to a "modern" society.
Technology- refers to the making, modification, usage, and knowledge of tools, machines, techniques, systems, and methods of organization, in order to solve a problem, improve a preexisting solution to a problem, achieve a goal, handle an applied input/output relation or perform a specific function.
Related Topics