Effective Training of Student Employees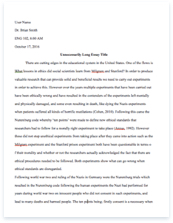 The whole doc is available only for registered users
A limited time offer! Get a custom sample essay written according to your requirements urgent 3h delivery guaranteed
Order Now
Student employees are key workers at many colleges and universities across the United States. The purposes of hiring student employees on campuses are to fill easy administrative tasks with a low-cost worker and to provide students with work experience for their resume. Some students work within their field of study, but many students take roles in student affairs offices that are not related to their major. Training is an important aspect of setting any employees up for success. Since students may have little or no work experience, training is critically important for orienting the students to the workforce and helping the student employees develop professional skills.
Student employees are critical to the everyday function of colleges and universities. Students are hired into roles in place of full-time or part-time professional employees and often take on simple administrative or customer service roles within an office. Because of the nature of the work that they do, student employees are not often viewed as a valuable resource (Kathman & Kathman, 2000). On the contrary, the student employees are often the first greet a patron at a front desk of an office or center, and therefore they are acting as ambassadors of that department, division, and university (Kathman & Kathman, 2000). Therefore, the training programs of student employees should be well developed and intentional to produce quality, professional student employees.
Training is the process through which an employee acquires knowledge and learns skills for an immediate job role (Muchinsky & Culberson, 2015). Development is similar to training, but the knowledge and skills do not have an immediate job application (Muchinsky & Culberson, 2015). Mentoring is when a more senior person in a position helps to professionally develop a new, less experienced employee (Muchinsky & Culberson, 2015). There are some challenges to developing training programs for student employees. One challenge is student employees are often hired in large numbers because three or four student employees are needed to match the 40 work hours per week of a typical full-time employee. Another challenge is the supervisors of student employees often have other primary responsibilities above and beyond supervising their student workers (Kathman & Kathman, 2000). Because of these factors, student employee training may not always be as structured and intentional as it needs to be.
Current research has focused on different strategies and outcomes of student employee trainings in a variety of settings. Additionally, there has been some research on the importance of diversity in student employees and how to train and support diverse student employee populations. The goal of this literature review is to examine training strategies for student employees at institutions of higher education. First, the role of student employees on a college campuses is outlined. Second, previous research on training strategies of student employees are reviewed. Third, the best practices for training student employees are summarized. Finally, gaps in the literature are assessed for future research studies.
Educators often consider student leadership to be related most closely to involvement in student organizations. While that is true, working while attending college is also an important way for students to develop as leaders. Salisbury, Pascarella, Padgett, and Blaich (2012) found overall working while attending college has a positive effect on the development of leadership skills. The relationship between working and leadership development is not that simple. The number of hours and places that students work has different individual effects on student leadership skills. Students who work off campus for at least 10 hours a week possess leadership capabilities that non-working students do not, and working more than 20 hours a week at an off campus location magnifies that difference (Salisbury et al., 2012).
On the other hand, working on campus does not impact leadership development, and working 10 hours per week or less has no impact on leadership development regardless of if the job is off or on campus (Salisbury et al., 2012). Even though students working on campus may not develop the same leadership skills as students who work off campus, there are still benefits for students to choose on campus employment.
On campus employment offers students who do not have the means to travel to an off campus job an opportunity to earn some money. Many areas of campus that offer student employment positions are within walking distance of the residence halls or academic buildings. One department on a college campus that employs many students is the library. In a library on a college campus, the student employees are often the first point of contact for the patrons at a circulation desk. Therefore, the library student employees are in a position in which they are representing the library and the institution to both students and guests (Kathman & Kathman, 2000). The opportunity of working for the library provides students with the benefit of developing professional skills that are important for future employment (Kathman & Kathman, 2000).
One unique sector of the student employment is the role of undergraduate Resident Assistants (RAs). RAs work for an institution's residential life or housing department and serve an important peer support role on campuses. RAs are important for responding to the social, emotional, and developmental needs of college students. The performance of these duties requires extensive training.
Emotional intelligence (EI) is the ability to perceive, understand, and regulate emotions (Jaeger & Caison, 2006). The EI variable adaptability was a significant predictor of outstanding performance in Resident Assistants (RAs), and the EI variables problem solving and flexibility were also significant predictors of RA performance (Jaeger & Caison, 2006).
Quality service is rooted in the interactions between employees and customers. This begins with an intentional training program that emphasizes community service above everything else. Despite their important role, many library student employees have little to no training. Student employees often not seen as a valuable resource, and student employee supervisors cannot always drop their other work to train student employees. The main point of this article is that an effective training program benefits both the employer and the student employees.
Previous literature has outlined many strategies for training student employees including computer-assisted instruction, videotapes, handbooks, programming (experiential) instruction, lecture-demonstration, competency-based design, and peer-to-peer training. The current article by … outlined some challenges of training student employees. First, because of their student status and part-time employment, student employees are only partially committed to their work. Second, the training needs to be completed in a short amount of time. And last, there are often a large number of student employees who need to be trained at the same time. Student employee positions see between 33% and 100% turnover between academic years. Considering all of these factors, it is important that a formal training program is established in order to be most impactful.
A student employee training program should start with pre-employment activities which can include a welcome letter outlining expectations, schedule of orientation sessions, manuals, self-study materials, and where and when to report for their first day. Pre-employment materials are important for communicating the culture and expectations of the workplace that students with no work experience might not be familiar with. In a similar sense, the job orientation should focus on what students need to learn in the areas of knowledge, attitudes, and skills. A useful technique for orientation and training is to gather all the new employees together for information that applies to all and then breaking into smaller functional groups for more specific area training. Additionally, the immediate supervisor of the student employees should be responsible for the training. Training is an important time for the supervisor to build a working relationship with the student employees and set expectations for work.
Murray, Snider, and Midkiff, Jr (1999) explained that the majority of previous research on the training of student employees focused on training topics, timing, and formats, but there was a gap in the literature on RA training outcomes. The purpose of this article was to explore the relationship between RA training and improvement of job performance, with a focus on the frequency of productive and counterproductive behaviors. According to Muchinsky and Culbertson (2016), counterproductive work behaviors are a broad range of behaviors that negatively impact the organization or are harmful to other employees. Murray and colleagues (1999) hypothesized that there would be a significant overall gain in the participants' knowledge of the training subject, which would be positively associated with productive behaviors and negatively associated with counterproductive behaviors. The study took place at a baccalaureate college in the mid-Atlantic region of the United States. The total enrollment at that college was 3,400.
There were 64 participants who were RA, and 73% of the participants had no previous experience as an RA prior to this training study. The demographics of the participants were consistent with the demographics of the institution as a whole. Each participant attended one of the three sessions on conflict resolution hosted by the assistant director of residence life. The topic of the treatment was chosen based on a needs assessment completed by the researchers during the previous academic year. During the needs assessment, the researchers identified seven productive behaviors and five counterproductive behaviors related to conflict resolution. These behaviors were emphasized during the training workshops.
To evaluate the training outcomes, participants completed a written test over the content immediately before the workshop and again four weeks after. Additionally, the RAs' direct supervisors observed the RAs' behavior throughout the semester and tallied any of the productive or counterproductive behaviors that came to the supervisors' attention. Overall, the researchers found the participants scores were significantly higher on the test four weeks after the training than the pretest. This effect was still significant after controlling for employment status (new or returning RA). One key finding of this study was that productive behaviors were more than twice as frequent than counterproductive behaviors, and productive behaviors were significantly related to increased content mastery. The RAs who learned the most from the training sessions also displayed higher numbers of productive behaviors.
The results of this study indicated that even short-term interventions are related to positive changes in RA behavior, which supports the original hypothesis. Murray and colleagues (year) did not see a reduction in counterproductive behaviors, which does not support the hypothesis. Although, the researchers point out that this could be due to the overall low number counterproductive behaviors overall. This research supports the practice of training Resident Assistants at the beginning of their employment, as well as shorter interventions such as in-service trainings to produce positive changes in RA behavior. Future research should continue to examine the outcomes of RA training, and specifically focus on the effectiveness of RA training on addressing inadequacies in current performance.
Related Topics