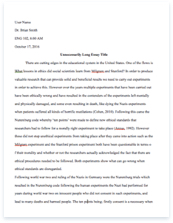 The whole doc is available only for registered users
Pages: 4
Word count: 888
Category: Future
A limited time offer! Get a custom sample essay written according to your requirements urgent 3h delivery guaranteed
Order Now
As Eckels, the main character in Ray Bradbury's "A Sound of Thunder," handed the check for ten thousand dollars to the man behind the desk at Time Safari, Inc., he probably thought he was making a decision that would change everyone's life forever. Had he considered that, he might have taken the man's off when he said, "Your personal check's still there. Tear it u" and never have gone on the dinosaur safari. Choosing to pay for and go on a time travel hunting safari was just the beginning of Eckels mistakes. Ray Bradbury presents Eckels as a nervous, immature, irresponsible man, whose mistakes in character cost everyone dearly.
Eckels begins his series of mistakes by being mentally unprepared. "Eckels swayed on the padded seat, his face pale, his jaw stiff. He felt the trembling in his arm and he looked down and found his hands tight on the new rifle". Bradbury continues t display Eckels's flaw by writing, "can these guns get a dinosaur cold? Eckels felt his mouth saying". if Eckels is swaying, fading color, stiffening jaw, trembling, unknowingly holding a rifle, and feeling his mouth speaking, he cannot be prepared. A man paying thousands of dollars to a time travel organization so that he can shoot a dinosaur should not be so anxious. A prepared man would sit confidently in his padded seat, thinking of all of the possibilities. He would know how the animal would look, how it would move, where he would shoot, and what his backup plans would be. Few, if any, scenarios would not be played out in his head as he made sure his gun was ready and he discussed the kill with the others whose advice he desired and respected since they were seasoned in this area. Mentally prepared to hunt a two thousand pound monster, not a nervous wreck, is what Eckels should have been.
Since Eckels was actually a nervous wreck, it makes sense that he would also be immature. After Travis and Lesperance, Time Safari, inc. employees, spend much time explaining the possible domino effect of killing just one mouse, emphasizing how important it is to stay on the path, and describing the process of choosing an animal for the hunt, Eckels responds with childish curiosity about the outcome of the hunt. " but if you came back this morning in time, said Eckels eagerly, you must have bumped into us, our safari! How did it turn out? Was it successful? Did all of us get through alive?". If Eckels were a real adult, he would have responded to the information and directions, not inquired about the outcome of the hunt. He should be making sure he know what the path looks like and where it is, understanding completely that if he steps off, he could minutely affect the future. A mature adult would ask questions that clarified questions and expectations while the child-like Eckels wants to know the future similar to a child wanting to be told the ending of a movie rather than watching to find out.
Not only do children no t like to wait, they, like Eckels, do not like to take responsibility for their actions. Eckels was the one who decided to go on this safari so he should have been ready and responsible for his behavior. He does not want to shoot the Tyrannosaurs because he is to afraid, which makes him run off the path as he hurries back to the machine without bother to be careful. Since he is not careful, the dinosaur sees him, and even though they all wanted to avoid the hunt, they had to kill the dinosaur now out of self defense. Eckels is responsible for this all, but does he take responsibility? No, instead of accepting that he is the cause of potential problems, he offers, "I'll pay anything. A hundred thousand dollars!" still not letting the trouble he might have sauced sink into his head, he sarcastically mouths off to Travis, "just ran off the path, that's all, a little mud on my shoes-what do you want me to do-get down and pray?" and "I'm innocent. I've done nothing" instead of acting like a pompous jerk, Eckels should have taken responsibility for his actions by admitting to himself and the others that he made terrible mistakes that might change the future.
Careless, juvenile, and unqualified, Eckels mistakes in character lead to his demise and irreversible changes in the future. A person chooses who he or she is, Eckels should have chosen to be responsible, mature, and prepared. If Eckels were all of these things, he might not have even made his first mistake. When he was given the opportunity to rip up his check, he could have done that and avoided what we assume to be his murder by Travis. "He did not move. Eyes shut, he waited, shivering. He heard Travis breathe loud in the room; he heard Travis shift his rifle, click the safety catch, sand raise the weapon. There was a sound of thunder" instead of the story ending with Eckels sitting still, closing his eyes, waiting, shivering, and dying, Eckels could have walked out of Time Safari, Inc. with ten thousand dollars still in his pocket in a thriving United States democracy.
Related Topics