Domestic and International Business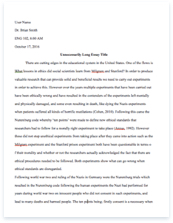 The whole doc is available only for registered users
A limited time offer! Get a custom sample essay written according to your requirements urgent 3h delivery guaranteed
Order Now
Exporting and international business can be interesting, exciting and in some cases challenging. In all cases it should be profitable and help a business grow. Doing business internationally is not the same as doing business at home. There are new skills to learn and new knowledge to acquire about the country you will be going into. You will need to learn about the different laws and regulations, the different customer buying habits, and change your marketing strategies and materials to appeal to the new country you are entering. It is important to remember that the way you operate your business will be determined by culture of the market you are entering, not yours. It is important to understand the differences between domestic and international business but they should not inhibit your interest or drive for success internationally. Rather they should whet your appetite for success. Cultures
No two cultures are the same and understanding both the social and business culture in another country is the first key to success. Culture defines everything a society does, from its business practices, to its response to advertising and marketing, to negotiating sales. It is important to include research on the culture of the country(s) that you intend to sell to prior to entering their market. Understanding these, often sensitive, areas will mean that you are better prepared when first entering the market. Although the people that you will deal with will not expect you to be completely in tune with the culture, respect and politeness will go a long way. Level of Competition
The level of competition you will experience in foreign markets is likely to be more dynamic and complex than you experience in domestic markets. A good strategic tool to use to determine if you are able to compete in a particular international market is the Porters 5 Forces analysis. This tool will assess your supplier power, buyer power, threat of competitor products and the threat of new entrants to the market. A strategic business plan is a step-by-step document that a business writes in order to ensure operational success. Depending on the type of business these plans will differ dramatically. Including international or global considerations in a strategic business plan is a major element that impacts all dimensions of the plan. A basic strategic business plan involves a vision for the company entailing a mission statement, a well-thought-out financial plan, human resources strategies and a situational analysis. Mission Statement
The mission statement is a short two to three sentences that clearly explains the company's goals, products and mission. In a domestic market this statement can be more specific, focusing on the problems and/or concerns of the local populations. When a company is operating internationally this statement must take into consideration the values, beliefs and concerns of all international populations that the company operates within or must be regionalized. Financial Planning
When creating a financial plan in a domestic market one must consider the cost of operations, cost of new facilities and the profit margin within the area of operations. This is all expanded in an international market. Cost of operations, facilities and profit margins must still be considered, however, there is now the added concern of foreign currency. The exchange rates from U.S. dollars to any other foreign currency changes every day; some countries have such a high exchange rate that it would be uneconomical to consider doing business there. This introduces a margin of risk that is not present within a domestic market. Human Resource Strategies
HR strategies include management strategies, employee recruitment and legal issues. Domestically one organizational structure can be set up and followed by all future locations in the same manner. This makes it easier for HR to examine performance and potential risk factors within the company. In an international setting foreign outsourcing becomes HR's major concern, managing many different organizational management structures and diverse employee recruitment. Legal issues become more complex because laws in each country are different. Not only must the company follow all laws in their home country, HR must make sure all laws in all foreign countries of operation are being followed. Situational Analysis
A situational analysis is a company's look at the current market, strengths and weaknesses. A common way that companies do this is with a SWOT analysis, determining strengths, weaknesses, opportunities and threats. Domestic companies only have to do this for one national market whereas multinational companies must look at each national market as an individual unit, as well as the company in its entirety. In international companies, weaknesses, strengths, opportunities and threats must be considered for each country separately. In an international business plan each country is analyzed and added into the company's plan as a whole. Additional Considerations
In addition to analyzing company traits, marketing and advertising strategies change dramatically in an each nation's setting. Companies must consider different cultures that hold different values and concerns about their daily life. Other languages and correct translations must also be considered. For example, translating the meaning and not just the words is a major concern in international advertisements. Beyond the primary differences in strategic planning for multinational companies versus domestic firms, matters such as intellectual property protection, required legal structures, property ownership risk, political risks and nationalization risks must be assessed. http://yourbusiness.azcentral.comGlobal Marketing versus Domestic Marketing Introduction
Marketing is far and wide. Informally or formally, organizations and people engage in various actions that could be called marketing. Marketing deeply influences our everyday lives. Good marketing is the result of careful designing and implementation. Marketing practices are continually being refined and reformed in virtually all industries the chances of success. But marketing excellence is rare and difficult to achieve. Marketing is both a "science" and an "art" – there is stable tension between the creative side and the formulated side of marketing. Domestic marketing takes place within the boundaries of the nation. In a global industry the strategic ranking of competitors in the leading national or geographic markets are basically influenced by their global status. A global organisation is an organisation that functions in more than one country and captures production, R&D, marketing, logistical and financial advantages in its reputation and costs that are not obtainable to other purely domestic competitors. Research Background
In recent times most of the reputed companies are doing the international marketing and entering to the global market. And also would like to know the effects of global marketing versus domestic marketing. And how they are effective in the current recession and how it helps to recover the recession. In this global village era it is not possible to concentrate only in the domestic market, and to find out what are the strategies they taken for global marketing. And to find out what are the challenges that domestic retailers face in the global market. Wal-Mart Stores, Inc. one of the leading retailers in the world also ranks as the biggest corporation in the world. Domestically, Wal-Mart owns more than 1.2 million employees, making it the country's largest nongovernmental company. With unique marketing strategies and good management techniques, Wal-Mart was able to function.
Domestic Business and International Business
Conducting and managing international business operations is more complex than undertaking domestic business. Differences in the nationality of parties involved, relatively less mobility of factors of production, customer heterogeneity across markets, variations in business practices and political systems, varied business regulations and policies, use of different currencies are the key aspects that differentiate international businesses from domestic business. These, moreover, are the factors that make international business much more complex and a difficult activity. Differences between International Trade and Domestic Trade
Scope: Scope of international business is quite wide. It includes not only merchandise exports, but also trade in services, licensing and franchising as well as foreign investments. Domestic business pertains to a limited territory. Though the firm has many business establishments in different locations all the trading activities are inside a single boundary. Benefits: International business benefits both the nations and firms. Domestic business have lesser benefits when compared to the former. To the nations: Through international business nations gain by way of earning foreign exchange, more efficient use of domestic resources, greater prospects of growth and creation of employment opportunities. Domestic business as it is conducted locally there would be no much involvement of foreign currency. It can create employment opportunities too and the most important part is business since carried locally and always dealt with local resources the perfection in utilization of the same resources would obviously reap the benefits. To the firms: The advantages to the firms carrying business globally include prospects for higher profits, greater utilization of production capacities, way out to intense competition in domestic market and improved business vision.
Profits in domestic trade are always lesser when compared to the profits of the firms dealing transactions globally. Market Fluctuations: Firms conducting trade internationally can withstand these situations and huge losses as their operations are wide spread. Though they face losses in one area they may get profits in other areas, this provides for stabilizing during seasonal market fluctuations. Firms carrying business locally have to face this situation which results in low profits and in some cases losses too. Modes of entry: A firm desirous of entering into international business has several options available to it. These range from exporting/importing to contract manufacturing abroad, licensing and franchising, joint ventures and setting up wholly owned subsidiaries abroad. Each entry mode has its own advantages and disadvantages which the firm needs to take into account while deciding as to which mode of entry it should prefer. Firms going for domestic trade does have the options but not too many as the former one. To establish business internationally firms initially have to complete many formalities which obviously is a tedious task. But to start a business locally the process is always an easy task. It doesn't require to process any difficult formalities.
Purvey: Providing goods and services as a business within a territory is much easier than doing the same globally. Restrictions such as custom procedures do not bother domestic entities but whereas globally operating firms need to follow complicated customs procedures and trade barriers like tariff etc. Sharing of Technology: International business provides for sharing of the latest technology that is innovated in various firms across the globe which in consequence will improve the mode and quality of their production.Political relations: International business obviously improve the political relations among the nations which gives rise to Cross-national cooperation and agreements. Nations co-operate more on transactional issues. http://dilipchandra12.hubpages.com/hub/Major-Difference-between-Domestic-and-International-Business
Related Topics