Do information media have social responsibility?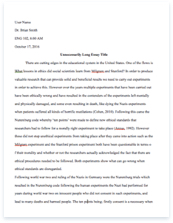 The whole doc is available only for registered users
A limited time offer! Get a custom sample essay written according to your requirements urgent 3h delivery guaranteed
Order Now
Yes, I do think information media have social responsibility because some teenagers have self-discipline that allows them to have an order in their life. For most children, it's very capable of them to be observational learners through watching and imitating. I also think the only reason we need social media; to work are to make it a little easier to identify through examination of current literature. Many people rely on these types of media such as, politics, crime, and natural disasters. I say that because "if an information media inaccurately reports information then the public is let with false statements then they may perceive as truth. My conclusion is that if we think social working is affecting our kids so why put things that inappropriate on the web.
Knowing our children have the power to get access to their websites. The impact of social media has become too high for anyone to ignore. I also think social responsibility has grown over the years because from a narrow marginalized notion into a complex, multifaceted concept that has become a vital part of the contemporary corporate decision-making process. I enjoyed doing this essay because it's a lot I could have related to this topic because the social network now days are affecting our kids in some way. Many people have gone blind to the fact; that they need to start controlling what they kids see, watch, and listen to on the social network.
Related Topics