Distinction Of A Great Leader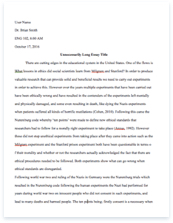 The whole doc is available only for registered users
A limited time offer! Get a custom sample essay written according to your requirements urgent 3h delivery guaranteed
Order Now
Alexander the Great of Macedonia is considered one of the greatest leaders of all time and has had a profound effect on history as we know it. His campaign of conquest ultimately lead to one of history's largest empires and he was responsible for the spreading of Hellenistic culture. These changes had an effect both politically and culturally for centuries to come. Alexander was a powerful leader and ruler until his death at the young age of 33. There are many different theories surrounding his death. Did he die from being poisoned? Did his liver fail due to alcoholism? Was it malaria or disease? Know one really knows. For all the ancient history found about Alexander, historians still have not successfully answered the question of exactly how he died. There is no denying that Alexander the Great was one of the most significant figures in history; nevertheless, the death of Alexander the Great remains a mystery despite many ancient accounts and theories surrounding his death.
The end of Alexander's life began when he visited Babylon on the way back from India. Well-known ancient history scholars, Waldemar Heckel and J.C. Yardley, write about Alexander's illness and death in the book "Alexander the Great." Alexander the Great died 323 B.C. in Babylon after suffering from a fever for several days. The reason for his death is unknown and different accounts are given. Plutarch and Arrian believe that Alexander died from disease while Justin believes he was poisoned. Heckel and Yardley translate the following accounts given by ancient historians Plutarch, Arrian, and Justin in the Ephemerides. Otherwise known as the Royal diaries. The only thing these ancient historians agree on is that Alexander became unable to speak and paralyzed in his last few days. Plutarch, an ancient greek writer, describes the days leading up to Alexander's death.
Plutarch claims Alexander stayed up late attending a Banquet for the departing of Admiral Nearchus and then was invited by his friend Medius to continue the party in his tent. Alexander spent the night drinking and continued into the next day. Plutarch's account describes how Alexander bathed and made a sacrifice to the gods then continued his drinking with the onset of a fever already on him. Plutarch describes Alexander laying by a pool with a high fever while giving orders to his officers on military matters and later losing his ability to speak and move. Because of this, his officers believed him to be dead. Plutarch claims that the account of Alexander's death "follows the Ephemerides word for word". Rumors of poisoning arose after the death of Alexander yet Plutarch did not carry any suspicion of poisoning. Donald Engels, in the Journal of Classical Philology, agrees with Plutarch and emphasizes that Alexander did not die from poison but from natural causes such as malaria. Engels believes the symptoms that Alexander experienced in his last days do not resemble poisoning. Engels is referring to Alexander's fever.
""Slow poisoning-caused by repeated small doses over a long period-causes subfebrile temperatures Subfebrile temperatures are scarcely consistent with Alexander's violent fever." In addition, historians note that Alexander had no excessive vomiting which usually goes hand in hand with poisoning. Engels goes on to discuss the symptoms Alexander had such as loss of voice and back pain parallel to malaria along with the environment and Alexander's weakened condition exacerbating the disease. Arrian's account closely matches Plutarch's since he also used the Ephemerides as his source of accounting Alexander's death. Arrian describes Alexander's last days as attending parties, making sacrifices and excessive drinking for two days along with " already suffering from a fever". Like Plutarch, Arrian describes Alexander's worsening fever and loss of speech yet his officers say that "he recognized them individually by raising his head and giving a sign of recognition with his eyes". Arrian did not suspect poison or foul play in the death of Alexander. However, many historians suspect that Alexander died due to being poisoned.
Justin is an ancient historian that strongly believed Alexander met his demise from being poisoned. Justin's account of the days before Alexander's death reads differently from Plutarch and Arrian's account. Justin also describes Alexander as drinking heavily and attending a ceremonial banquet. However, this is where the similarities end. Justin describes Alexander being carried from the banquet after drinking half a cup and was barely conscious when carried from the room. "He was racked with such agony that he asked for a sword to put an end to it". Justin believes that Alexander was poisoned by Antipater because Alexander had put his friends to death. Many historians question if poison could have played a role in Alexander's death and if so was it Veratrum album? An article, in Clinical Toxicology, titled "Was the death of Alexander the Great due to poisoning? Was it Veratrum album?" claims that Alexander may have been killed by a toxic wine containing a poisonous plant called veratrum album.
Veratrum poisoning is "heralded by the sudden onset of epigastric and substernal pain, which may also be accompanied by nausea and vomiting, followed by bradycardia and hypotension with severe muscular weakness." However, while it is important to note Alexander did suffer with the muscular weakness, little data from ancient historians support the theory of poison. Modern historians that no not necessary believe the poison accounts have come up with more plausible theories. One theory that historians have come up with explaining Alexander's death is malaria or typhoid fever. A study by the Infectious Disease Clinics of North America titled "The death of Alexander the Great: malaria or typhoid fever?"
Published in Elsevier Saunders believe Alexandria died from typhoid fever. "The cardinal features of typhoid fever are present, particularly the gradual stepwise increase in fever without significant rigors or sweating. The continuous fever of typhoid fever fits well with Arrian's and Plutarch's descriptions." The article goes on to describe how typhoid fever does not usually account for preceding abdominal pain like Justin describes in his account of the events. In fact, the article describes how abdominal pain is usually in the later stages of the disease. The article also noted "Alexander's inability to speak suggesting central nervous system (CNS) involvement independent of the fever and the apathetic facies and delirium (ie, ''typhoid state'') that can accompany typhoid fever fits this description." CONTINUE WITH FACTS AND THEN WRITE CONCLUSION
Related Topics