Discovering My True Passion in Life and Fulfilling Life's Purpose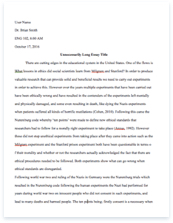 The whole doc is available only for registered users
Pages: 5
Word count: 1123
A limited time offer! Get a custom sample essay written according to your requirements urgent 3h delivery guaranteed
Order Now
Some of the hardest tasks in life are discovering one's true passion in life and fulfilling life's purpose. Through many of my experiences, I had the pleasure of discovering that my true passion lies within the field of occupational therapy. Some of my main goals in life are to make a difference in the lives of others, meet and help people of diverse backgrounds, and discover new and effective ways to overcome challenges. The characteristics I possess as a student and overall as a person are my greatest strengths, which will enable me to accomplish these goals as well as the goals I will set as an occupational therapist. In addition to my character traits, the professional development I have gained over the years has prepared me to face obstacles and dedicate my time to assisting others.
Like many undergraduate students, I began college unsure of the career path that was best suited for me. I knew that I wanted to help others in a health-related field but I was uncertain of what specific profession. While enrolled in an Autism Spectrum course, I was introduced to occupational therapy. I learned that occupational therapy is a form of therapy used to rehabilitate physically or mentally ill individuals. Moreover, I learned how evidence-based interventions and therapeutic activities enable individuals with autism to meet goals that improve their daily life skills. My interest deepened as I did more research into the profession and I knew that I had potentially found the perfect career for myself. While participating in my university's undergraduate research program, a professor that I shadowed encouraged me to begin observing occupational therapists to confirm my career aspiration.
I began searching many different places and finally received an opportunity to shadow at an outpatient pediatric clinic in Pensacola, Florida. During my time at the clinic, I assisted with crafts and activities geared towards improving fine motor skills and I learned about different methods used to evaluate and track the progress of the children. The one-on-one interactions and the dedication exhibited by both therapists are what I admired most during my experience; no matter how challenging tasks were, the therapists were patient and proactive in finding different ways to accommodate each child. For these reasons, I knew that I truly wanted to become an occupational therapist.
Occupational therapy has become the greatest interest in my life partly because it aligns with the long-term goals that I have set for myself. As a professional and an individual, I seek experiences that allow me to leave a lasting positive impact on the lives of others. Self-fulfillment is an important quality to possess in order to lead a happy life. As an occupational therapist, I would strive to help each individual I work with achieve their goals to benefit them holistically. In the time that I have worked as a rehab therapy tech, I have been able to witness a wide range of patients make significant progress towards their goals. My position also allows me to motivate the people I work with and make their road to recovery as enjoyable as possible.
When I began my position as a rehab therapy tech, I was both excited and overwhelmed at first. Thankfully, the wonderful staff welcomed me to the hospital; they provided me with the support and encouragement I needed to succeed in my position. Observing how helpful therapists are towards each other and their dedication to each patient are qualities I saw within myself. During my second week, I was assisting patients in my breakfast group when an occupational therapist came to me for help. The therapist was attempting to work on ADL's with a maximum assist patient and she needed me to help transfer the patient. We successfully helped dress the patient and transferred him from the bed to his wheelchair. This experience was so significant to me because it presented me with a new challenge and I successfully completed it. From that moment on, I felt more confident taking on new challenges in my new position.
In addition to my professional experiences, my time as a Psychology student at the University of West Florida has prepared me for a career in occupational therapy. Majoring in psychology provided me the foundation needed for understanding the human mind, behavior, and development. One of the most rewarding aspects of being a psychology major was learning to collaborate well with others on stressful tasks. Working in a team with a diverse group of people is similar to occupational therapists that work with physicians and other clinicians to provide the best care for patients. Learning to communicate effectively and positively contributing towards a common goal will definitely be beneficial to me as a graduate student and later as a therapist.
During my time as an undergraduate student, enhancing my problem solving skills was also a rewarding aspect of being a psychology major. While enrolled in research methods and many other courses, I was given assignments that required me to assess problems and find the best way to resolve them. As an occupational therapist, I will be required to identify a range of issues and create the most effective plan of care to improve a patient's quality of life. The ability to approach, identify, and make an informed decision on different types of problems comes with time and experience. I believe that the problem solving skills I obtained are essential to creating and accomplishing my goals as an occupational therapist.
Relatively every experience that I had during my undergraduate career is applicable to everyday life and especially to my career in occupational therapy.
My experience has humbled me in many ways; I have a greater appreciation for my physical and mental abilities because they allow me to help others develop and regain their own strengths. it reaffirms my ultimate goal to empower others and become a leading clinician someday.
I am a firm believer in the ideology that people tend to discover their true strength in times of adversity
Overall, I have faith that my studies, activities, and professional experience have provided me with the skills necessary to become an exceptional occupational therapist. My passion and determination will enable me to further my knowledge and assist others in every way possible.
Every individual in this world has a purpose. I believe that my purpose in life is to become an occupational therapist so that I can assist others and remind them of their purpose in life. I am driven by my passion for providing care and support to others while they work towards achieving personal goals. In addition to my passion, my educational and professional experiences will allow me to become a successful occupational therapist. There is no other profession that could challenge me while simultaneously bringing me happiness like occupational therapy will.
Related Topics