Difficulty and advantage of studying abroad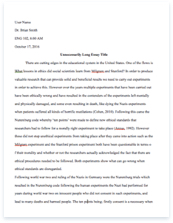 The whole doc is available only for registered users
A limited time offer! Get a custom sample essay written according to your requirements urgent 3h delivery guaranteed
Order Now
"Where do you come from?". That is one of the normal questions that people will ask when they get to know someone. The answer to that question though becomes more varied now. The answers that we get now do not consist of places from another state only, but the answers are filled with places from other countries. In Purdue itself, the population of international student is up to eleven percent of the whole population. The international students' population has been growing over the last few years. What have triggered this event? Why do many foreign students wish to go and study abroad instead of at their own hometown? The answers to those questions have been discussed in my previous papers. Now, it is the time to discuss whether studying abroad is overrated. There are two sides of the argument, one will be against studying abroad and another will discuss the advantages of studying abroad.
There are, of course, difficulties that will be faced by students when they are abroad. One of such difficulties is to be prejudiced against. As can be seen in the article by Nadine Dolby entitled "Encountering an American self: Study Abroad and National Identity." In the article, the American students were prejudiced against during their stay in Australia. It may be a good experience to study abroad, but for some, the experience may not be so. Imagine to be eating at a restaurant and then, people start to talk about you just because of what your nationality is. Not only about your origin, but international students are also prejudiced in other ways. Generally, it is harder for international students to get visa more so, since the nine eleven incident. There has been an increase in the number of rejected visa to America. Some students who went back to extend their visa even get rejected. Of course, it is also more expensive for foreign students to pay for the education.
The fee of studying abroad is a few folds higher than it is to study back at home. Also, the living expenses are much higher than at their home country. For a student from Indonesia for example, the currency exchange is very high, about Rp 9000.- for US$1.- . Also, the income per capita of Indonesia is only about $3000.- . Meanwhile, the per semester cost of studying is about $9400.-, not including the housing fee and living expenses. Thus, money is another problem faced by international students. To add to the problems, the United State charge another $100.- for the Student and Exchange Information System(Sevis) which can be used to track international students.
On the other hand, studying abroad has their advantages too. Albert Albert an international student from Indonesia who has been studying away from his home country since 1995 share stories of his fun adventure. He had been able to live in countries with different cultures and thus, he had learnt a lot about other countries' cultures. The article by Pamela Emanoil entitled: "Study abroad expands cultural view, life skills, and academic experience." supported his opinion. Albert had been moving from one country to another to find the country with suitable educational system for him. He has made lots of friends in many different countries which still keep in contact with him.
Generally, students become more adaptable to new experiences after they experienced studying abroad. They become more independent and gain new skills that they may not obtain at home. It will also promote diversity which is widely sought in students by companies nowadays. At first, the students may face difficulties such as language, but after overcoming the difficulties, not only will you increase the fluency of a language, but also, you will gain many connections around the world.
It is sad but, the educational system abroad is sometimes better than at home. The article by Barbara Kantrowitz entitled: "Learning the Hard Way; Universities around the world are plagued by a host of intractable problems–except in America." discusses some of such countries. Universities around the world experience many monetary problems like corruption and the universities not having enough funds for decent educational purposes. For the sake of obtaining a better education, students are willing to pay more if they can afford to. In countries like America, education is treated very importantly, students and professors are able to learn to their hearts' content. The research facilities are of state of the art quality. Degrees are obtained only to students who really put in effort, not to people who has money.
Not only America, other countries are also competing to attract foreign students. This is a good thing for international students. With the increase in competition between countries, the quality of the school also increases. The cost of education will also be competing and thus, the price will not be too high. There will be more options for students too, students will be able to choose one of many available institutes around the world. Students will be able to choose one that is most suitable for themselves. During the stay of study abroad, students will be able to visit other places when they are having break. International students in America for example can study in universities in other state during summer and have their credits transferred to their universities. The choice of place when studying abroad does not disappear when one has chosen a place, instead, new path to other places may open instead.
Study abroad programs do not only involves the students. It is important to promote the programs so more students will want to join. Purdue Universities, as one of the universities with the most number of foreign students try hard to keep promoting diversity. Just recently, Purdue's president, Martin Jischke himse;f went to India in order to promote diversity. He visited school alumni and parents of current students to stimulate people's interest in sending their children abroad. Another recent program is Purdue and Belgian school plan to expand partnership. This partnership will encourage future relation like student exchange, research partnership. These are only a few of the ways that are being done to promote study abroad program, either for international students or American students to study abroad.
To sum up, there are disadvantages in studying abroad. There are cases where students may be prejudiced against in their visiting countries. Also, the amount of money spend for international studies is a few times higher than it is to study back at home. In comparison though, I feel that there are more advantages in going abroad than the disadvantages. Students will learn a lot of things abroad. They will learn to be more independent, they will be more mature and they will be exposed to a new culture. It is also more likely that students will be more pumped up to study abroad as they know the cost.
Therefore, after a long research, I have finally come to a conclusion that studying abroad is not overrated. There are many experiences that you will get during your stay abroad. You will be exposed to new cultures and gain friends everywhere. Studying abroad is fun although there may be some difficulties. I myself am glad that I have studied abroad too.
Related Topics