Did the Civil Rights Deal Achieve a Great Deal in the 1950-1960's?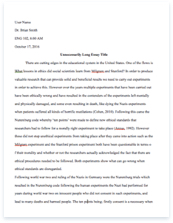 The whole doc is available only for registered users
A limited time offer! Get a custom sample essay written according to your requirements urgent 3h delivery guaranteed
Order Now
For the duration of 1950-1960's there was a lot of black civil unrest, in the need for civil rights. Black people wanted the right to vote to have equal job opportunities and pay because they worked equally as hard, they wanted the right to go to equally good schools as white students to have equal education, they wanted an end to segregation in cafes, swimming pools and buses as it was demeaning, they also wanted the right to be protected and not be attacked by police. A black leader such as Martin Luther King and Fames Foreman led protests, marches and riots in an attempt to gain these civil rights for black people. Black People wanted equality; not better but equal.
I interpret a great deal to be for black people getting civil rights and being treated equally. Other people would interpret a great deal in different ways. The black protestors are not trying to get better rights for themselves, they want equal rights, they want to be treated the same as the white people.
I can link sources C,E and I. They all show that black people have achieved something and gained come civil rights. Source C is a secondary written source, it explains and shows how many black children went to all white schools in the southern states in the late 50's early 60's. "Texas 1956-1957 3400, 1961-1962 4300" The source is not biased because it is written for a school textbook. The source has limitations because it only shows the statistics of schools. It does not include anything about voting or travelling.
Source E talks about the achievements of black campaigns by Martin Luther King. "It is most significant that this progress occurred with minimum loss of life" The source is biased because Martin Luther King only talks about the good and non-violent achievements. It doesn't mention any injuries or deaths that happened during many of the protests. The source only gives half the view of the civil rights movement and has limitations and omitted facts. From my own knowledge there have been some deaths and injuries in non-violent action. Martin Luther King only talks about how civil rights were gained by peace and by not using violence. An example of violence was police chief Eugene 'Bull' Connor. On April 1963, in Birmingham, Alabama, Martin Luther King organised a series of non-violent demonstrations. Connor ordered dogs, tear gas, electric cattle prods and fire hoses to be used against the marchers. The protesters used no violence even though they were being attacked. Outraged Americans saw the scenes on television.
Source I is a primary and written source. The source shows the statistics of how many black people could vote in the south from 1964 to 1971. "Mississippi, 18% – 1965, 60% – 1971." The source is not biased because the information is the government's official figures.. The source has limitations since it does not mention about schools or transport. However, the source does give me a sufficient amount of information about voting in the South from 1964 to 1971.
I can link sources D, F and G. The sources all explain and show that black people didn't achieve all the civil rights and equality.
Source D is a primary picture of a march on Washington by black people protesting and demonstrating. This does not show that they have achieved much otherwise they would not be protesting. Martin Luther King gave his famous speech 'I Have A Dream', a quarter of a million blacks appeared to listen to him. "End Segregated Rules In Public Schools." The source is valid because it helps to show that black people haven't achieved much or they would not be protesting. Quite a lot of things are shown (what they are protesting for), but the source has limitations. From my own knowledge I know that there have been improvements even though the source is implying that not much has happened.
The source shows a protestor demonstrating a poster about segregation in schools. But I know that there have been improvements. For example there is Little Rock. On September 1957m in the little town of Little Rock, Arkansas decided to take it's first black pupils in it's Central High School. As nine pupils, led by 15-year-old Elizabeth Eckford, tried to enter, they were barred by a large crowd of whites and by state troopers ordered there by the governor, Orville Faubus. The black people of Little Rock took Faubus to court and an order was issued the remove the guards. When the same pupils, with great courage., again tried to enter, an hysterical mob forced their removal. At this point, President Eisenhower sent in 1,000 paratroopers to protect the children, and these soldiers stayed on the premises for the rest of the school year.
Source F is a primary and written source. The source is a speech by James Foreman in 1969. This source explains that force and violence is needed to get civil rights for black people. "We must not forget that it will ultimately be by force and power that we will win." The source is biased because it only talks about the violence and not about the successful non-violent protests. The source only gives half the view of the civil rights movement. From my own knowledge I know that this source also has limitations as it omits facts about the accomplishments of the Civil Rights movement and is therefore biased. It only explains about violence being the only way forward and it does not mention Martin Luther King. I am presuming someone who was part of The Black Power Movement produced the speech. The Black Panthers were a violent Black Power group. Huey Newton and Bobby Seale set them up in 1966 and Eldridge Cleaver later joined them. The Black Panther Party (BBP) never had more than 5,000 members but they attracted a huge amount of publicity because of the way they looked, their revolutionary ideas and their use of armed violence. Unlike the other Black Power groups, the Panthers were against the capitalist system.
Source G is a primary and written source. The source is about two black children having a discussion about them setting a building on fire and how their kids will read about it and them in the future. They also talk about the worst race riot in history. "And there wasn't nothin' them honkies could do but sweat and stain to put it out." The source is biased because the kids only talk about aggression and their brutal achievement. This source shows that black people are not happy still with civil rights since they are still rioting.
Related Topics