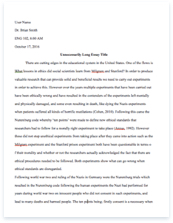 The whole doc is available only for registered users
A limited time offer! Get a custom sample essay written according to your requirements urgent 3h delivery guaranteed
Order Now
1) Memorandum To: Attorney From: Diane Espinosa
Re: Could a complaint be dismissed due to failure to state claim upon relief in the state of North Carolina
The issue that is presented is can Brad dismiss a claim because of failure to state claim upon relief.
North Carolina state defendant motion was to dismiss the plantiff's amended complaint in the case of Dawson v. Allstate Ins. Co., 106 N.C. App. 691. The plantiff's claim was dismissed for failure to state claim. Under "N.C.R. Civ. Pro. 12(b)(6)" supports that it can be dismissed under three circumstances ;(1)That no law supports the plantiff's claim, (2)Plantiff claim is missing, (3)Disclosed in complaint defeats the plantiff's claim.
The Court of Appeals of North Carolina dismissed the claim upon the merits of failure to state claim upon relief in absence of a contrary specification in the order of dismissal of the plantiffs complaint.
Therefore, Brad is correct and this is why, because of the North Carolina Civil Procedure "12(b)(6) it clearly states under the circumstances that the plantiff's claim is missing. This rule leads him to valid and granted for the motion of the complaint to be dismissed.
1) The claim was not specific in detail how the alleged assault or battery happened. Page 149 Practice Application 5.1 Defendant was prosecuted for the murder of his wife, even though neither the victim's body nor a murder weapon was ever recovered, and there were no witnesses to the crime. At trial, prosecution wants to introduce the following evidence: 1. A computer disk that had been found in defendant's desk. On that disk was a file named "murder," which appeared to be a 26-step guide to carrying out a murder. 2. A witness who will testify that defendant purchased a .25 caliber pistol 2 days before the victim disappeared. 3. A witness who will testify that defendant told him that the best way to kill someone else was to shoot him behind the ear. 4. A witness who will testify that defendant asked him how he could remove bloodstains from concrete. 5. A witness who will testify that defendant once told her that she should not "be surprised if 6 months down the road… you hear that Shirley is dead, … because I am going to kill her." 6. A witness who will testify that defendant told her that there might be bodies hidden in mine shafts in Pennsylvania, and that "if he wanted to get rid of [his wife], nobody would ever see her again."
Defense objects to this evidence, claiming that it is irrelevant and more prejudicial than probative.
Use the format shown in the Appendix for the IRAC Methods of Legal Analysis and the reading, rules, and cases discussed in this chapter to analyze and determine whether the evidence in each example can be admitted. Write a memo giving your analysis, reasoning, and conclusions.
Related Topics