Developmental Dimensions of Learning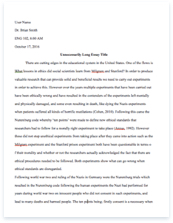 The whole doc is available only for registered users
A limited time offer! Get a custom sample essay written according to your requirements urgent 3h delivery guaranteed
Order Now
Learning is most effective when differential development within and across physical, social, intellectual and emotional domains is taken into account. Individuals learn best when material is appropriate to their developmental level and is presented in an enjoyable and interesting way. Individual achievements and development varies in each instructional domain.
Awareness and understanding of developmental differences among children with and without emotional, physical, or intellectual disabilities can facilitate the creation of optimal learning contexts (American Psychological Association, 2005).
HOW CHILDREN THINK AND LEARN
How we as human beings develop cognitively has been thoroughly researched. Cognitive development is the process whereby a child's understanding of the world changes as a function of age and experience.
Piaget's contributions to our understanding of the learning process are as important as his contributions to our understanding of stages of development.
DIFFERENT STAGES OF LEARNING DEVELOPMENT ACCORDING TO JEAN PIAGET:
* SENSORIMOTOR STAGE
Lasting from birth to approximately 24 months, child learns primarily through sensory experiences and movement. The child learns to experience environment. The child touches things, hold, listens, tastes, feels, and shakes everything in sight. For them, the sense of time is now and space is here. The child begins to explore with both senses and the ability to get there.
* PREOPERATIONAL STAGE
* 2 TO 5 years old.
The child develops the important skill of using symbols, but is not yet capable of mentally manipulating them in logical order. They use symbols like pictures and spoken words to represent objects and ideas. This is the time when a child learns by asking questions.
* CONCRETE OPERATIONAL STAGE
* 6 TO 11 or 12 years old.
At this age, children become capable of what Piaget refers to as mental operations and applying of logical thought to concrete situations. However, children's use of mental operations and their ability to apply logic is effective only if they have tangible objects to which they can refer. Children begin to manipulate data mentally. They take information at hand, begin to define, compare, and contrast it. They, however, still think concretely.
The concrete operational child is capable of logical thought. This child learns through his senses but no longer relies on them to teach him. He now thinks as well. A good teacher for this age group would start each lesson at a concrete level then moved toward generalized level.
HOW ADOLESCENTS LEARN
Adolescence represents a very special time in the chronology of a young person's developmental history.
* Approximately 11 or 12 years of age, the adolescent becomes capable of logical, abstract thinking. * Adolescents can imagine all the possibilities in any situation or problem and are capable of analyzing them to determine which best approaches are. * They have the capacity to think about all combinations and possibilities in situations, no matter how abstractly presented.
Lounsboury (2000) identified the intellectual characteristics of adolescents as:
* Enjoys both intellectual and manipulative activities.
* Prefers active involvement in learning.
* Motivated to learn when lessons are related to goals and interests.
* Argues to clarify own thinking and to convince others.
* Possesses a vivid imagination.
* Exhibits independent, critical thinking.
* Seeks to find casual and comparative relationships.
* Begins to abstract ideas.
* Begins thinking about own thinking (metacognition).
The change in adolescents' abilities to think in a more abstract ways is not just a function of experience, although that is very important, but it is also a function of corresponding changes in brain growth and structure (Hamachek, 2005).
HOW ADULTS LEARN
Adults don't learn like children. Adults are more discerning in what they are willing to learn more questioning, and more resentful of being what told to learn. Adult learning is much more utilitarian that is it is for children.
Malcolm Knowles -was an America educator famous for the adoption of the theory of Andragogy —initially a term coined by the German teacher Alexander Kapp. Knowles is credited with being a fundamental influence in the development of the Humanist Learning Theory and the use of learner constructed contracts or plans to guide learning experiences.
He was a pioneer in the field of adult learning. He identified the following characteristics of adult learners:
* ADULTS ARE AUTONOMOUS AND SELF DIRECTED.
They need to be free to direct themselves. Their teachers must actively involve adult participants in the learning process and serve as facilitators for them. They must get participants' perspectives about what to cover and let them work on projects that reflect their interests. They should allow the participants to assume responsibility for presentations and group leadership.
* ADULTS HAVE ACCUMULATED A FOUNDATION OF LIFE EXPERIENCE AND KNOWLEDGE THAT MAY INCLUDE WORK-RELATED ACTIVITIES, FAMILY RESPONSIBILITIES AND PREVIOUS EDUCATION. They need to connect learning to this knowledge/experience base. They should draw out the participants' experience and knowledge which is relevant to the topic.
* ADULTS ARE GOAL-ORIENTED.
They usually know what goal they want to attain. They appreciate an educational program that is organized and has clearly defined elements. Instructors must show how this class will help them attain their goals.
* ADULTS ARE RELEVANCY-ORIENTED.
They must see a reason for learning something. Learning has to be applicable to their work or other responsibilities to be of value for them. Therefore, instructors must identify objectives for adult participants before the course begin.
* ADULTS ARE PRACTICAL.
They focus on the aspects of the lesson most useful to them in their work. They may not be interested in knowledge for its own sake. Instructors must tell participants explicitly how the lesson will be useful to them on the job.
* AS DO ALL LEARNERS, ADULTS NEED TO BE SHOWN RESPECT.
These adults should be treated as equals in experience and knowledge and allowed to voice their opinions freely in class. Instructors must acknowledge the wealth of experiences the adult participants bring to the classroom.
ADULT LEARNING AND MOTIVATION
Six factors that serve as sources of motivation for adult learning are:
* SOCIAL RELATIONSHIP: to make new friends, to meet a need for associations and friendships. * EXTERNAL EXPECTATIONS: to comply with instructions from someone else; to fulfill the expectations of someone with formal authority. * SOCIAL WELFARE: to improve ability to serve mankind; service to the community; improve the ability to participate in community work. * PERSONAL ADVANCEMENT: to achieve higher status in job, secure professional advancement, and stay abreast of competitors. * ESCAPE/STIMULATION: to relive boredom, provide a break in the routine of homework or work, and provide a contrast to other exacting details of life, * COGNITIVE INTEREST: to learn for the sake of learning, seek knowledge for its own sake, and to satisfy and inquiring mind.
In designing curriculum for adults, the following must be considered: 1. Adults tend to be less interested in, and enthralled by, survey courses. They tend to prefer single concept, single theory courses that focus heavily on the application of the concept to relevant problems. This tendency increases with age. 2. Adults need to be able to integrate new ideas with what they already know if they are going to keep-and-use-the new information. 3. Information that conflicts sharply with what is already held to be true, and thus forces re-evaluation of the old material, is integrated more slowly.
UNDERSTANDING THE DEVELOPMENTAL DIMENSIONS OF LEARNING
1. Confidence and Independence. We see growth and development when learners' confidence and independence become congruent with their actual abilities and skills, content knowledge, use of experience, and reflectiveness about their own learning. 2. Skills and Strategies. Skills and strategies represent the "know-how" aspect of learning. These are not only specific to particular disciplines, but often cross disciplinary boundaries. 3. Knowledge and Understanding. This refers to the "content" knowledge gained in particular subject areas. It is the most familiar dimension, focusing on the "know-what" aspect of learning. 4. Use of Prior and Emerging Experience. The use of this concept involves learners' abilities to draw on their own experience and connect it to their work. It is necessary to observe learners over a period of time while they engage in a variety of this important capability, which is at the heart of creative thinking and application. Students scaffold new knowledge through applying the principles and procedures they've already learned. 5. Reflection. This refers to the developing awareness of learners' own learning process, as well as more analytical approaches to the subject being studied. It does not refer to the common sense meaning of reverie or introspection but of the development of the learners' ability to step back and consider a situation critically and analytically with growing insight into his or her learning processes, a kind of metacognition.
Related Topics