Current Coffee Shops vs Future Coffee Shops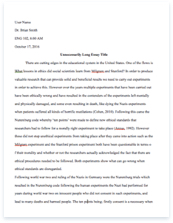 The whole doc is available only for registered users
Pages: 4
Word count: 870
Category: Future
A limited time offer! Get a custom sample essay written according to your requirements urgent 3h delivery guaranteed
Order Now
The first thing I noticed when I walked towards Starbucks on Wednesday morning at 9:10 a. m. was the long line of people that ended just outside the entrance. This was not too surprising as this Starbucks location is in the heart of Port Credit, next to the landmark lighthouse that overlooks the marina and Lake Ontario. It is one of the busier Starbucks' in the Mississauga area due to its prime location. While waiting in line, I noticed that a lot of people did not sit down. Most people just grabbed their drinks and left. But the ones who were sitting down, stayed much longer than it takes to consume their drink.
After getting a grande skinny vanilla latte, I sat down on a red chair at a table next to the windows with my pencil and paper. The three observations that lead to my research question were the two female students working on their homework, the two gentlemen in suits who seemed to be having an informal meeting and the young woman who seemed to be planning an event on her phone. This research revealed ideas on how a coffee shop should be designed based on the social behavior and the needs of the customers. Research question: How to people decide to work or study at a coffee shop?
To conduct research on this question, I would interview the people who were doing personal work at different coffee shops such as Tim Hortons, Starbucks, Second Cup, etc. For example, I would ask the two female students why they chose to do their math homework at Starbucks instead of the library where it would be much quieter or at home where they can be more comfortable. I would ask the young woman why she decided to take and make calls about her event inside the establishment where it is a little noisy and if she is comfortable with others being able to listen to her conversation.
I would ask the two gentlemen in suits why they decided to discuss things at Starbucks instead of a more professional place. I would also ask the gentlemen if they think having small meetings at coffee shops are a better idea since Starbuck's is a place that does not require too much silence. By asking questions like these, I will be able to learn the different reasons that drive people to conduct their personal work at a coffee shop instead of places like the library or the office or at home.
I would conduct my research on each of the different coffee shops at the same time and day that I observed Starbucks to really compare the differences and similarities about the amount of people choosing to work or study when the timing is consistent. In addition, I would ask the baristas when it gets the busiest during the day and I would go and observe during different days of the week at different locations to see how the geographic area affects the type of customers who enter the shop.
Using Bronislaw Malinowski's participant observation method, not only will I observe, I will also talk to the people in the establishment. It would be easy for me to blend in coffee shops, as it would seem that I am simply studying while taking notes of my surroundings. Limitations that I might encounter with interviewing people would be that people will not give me their honest opinion or some people might even refuse to talk or be uncomfortable sharing their reasons for being there. At times, I may be unable to find a spot to sit and observe during the time that I want to because it is so busy.
This would most likely result in me coming back at a different time, which will not allow me to compare my observations to the observations with the consistent timing. This research question aims to understand the needs of the customers at coffee shops in order to attract more customers by fulfilling those needs in the future. Learning the reasons behind people's decision to work or study at coffee shops will allow designers of coffee shops to design the establishment in a way that will attract more customers by catering to their needs.
For example, if more people like studying at Starbucks using their laptops, in the future, there should be more electricity outlets in the shops for people to plug in their laptops. If one of the goals of coffee shops is to attract more students maybe they could play soft jazz music which is comfortable and less distracting for studying. Designers will only know these things by conducting research. Many companies redesign their products without doing any research first.
Companies who do not conduct research might be able to create a usable product but without utility, which are the functions that go along with it, the product will not be of much use to the customers. The features of coffee shops should change with the development of social movements and technology. The goal of this research question is to seek how different coffee shops in the future would be from the current structure of coffee shops and how the design can make a difference to satisfy people's needs in the future.
Related Topics