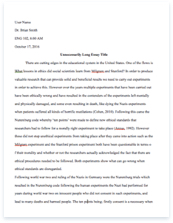 The whole doc is available only for registered users
A limited time offer! Get a custom sample essay written according to your requirements urgent 3h delivery guaranteed
Order Now
In this era of escalating globalization, intercultural differences remain a significant challenge confronting multinational organizations. Many organizations-international firms, multinational companies and those who are now "going global"-require their managers to work across borders. Consequently, organizations increasingly need managers who have the "know-how" to quickly become culturally fluent and who can react in a way that is culturally appropriate. Specifically, global managers need to be able to work with multiple cultures and in multinational teams. However, the challenge of global management effectiveness becomes even more difficult when managers spend shorter periods in any single place and are frequently moved from one location to another. As a result, their country-specific knowledge becomes less relevant.
According to authors Earley and Peterson, the traditional approach used in intercultural training is no longer effective enough for today's global manager. They propose a model, based on the elements of cultural intelligence (CQ), to better prepare global managers to be effective in various intercultural settings.
Purpose of the Study
Although intercultural training is important, to date there has not been a comprehensive framework of cultural adaptation presented as a training guide. The dominant approach to intercultural training in corporate settings is based on cultural-general assumptions drawn from cultural values and country-specific knowledge for the international assignment. However, this approach tends to treat all participants equally and does not make allowances for the intercultural competencies they already bring to their work.
According to Earley and Peterson, one of the fundamental problems with the cultural-values-awareness approach is that it cannot substitute for direct knowledge of interpersonal interactions, because "values alone are not a strongly predictive feature of human behavior." To address the growing need for cultural competence in the global workplace, they developed a conceptual framework that has practical applications based on CQ.
How the Study Was Conducted
The challenge for international organizations is how best to prepare their global managers to be effective in intercultural environments. This study closely examined past practices of international management training, with focus on intercultural training program design (e.g., assessments, cultural assimilators, role playing). Two weaknesses in the traditional approach to intercultural training were identified: 1) the "one-stop shopping" philosophy falls short of its goal because it assumes that all individuals need a similar training regime; and 2) most approaches to intercultural training focus on knowledge-based information regarding the target culture.
Further, the combination of these approaches entirely omits the metacognitive skills needed to learn and analyze new situations and cultures to respond appropriately. Consequently, Earley and Peterson expanded on earlier research in the areas of work and social cultural competency. From their observations, they diagnosed what skills make a person culturally intelligent. The result is a model of cultural intelligence with direct practical use for international management training and multinational teams.
Cultural Intelligence and Its Importance to the Global Manager
As defined in the literature of the 1980s, the capability to adapt is a reflection of a person's intelligence. Individuals with high social or emotional intelligence are considered to more easily empathize, direct, work and interact with others. A person's capacity to understand and convey human emotion is also an essential ingredient in emotional intelligence. Yet from a cross-national and cross-cultural perspective, emotional and social intelligence approaches do not offer the cultural context needed to explain how and why people act as they do.
Cultural intelligence (see Figure 1), however, places a significant emphasis on adaptation across new cultural contexts and enables and empowers a person to discover new ways to relate to others. CQ, therefore, places strong importance on "metacognition"-or thinking about thinking. At the core of CQ are the following three fundamental elements:
1) Metacognition and cognition-thinking, learning and strategizing.
2) Motivation-efficacy and confidence, persistence, value congruence and interest in new cultures.
3) Behavioral-social mimicry and behavioral repertoire.
Figure 1
Cultural Intelligence-the capacity to gather, interpret and behaviorally adapt to cultural contexts.
In the traditional approach to intercultural training, however, the focus on cultural values presents an overly simplistic understanding of behavior. Rather than a general overview of values and behavior, global managers need tools they can use to think through cultural situations. According to the authors, the CQ approach is "an advance in thinking for understanding manager adjustment because it captures existing approaches emphasizing values orientation and fact finding, but also moves well beyond that by identifying uniquely the CQ strengths and deficits for an individual manager." The advantage of the CQ approach for the global manager is that it has the potential to open doors in ways that traditional intercultural training does not, and it provides global managers with the necessary tools to deal with difficult cultural situations so that they may be effective in different cultural environments.
Related Topics