Cultural Immersion Project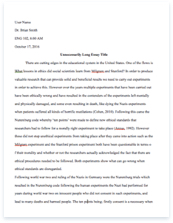 The whole doc is available only for registered users
A limited time offer! Get a custom sample essay written according to your requirements urgent 3h delivery guaranteed
Order Now
My cultural immersion focus is on the religious war in Nigeria. One of the interesting things I found in my research was that, in Nigeria the Christian faith and the Muslim faith represents the greatest percentage of religions. I also learned that the Christians and Muslims pray every day several times a day. With that being said, I wondered if they believed in a higher entity prayed every day, who they are praying to? And what is their belief system based on? (question 1) Since their Christian faith seems to be divided into Catholic, Protestant or some other, I decided to attend a typical Catholic Church service and a Friday mid-day Muslim prayer service. Maybe I should not have used the word typical to describe a Catholic Church service.
Me, being from a culturally full Baptist background, it was anything but typical. First let me begin by saying, St Joseph Catholic Church is Macon Georgia, is one beautiful church on the inside, but the service its self was extremely long and somewhat boring. Coming from a Baptist background, I definitely had a culture shock. To get the feel of the church, I arrived very early. Because I was a visitor, they welcomed me, I filled out a visitor's info card and I was lead to a seat. The choir is singing as I'm being lead to a seat, so I'm assuming this is the Praise & Worship part of the order of service. Again I say, "Coming from a Baptist background in an African American church, our Praise & Worship time is much different.
After the song, the priest came out with the opening prayer with repeated verses. The priest would say the verse first and then instantly, the congregation would repeat the verse. I think they refer to this part of the service as the Kyrie. Then another priest said another pray and began to tell somewhat of a story. I didn't quite get it, but it looked as if the rest of the congregation received it well. After the story telling, we hugged everybody around us shaking their hands as well. After this, we read the Nicene Creed, which I never heard of and the Apostles Creed and ended with an opportunity for my own silent prayer.
After the silent prayer time, I'm thinking it's time to dismiss, not! We had to pray again to bless the bread & wine. It was time for communion. After communion, and 2 hours of torture, I almost felt myself running to my car. I had never felt that kind of torture before in church. Don't judge me. I went with an open mind, expecting something different but not that different. The other event I attend was a Friday Mid-day Muslim Prayer Service with one of my students at the Islamic Center of Macon GA. My student advised me on how to dress. In other words, make sure the top of my outfit was long sleeves and the bottom was long enough to cover all of my legs. I thought I was ok, until I got there; they gave me a scarf to cover my head.
Oh, I forgot to mention, I had to take off my shoes and leave them before I entered into the place of prayer. I guess you can call it a sanctuary. One thing I found odd was the men and women do not pray in the same place together. Since I was a guest of my student and actually a participant of the prayer time, the wudo, which is a ritual of purification, was not necessary. My student prepared me for the experience very well. She said, "Ms Finney, when you enter the mosque, just go in with the mindset that you are there to talk to Allah himself." That's where she lost me, I'm down with Jesus, but I didn't tell her that.
The women's prayer session was very warm and the ladies (sisters), were very willing to answer any questions I had about any part of the Prayer of Gathering Service. After the Prayer of Gathering Service, that was when the actual teaching service began. I couldn't stay for that. The Friday Mid-day Muslim Prayer service lasted and hour and a half and I couldn't devote another hour and a half to the lesson of the day. Because I was there as a guest and observer, I was permitted to leave. (question 2) On this question, I had to refer back to my research. According to (Adogame, 2010), he stated, "While Nigeria's Christian population is large, they declare they pray every day. With that said, in the Catholic Church service, I was expecting to experience just that.
I was expecting to experience a spirit lead service, but what I experienced was a service of rituals and formalities. It was torture for me. Not because it was something new to me, but because it didn't feel like a true heart felt sincere service; it seemed almost staged. One of the things I noticed in the church was a board on the wall that had the songs sung during the service. This is fine I guess; it just doesn't leave any room for the Holy Spirit to take over. I would have understood if the songs were congregational hymns, but that wasn't the case. I looked up the word ritual in the dictionary and it is defined as the prescribed order of a religious ceremony.
And that's what the Catholic service felt like to me. The Muslim service was totally different in various ways. First, I was all covered up and shoeless. Second, the men and women did not pray together; they were separated. Third, the women's pray service was similar to the Women's Prayer & Praise at my church. It was just last longer. (question 3) I've always be a type of person, that it didn't matter wherever I found myself, I would always fit right in. But the Catholic service I attended made me feel like I was truly an outsider, the minority. Even when I was being lead to my seat, it was almost as if, the usher was only dong it because she was supposed to do it. I didn't feel welcome. I'm not saying that I wasn't. I just didn't feel welcomed. I didn't feel that way at the Muslim service.
After I got over that I had to leave my shoes at the door, those ladies (sisters) made me feel like I was one of them. I appreciated the fact they were willing to answer any questions I had about the order of the prayer service. Even after we moved to what they called the Community Hall, where the actual teaching takes place, they were very attentive. Although both services were different from what I'm accustomed to, I'm very appreciative of both opportunities to have shared in two culturally different worship services. (question 4) Looking at my cultural background, all I know is the name of Jesus. The Catholic Church referred to Him as the Son of Mary.
The Muslims referred the name of Allah. My cultural background taught me that at the name of Jesus every knee shall bow and every tongue will confess that He is Lord (Romans 14:11). My cultural background also taught me that there are non-believers who consider themselves as believers. John 10:16 says, "I have other sheep that are not of this sheep pen. I must bring them also. They too will listen to my voice, and there shall be one flock and one shepherd." I guess what I trying to get across is, the reason I responded in an disagreeing matter towards the services I attended, is that all my hope is built on the hope of Jesus Christ.
All the teaching from my parents, grand-parents, Sunday school teachers, and preachers about Jesus Christ were lessons on love and unity. I didn't experience any of that at neither service. (question 5) I've always been told that with every new experience, you should try to learn at least one thing. The one thing I learned with the Catholic experience was Nicene Creed. I didn't know what they were actually reciting, so when I got home I did a Google search on it and found the creed. I think that was the only time I heard the actual name of Jesus.
The one thing I learned about the Muslim faith is that they are very big advocate of spreading the teachings of Allah, in the community along with community development. They go out in the community in numbers. Whether it's selling papers, bean pies, or spreading Allah's teachings. The Muslim faith is following Jesus' teaching in the Great Commission and don't even know it. Just think how many people would be drawn to Jesus if we, as Christians lived and followed the Great Commission just as Jesus instructed.
References
Chukuwemaka, O. O., Eze, R. C., (2012). Ethnic-religious conflicts and the travails of national integration in Nigeria's fourth republic. Canadian Social Science, 8 (2), 79-85. DOI:10.3968/j.css.1923669720120802.2220 Ojo, M. A., Lateju, F. T., (2010). Christian-Muslim conflicts and interfaith bridge-building efforts in Nigeria. The Review of Faith & International Affairs, 8 (1), 31-38. DOI: 10.1080/15570271003707762 Adogame, A, (2010). How God became a Nigerian: Religious impulse and the unfolding of a nation. Journal of Contemporary African Studies, 28 (4), 479-498. DOI: 10.1080/02589001.2010.512742 Dokubo, C., Oluwadare, A. J., (2011). Nigeria's role in conflict resolution: A new Paradigm. Journal of Alternative Perspectives in the Social Sciences, 3 (3), 551-580. DOI: 10.3968/j.css.1923669720110704.054 www.stanford.edu. (n.d.). Retrieved from http://www.stanford.edu/class/e297a/Nigeria%27s%20Religious%20and%20Cultural%20C The Mormon moment is now – Washington Post. (n.d.). Retrieved from http://articles.washingtonpost.com/2012-04-11/national/35452732_1_anti-mormon-mo rmon-church-brother-romney
My daughter's keeper. (n.d.). Retrieved from http://www.mydaughterskeeper.org
Cultural beliefs as factors influencing interpersonal… (n.d.). Retrieved from http://www.savap.org.pk/journals/ARInt./Vol.1(1)/2011(1.1-17).pdf
Related Topics