Crossing The State Border Without Permission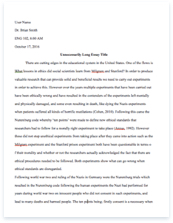 The whole doc is available only for registered users
A limited time offer! Get a custom sample essay written according to your requirements urgent 3h delivery guaranteed
Order Now
Every country out there deals with these kinds of crossing the border issues. The big question is what should this country do to the millions of illegal immigrants and undocumented workers that are living here? We all want to see other people be warmly welcomed into the country of freedom. There are 11 million immigrants in the United States illegally. There are way too many illegal immigrants in this country to try and deny there stay. This country should allow them to become US citizens because, illegal immigration benefits the US economy through additional tax revenue, expansion of the low-cost labor pool, and increased money in circulation. immigrants should be offered a safe path to legal status and eventually earned citizenship. it won't be an easy and quick process but it will be a fair process. Immigration helps to boost up the economy, not hurt it, for the most part. Illegal immigrants take jobs that have lower pay and horrible hours.
Every year thousands of illegal people from all over the world come into the United. People come for either a chance at a better life or escaping civil wars in their country. I've become interested in this topic ever since I came here as a child. Thinking to my self how am I different from the people that are here illegally. We are all humans trying to live a better life. It is not fair for some people to live normal with no fear and some living a life where they have to hide every day just to live a normal life. Many of the people out there that come to the U.S. without papers are basically called "illegal immigrants", but people nowadays people view them as criminals. What if a person was forced to come to here as a kid, does that make them criminals so-called "illegal immigrants"? It's been something that I always question myself but could never find an answer. I'm interested in this topic because we can't just ignore something happening like this. We are all humans and we all want to live a happy life.
It's a problem that needs to be solved. It's like if someone comes to my house and asks for help and is whiling to work to get money then why wouldn't I help. Immigrants enter this country trying to find jobs for a better life for their family. It's the number one reason why they go through all of this for. This topic deserves further exploration because it deals with humans lives. It deals with kids. It deals with students that are trying to reach their goals. Immigrants are being hunted and tracked down day and night by federal agents. Their only hope is for survival. People need to understand that when immigrants get caught they are put in jail like criminals and murderers. Held pending while some can't reach a lawyer to get help. What makes me uncomfortable is knowing some people come illegally to the U.S. and be good citizens and work hard to feed their family, Work every day and get paid low but at the end still get sent back. On the other hand, most people would say that in this country there is a rule of law, and citizenship is granted to those who follow it.
Violation of the law and letting them stay would only encourage them to do other illegal things without having the fear of getting sent back. The second issue would be Taken the jobs of Americans because most jobs would rather hire an illegal immigrant over legal resident because they can pay cheap for the labor and have them working longer hours. Writing about this topic would educate me more about immigrants. Seeing the possible ways of helping others. Teach me ways of changing other peoples lives. Everyone wants to be remembered for doing something good in this world. I want to learn more about how some people get the right to come into the united state, while others get denied. What's the process of getting approved? How can immigrant students get the chance of studying in the U.S? The question I have about this topic is do immigrants really take American jobs? If you can grant citizenships to the immigrants, would that mean you can grant it to anyone coming from other countries? Because if it does that means America would be crowded with a lot of people which are trying to get a job and live the American life.
It would make it really hard for non-immigrants, companies would rather hire immigrants because they are willing to take employment opportunities for way lower pay and do the dirty job that a non-immigrant won't do while working more hours. I doubt that the government would Allow Immigrants Who Are Here Illegally to Become US Citizens. It would cause a big problem, if they allow immigrants to become US citizens then everyone would leave their country and come to live in the U.S. the population of America is increasing every day. Schools are getting crowded, government funds are being limited. It would be great to take in people that are in need but, I doubt that the government would approve. The more people they let in the worse the quality of these systems would become. The government is not allowing the stay for immigrants in order to prevent the overpopulation. This topic is current, People talk about it every day. It mostly got the attention since president Donald Trump wanted to build a wall to stop immigrants from coming in. This topic would be easy to find relevant information because almost every news outlet has talked about this issue.
Related Topics