Cross-cultural comparison between Australia and Brazil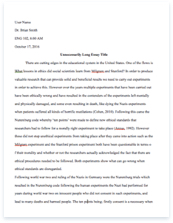 The whole doc is available only for registered users
A limited time offer! Get a custom sample essay written according to your requirements urgent 3h delivery guaranteed
Order Now
Brazil is the largest Country in South America, it borders every other country of the continent except Chile and Ecuador and has a mixture of many different cultures.
In my cross-cultural study I will be comparing Australia to Brazil in relation to gender touching on characteristics such as the workforce, the educational system and family of these two cultures.
The Brazilian education system includes both public (federal, state and municipal) and private institutions ranging from pre-school to university and postgraduate levels. Education is compulsory for ages 7 through to 14 and public education is free at all levels. Significant advances have been made in the Brazilian educational structure in the last 30 years. In 1988 at least 25% of state and local tax revenues went to education. In 1964 there were ten million students attending schools at all levels, in 2000 this number had multiplied by 5. Although there had been a positive change within the education system in 2001, 12.5% of the population was illiterate, a problem that is greatest among the poorer sections of the population. Women were allowed open access to schools and employment around the turn of the century and suffrage on a national level in 1933.
The status of women in Brazil has improved in various aspects despite gender and equality there are just as many females as males in schools, even at the highest levels, and professions that traditionally were dominated by males. The attitudes and actions of young people are generally not as sexist as those of there parents. The change within this education system has resulted in different values and attitudes between genders in the Brazilian society.
The Australian education system has experienced changes over time based on gender issues. Sydney university admitted its first women in 1882, the first women law graduate in 1902 was ineligible to practice law in New South Wales. A question of gender inequality within Australia's education system has resulted in implemented changes, which is also evident in my cross-cultural comparison. Positive changes resulted in women making up 50% of students commencing an under graduate qualification, post graduate qualification. Australia has experienced a change in values and attitudes towards gender as a result of changes to the education system, which is also evident in Brazil.
In Brazil economic participation of women rose from 18% in the 1970's to 27% in the 80's meaning that approximately 82% of the workforce were men. More than 70% of women in the labor force were employed by the services sector and women tend to be under represented among the formal labor force in agriculture and industrial activities. The rates of females participating in the job market appear to increase with education. There is a considerable wage gap between men and women in the work force for example;
In Rio De Ganeiro women earn 78% of mens wages in the east women only earn 63.5%, this can be attributed to differences between men and women in there endowments (education, profession.) The differ in wage reflect discriminatory practices.
In Australia men and women are equal in the work force with both wages and conditions, although this only came into effect in the late 60's. Both cultures share the same trend. Overall in both Australia and Brazil there is improvement, for the social status of women in education and work participation rates, women are still experiencing conflict and differences in power in the work place.
In Australia the has been a significant debate about boys education and relative position of males in the education system. The New south wales department of education and training recently launched a study into the lack of male teachers, this reduction of male teachers means the lack of male role models in education. School in one of the main socialization agents in our society it is particularly important in the formation of roles and status during childhood and adolescents. It is a female dominated education system therefore showing gender inequality within the system.
In Brazil we can see that the workforce is not equal for women where as in Australia we can also see gender inequality for men.
Changes have occurred within the family environment in Brazil. It has been tradition for men to be head of the house hold and married women were legally secondary to there husbands. Because of this inconvenience caused by informal remarriage, divorces made legally in 1977 under the constitution of 1988 women became entirely equal to men for legal purposes. Change in tradition being a considerable increase over the past decades in female head of households, which include the poorest or the poor.
In the 1950's through to the 1970's the Australian family environment was very similar to that of Brazil in that males were considered head of the household but this tradition changed far earlier than it had in Brazil.
In Conclusion my cross-cultural comparison shows that Brazil and Australia through education, work and family in relation to gender have significant similarities and difference being in education, both cultures have experienced positive change in the participation rate, values and attitudes towards women. In the workforce, both Australia and Brazil have increased employment rates, gender inequality can be seen through women in Brazils work force where as in Australia gender inequality can also be seen in men in the work force. Family environments in Brazil has lost there tradition due to change in equality of gender, Australia shares this same trend. The traditions that have changed have been a result of changing values and attitudes towards gender. Through this comparison of cultures we can see there are aspects such as work, education and family in relation to gender that tie these two nations together.
Related Topics