Crisis Counseling and Psychotherapy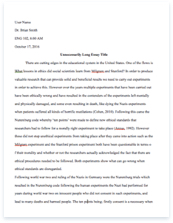 The whole doc is available only for registered users
A limited time offer! Get a custom sample essay written according to your requirements urgent 3h delivery guaranteed
Order Now
Crisis counseling and psychotherapy are occasionally substituted but can join in multiple ways. They bother are used to aid persons to rebuild and gives them opportunities to overcome the 'situation' they have or are going through. 'A crisis occurs when a stressful life event overwhelms an individual's ability to cope effectively in the face of perceived challenge or threat or can be defined as an emotionally significant event or radical change of status in a person's life." (Sawyer, 2013) Crisis counseling emphasizes more on the stress involved at a moment, it is a short-term session usually to help a person deal with their crisis and is a significant means of avoiding last-resort measures such as institutional care. (Hoff, 2009) Psychotherapy is a treatment of a mental or emotional disorder or maladjustment by psychological means especially involving verbal communication. (Webster, 1961) The key differences between the two are the time needed to see results/benefits and the service goals. (Hoff, 2009) Counseling is an ephemeral treatment that targets to modify behavior forms of a person.
Perhaps, in the circumstances noted in the abstract, the adolescent requires counseling strategies so that could change behavior patterns like the inability to connect with others, being a hermit, inability to show affection and being a pessimist. While psychotherapy entails an extensive treatment it helps grow understanding of emotional difficulties and the complications met (Martin, 2017).
Therefore, crisis counseling is to help an individual to restore some sense of control and mastery after a crisis event or disaster. It is not unusual that in a crisis or disaster event an individual's normal coping capacities are taxed. Individuals can become overwhelmed emotionally and may have difficulty with problem-solving and other coping skills. (American Counseling Association, n.d.) While psychotherapy involves an elongated time frame allowing a person to understand their feelings, thought process and actions more clearly. (Mayo Clinic Staff, 2016) Another example I would use is for a person that was directly impacted by 9/11.
In a crisis state, the persons affected should have received crisis counseling that would provide steps over a period to aid them in returning to work feeling safe and not always thinking the worse is going to happen or having first responders return to work not thinking every call that comes in is going to be as catastrophic. Part of the treatment provided should have been getting the persons affected into focus groups, then have the members of these groups identify practical measures that they found helpful in promoting healing. (North et al., 2012) The two themes presented in detail here are the transition back to the workplace and the workplace response to employees' psychological issues.
The theme of transition back to the workplace had two major content areas: reconnecting with the workplace and peer support. (North et al., 2012) Crisis counseling will be the stepping stone to help the person start the process of psychotherapy which would consist of longer therapeutic sessions that will aid the person in figuring out what 'trigger's' possible anxiety at the workplace. Crisis counseling and psychotherapy can both be beneficial for a client. One must assess the client and see which services are needed more than the other.
Considering the "dangers" of a full-blown crisis state, why is it important to understand the commonalities and difference between crisis intervention and psychotherapy, especially in working with a client whose values beliefs are different than your own?
Considering the threats of a crisis state it is imperative to comprehend the cohesion and variances between crisis intervention and psychotherapy especially in working with a client whose ethics and principles are different than our own; it is very significant to take heed of others possible cultural belief since, if different from your own cultural beliefs you may have to adjust the way you counsel. It is imperative for both therapist and counselors to be cognizant of those who exercise other views than their own and have an understanding for them. By counselors and therapists remembering this, it will benefit everyone to develop a sense of trust, therefore, supporting crisis counseling sessions and psychotherapy sessions.
Crisis counseling interventions ought to be patron-centered and the therapist must comprehend that people have an exclusive awareness of events and have individualized past involvements and needs. The interventions applied should take the client's feeling, values, rights and beliefs into consideration. (Jimenez, Bartels, Cardenas, Dhaliwal & Alegría, 2012) Recognizing the issue that one has dealt with should support the counselor in the expansion of applicable strategies needed to meet a client's needs.
Culturally associated health beliefs may provide additional insight as to why these disparities exist as well as provide information on how to provide culturally appropriate services to racial/ethnic minority older adults. Different cultural beliefs about mental illness may influence the type of treatment that is sought and how mental illness is addressed and managed. (Jimenez, Bartels, Cardenas, Dhaliwal & Alegría, 2012) Therefore, the therapist must recognize the differences in individuals' beliefs and values, so that they identify the problems and adopt the most appropriate strategies (Registered Nurses Association of Ontario, 2016). Scripture state 'Listen to advice and accept discipline, and at the end, you will be counted among the wise.' Proverbs 19:20 NIV
Identify the major factors contributing to the victim-rescuer persecution triangle and what strategies can be used to avoid enmeshment in the triangle.
The major factors contributing to the triangle are the victim, the persecutor, and the rescuer. The victim sees themselves as victimized, oppressed, powerless, helpless, hopeless, dejected, and ashamed, and come across as "super-sensitive," wanting kid glove treatment from others. They can deny any responsibility for their negative circumstances and deny possession of the power to change those circumstances. (Graham, 2018) Most of the time in terms of derailing resilience, victims have real difficulties in making decisions, solving problems, finding much pleasure in life, or understanding their self-perpetuating behaviors. (Graham, 2018) The persecutor is the one who always must judge others and is the nature of the individual to apply defensive mechanisms. Persecutors criticize and blame the victim, set strict limits, can be controlling, rigid, authoritative, angry and unpleasant. They keep the victim feeling oppressed through threats and bullying. (Graham, 2018) In terms of resilience, persecutors can't bend, can't be flexible, can't be vulnerable, can't be human; they fear the risk of being a victim themselves. Persecutors yell and criticize but they don't solve any problems or help anyone else solve the problem. (Graham, 2018)
The rescuer is the person who intervenes, they aid the individual in whatever they are dealing with and helps solve the problem. Instead of an appropriate expression of support and nurturing, the Rescuer tends to "smother", control and manipulate others – "for their own good," of course. Theirs is a misguided understanding of what it is to encourage, empower and protect. (Forrest, 2008) With as counseling, we are supposed to want to genuinely help someone else for the greater good not to 'stroke our own egos' or to make us fill whole for selfish reasons. That is why it is important that is why it is important therapist and counselors take time to fully understand a client's needs and take the appropriate steps in healing them. The approaches used for each client should tend to their needs, values, and beliefs.
Related Topics