Creative Thinker Walt Disney Outline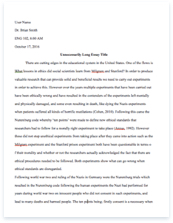 The whole doc is available only for registered users
A limited time offer! Get a custom sample essay written according to your requirements urgent 3h delivery guaranteed
Order Now
I.The beginning of a creative thinker Walt Disney was born on December 5, 1901 in Chicago, IL but lived in Marceline, MO for most of his childhood. Walt would sell drawings when young to make money. He then went to McKinley High School in Chicago, IL and studied art and photography. Walt tried to enlist in the military in 1918 but was rejected. Joined the Red Cross where he spent a year in France as an ambulance driver-driving an ambulance decorated in his paintings of Mickey Mouse. Walt went to Hollywood to pursue a commercial arts career. Walt's "Alice Comedies" were a big success by 1925.
II.The many successes of Walt DisneyWalt Disney had a plethora of success, even after he died. The images and creative processes he created while alive still live strong even today. Some of his accomplishments and successes were:1932: Walt won his first Academy Award1937: Snow White and the Seven Dwarfs debuted in Los Angeles during the depression. It became one of the biggest feats and unforgettable moments in the motion picture history.
1945: "The Three Caballeros" musical debuted and used the combination of real people with cartoons for the very first time.
1955: Walt Disney opened his first Disneyland Park.
1954: Walt began his television production.
1961: Walt was the first to have color on TV when he aired the show "Wonderful World of Color".
1965: Walt had a great strategic vision and built the EPCOT center as a way to show others how to improve their quality of life.
1971: Because of Walt's great visions and his desire to improve the quality of life in the urban setting, Walt Disney opened the Walt Disney Resort and Magic Kingdom Park on October 1, 1971; opened EPCOT center on October 1, 1982 and on May 1, 1989, the Disney-MGM Studios Theme Park opened.
III.The California Institute of ArtsWalt Disney along with his brother Roy established the California Institute of Arts in Valencia, CA in 1961 which was the combination of the Los Angeles Conservatory of Music and the Chouinard Art Institute. "Walt Disney conceived the new school as a place where all the performing and creative arts would be taught under one roof in a "community of the arts" as a completely new approach to professional arts training." (Disney, 2002).
Sadly, on December 15, 1966, Walt Disney passed away. Although one of the world's most creative and innovative thinkers took his final walk to the great Kingdom in the sky, his legend, creativity, innovation, designs, laughter, hope and graciousness lives on in his work and the legacy he left behind.
References
Boolsite. (2009). Walt Disney Wallpaper. Retrieved October 9, 2009, fromhttp://www.boolsite.net/wallpapers/DessinsAnimes/Disney. (Pictures used for PowerPoint).
Disney. (2002). JustDisney.com. Retrieved October 10, 2009, from http://www.justdisney.com/walt_disney/biography/long_bio02.html.
Related Topics