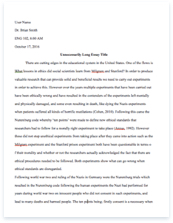 The whole doc is available only for registered users
A limited time offer! Get a custom sample essay written according to your requirements urgent 3h delivery guaranteed
Order Now
Overt discrimination is when someone is openly undermining a section of society based on gender, age, sex, race, skin colour, religion etc. For example if someone in a health and social care setting wasn't giving medication to a patient based on their skin colour, however the other patient received medication this would be seen as overt discrimination: which could make individuals feel marginalised from society and feel that they don't fit in. Also by the patient not receiving medication it can have a damaging effect on their health and social life. This could lead to depression and lack of self esteem. When individuals have low self-esteem they feel neglected therefore feel like they don't want to contribute to society or take part in local clubs and activities. Covert discrimination is when discrimination is subtle therefore harder to demonstrate: opposite of overt discrimination which is more noticeable.
Feel they cant do anything about it- disimpowerment
Bibliography
http://wiki.answers.com/Q/What_is_covert_discrimination#slide1
For the perpetrator they might have restricted opportunities which cause them to stereotype or discriminate against others. The perpetrator might also have feelings of aggression and violence, so the only way to not use passive aggression against the victim would be to treat them worse than others without harming them physically but emotionally and making them have feelings low self-esteem and depression.
For the company/business they might have to take things further and dismiss members of their team, they could even be taken to court if the victim decides to prosecute. The responsibilities and rights of the company/business have to be brought into place and everyone who works in that establishment has to be questioned.
Related Topics