Course Reflection (to teacher) – Psychology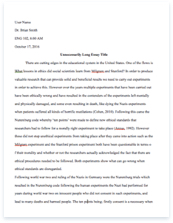 The whole doc is available only for registered users
A limited time offer! Get a custom sample essay written according to your requirements urgent 3h delivery guaranteed
Order Now
It was not until my junior year of high school that I was able to discern what sort of career path to pursue. I had various careers in mind, but it was my first psychology class that really grasped my attention and interest. After taking the course, I utterly embraced the concept of becoming a psychologist, not only because it an interesting and relatively new area of science, but because I would get the opportunity to help people in a very effective way. I always knew I wanted to do something that would benefit others, and I saw a great opportunity for this in a career of psychology. Although I did not know precisely what pursuing this career would entail, I wanted to learn and I wanted to help.
Coming to this university, all I really knew was that psychology was the science of mental and behavior processes. I knew that psychologists use scientific principles, carefully defined methods, and precise procedures to present an organized body of knowledge and to make predictions about how people behave. However, I had no clue of the progression that would build up to this. In order to learn about the ways others and myself behave in an interesting society, I had to learn how psychologists approach the situation from the perspective of a career.
Since psychologists are trying to learn from people through means of experimentation, one must adhere to quite a few stringent guidelines before collecting any empirical data. Because they work directly with people as subjects, psychologists need to approach the situation with the utmost moral considerations. In the process of trying to learn about behavior for the good of society, it is only sensible that one looks after the good of their subjects just as well. Respect for people's rights and dignity is very important for psychologists to consider before continuing with any experiment.
Not all psychologists get involved with experimentation, though, as I learned through this course. There are dozens of fields of psychology, each with its own specialization. I used to think a psychologist is a psychologist, but looking at the list of councils in the American Psychology Association, I now know how wrong I was. This fact really began to sink in when we were assigned to attend some lectures held by guest psychologists. Before we got that assignment, I was just jumping into the idea of studying psychology without much forethought as to the actually process.
I soon found out how little I knew about where I was heading with a career in psychology. This worried me until I attended one of the lectures and got the chance to hear your personal experience in choosing a field. You admitted that for a while you did not know in which field he was interested enough to pursue. You talked about how industrial and organizational psychology was not his first choice and how you tried working in a variety to divisions of psychology before settling for a doctorate in I/O. It was quite relieving to find that this uncertainty was common among those who take up psychology. After hearing the lectures, I decided that I should be focusing more on the subject matter that I am interested in rather than commiting to an individual field.
After making that decision, I now know what I want to do with my career in psychology. I want to help people as effectively, directly, and on as personal of a basis as I can. There is great potential for this in a career of psychology, and I want to see myself helping people cope with certain stressful situations. I also want to help people proactively, as in before the people are forced to ask for help, because if people have problems they do not even know about, it would seem best to educate and help them before it becomes an apparent issue.
However, none of this will be possible without the proper education. Before taking this course, I really had no idea of what to expect in terms of education besides a lot of it. The various assignments we were given in class really helped clarify the process for me. The graduate school assignment and the information provided in class lectures were real revelations for me. As I perused the website of my selected graduate school, I was quite shocked by the rates of acceptance and the requirements for consideration. I did not know that it would get so competitive, and the statistics provided in class were not the least bit reassuring.
It was quite interesting to learn of the difficult process of graduate school admittance, because it made me really want to try harder. After hearing some of the numbers, I found myself thinking, "Yeah, I could probably pull that off." What I was not prepared for was the fact that letters of recognition carry so much weight in the decision process. When I first heard this mentioned in class, I was rather nervous about having to actually let my professors get to know me. It was not that I am afraid of them socially, but that I probably could not genuinely converse with a professor while the image of a recognition letter danced in my head.
Overall, though, this has been a very informational and pertinent course for my career path of psychology. I am glad that courses like this are required, because I would have found myself utterly dumbfounded later down the road. It also served as a catalyst for reflection on my decision to study psychology, which only solidified a desire to pursue a career through graduate education. I am now aware of the long and potentially arduous journey ahead of me, but it cannot compete with my determination to help others. Of course, I must first help myself with the proper education.
Related Topics