Content of General Macarthur's Prayer to His Son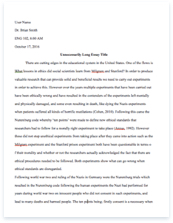 The whole doc is available only for registered users
A limited time offer! Get a custom sample essay written according to your requirements urgent 3h delivery guaranteed
Order Now
In May 2002, I called my mother for the last time before I got on the airplane to Afghanistan. I told my mother for the first time that I loved her and my mother told me that she will pray for me according to the prayer of General McArthur for his own son. I knew who General McArthur was because he was the hero during the Korean war. Who would not know the famous Incheon Landing? It is ok to say General MacArthur saved Korea and its people. I knew the person but I did not know the contents of the prayer. Later I came back from the war, my mother showed me the front page of her Bible. There was she wrote the General MacArthur's prayer for his son. Not only General MacArthur is a hero to Korean people, he is my personal hero in spirituality. This paper will cover the contents of General MacArthur's prayer to his son, his biography, and his time in the military, especially during the time of the war in Korea.
First, the contents of the prayer to General MacArthur's son. The prayer goes like this. "Build me a son, O Lord, who will be strong enough to know when he is weak and brave enough to face himself when he is afraid; one who will be proud and unbending in honest defeat, and humble and gentle in victory. Build me a son whose wishes will not take the place of deeds; a son who will know Thee—and that to know himself is the foundation stone of knowledge. Lead him, I pray, not in the path of ease and comfort, but under the stress and spur of difficulties and challenge. Here let him learn to stand up in the storm; here let him learn compassion for those who fail. Build me a son whose heart will be clear, whose goal will be high; a son who will master himself before he seeks to master other men; one who will reach into the future, yet never forget the past.
And after all these things are his, add, I pray, enough of a sense of humor, so that he may always be serious, yet never take himself too seriously. Give him humility, so that he may always remember the simplicity of true greatness, the open mind of true wisdom, and the weakness of true strength. Then I, his father will dare to whisper, "I have not lived in vain. " (1) This is such a beautiful prayer. Just by hearing this prayer, I see how much the General fully relied on God for his family. As serving in the US Army, I kind of know how hard it is for me to take care of my own family. I have been in the Army for almost four years.
In the last four years, there was more time that I was apart from my family than with my family due to deployment, training, and field exercises. I love the Army and I love what I do to serve the Soldiers but it is always hard to leave my family for such a long time. Therefore, I have to rely on God and ask him to protect my family. I have two boys and I have one more on the way. Sometimes, I feel sorry for my family for the frequency of my absences in the special days. I am willing to accept the General MacArthur's prayer for his son for my family just as my mother accepted and prayed for her son who was in the war.
Second, the brief biography of General MacArthur. Douglas MacArthur was a military bratt and born in 1880 at Little Rock, Arkansas to Arthur MacArthur, JR who was the U.S. Army Captain and his wife, Mary Pinkney Hardy MacArthur. In 1889, MacArthur's' family moved to Washington, D. C and he attended the Froce Public School. Douglas MacArthur was rejected twice for the presidential appointment to the United States Military Academy at West Point. Later, he passed the examination for an appointment and enter the West Point at 1899. Douglas later wrote 'It was a lesson I never forgot. Preparedness is the key to success and victory." then, he graduated from West Point as a one of the top-ranking cadets to be commissioned as a second lieutenant into the United States Army Corps of Engineer.
Douglas joined 3rd engineer battalion and departed for the Philippines in 1903 and he was promoted to first lieutenant in Manila in 1904. I was very fascinated with the fact that he was assigned to 3rd Engineer Battalion as his first duty assessment because it was my first duty assignment as well when I first came into the Army as a Chaplain. In 1905, Douglas was ordered to Tokyo for appointment as aide-de-camp to his father, who was a Lieutenant General at the time. In 1907, Douglas was sent to the Engineer district office in Milkaukee then he was sent to Fort Leavenworth and he was given his 1st command, Company at the 3rd Engineer battalion. in 1911, he became the Battalion adjustant and promoted to captain in 1911. (27)in 1915 Douglas returned to the War Department and he was promoted to major in 1915.
Then, during the time of declaration of war on Germany Douglas suggested sending first a division organized from units of different states to Secretray of War, Newton D. Baker. Baker approved the new formation, 42nd Division and under the command of Major General William A Mann and Douglas became the chief of staff as the rank of Colonel. During the Campain-Marine Offnesice in 1918, Douglas was promoted to brigadier General and he receieves his third Silver Star during that time. in 1919, Douglas became Superintendent of the U.S. Military Academy at West Point. In 1922, Douglas married to his wife oouise Cromwell Brooks in Palm Beach Florida where her family was. Then Macarthur left Wes Point and sailed to the Philippines to assume command of the Military District of Manila. When MacArthur and his wife came back to the U.S. they got separated in 1927. (80) in 1930, MacArthur who was only 50 years old became the chief of staff in the Army as the rank of General.
Related Topics