Comprehensive Case Analysis of Walgreens Company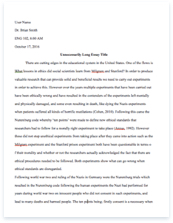 The whole doc is available only for registered users
A limited time offer! Get a custom sample essay written according to your requirements urgent 3h delivery guaranteed
Order Now
Abstract:
This paper will provide insight into the strengths, weaknesses, opportunities, and threats of the Walgreens Company, the nation's leading drugstore chain. The company's key stakeholders – customers, employees and the community are also identified and an explanation provided as to how the company is satisfying the needs and wants of each stakeholder type. This paper analyzes the strengths of the company as the industry leader with its wide portfolio of products and services, as well as establishing the benchmark for growth through acquisitions. The company's weaknesses include prescription errors resulting in death and being unable to keep pace with a price competitive structure against large discounters. Walgreens is positioned to capitalize on the growing e-prescription demand and benefit from the recent health care reform policies. Has negatively impacted customer count resulting in a top line revenue decrease. Finally, this paper will conclude with my decision as a mutual fund manager to invest in Walgreens. Case Summary:
Introduction:
Walgreen Co. (Walgreens) and its subsidiaries operate a drugstore chain in the United States. The company provides its customers with multichannel access to consumer goods and services, and pharmacy, health and wellness services in communities across America. The firm currently operates two mail-order facilities and has 7,752 retail drug stores located across all 50 US states, Guam, Puerto Rico, and the District of Columbia. Prescription drugs account for 65% of all sales, with the rest coming from front-end store purchases. Walgreen Co. is ranked number 32 on the Fortune 500 list and is currently trading stock on the NYSE and NASDAQ stock exchanges. History:
Opening its first store in 1901, Charles R. Walgreen started the iconic drugstore chain on the south side of Chicago. Along with selling prescription and over the counter drugs, the first store was extremely innovative with the addition of a soda fountain and luncheon service. With its emphasis on superior service and high quality items, Walgreen drugstores were received positively and produced large amounts of revenue. The company continued its growth and passed numerous milestones such as going public in 1927, surpassing the $1 billion in sales mark in 1975, and passing the 1,000 Walgreens stores mark in 1984. Recently passing the 7,000 store mark in 2010, Walgreens has seen large amounts of growth from its humble Chicago beginnings. Walgreens century plus history has been marked by explosive growth fueled entirely by the opening of new stores.
Company Description
Walgreens is a nationwide chain of drug stores, with its headquarters located in Deerfield, Illinois. It currently owns and operates about 5,515 stores in the U.S. and Puerto Rico. Walgreens stores offer prescription and non-prescription drugs, grocery items and general merchandise. Its main goal is to maintain constant growth and innovation. Walgreens corporation. Management Two executives highlighted in the report are David Bernauer and Jeffrey Rein. He, Mr. Walgreen was able to ensure their high quality, yet offer them at lower prices than comparable merchandise. Today the organization is based on the same century old company culture reflecting the vision of its founder.
The culture of Walgreen's is based on a common set of values and beliefs shared by employees of the entire organization. This often guides how members of an organization interact with each other and people on the outside. Walgreen's also has a company creed which reads: "We believe in courtesy, in kindness, in generosity, in cheer, in friendship, and in honest competition."
Vision Statement:To be "My Walgreens" for everyone in America — the first choice in health and daily living … owning the strategic territory of "well." The company's vision clearly paints a picture of the company becoming the nation's top retail resource for pharmacy and health-and-wellness services and products. Easy to communicate – the vision is easy understandable, has memorable slogan "My Walgreens for everyone in America" Feasible – Walgreens already is drug retailing industry leader, so the statement is pretty reasonable and achievable. Desirable – it is a desirable outcome for the company stakeholders. It will create more jobs, make shareholders richer and customers happier. Mission Statement:
Walgreens current mission is "To be the most trusted, convenient, multichannel provider and advisor of innovative pharmacy, health and wellness solutions, and consumer goods and services in communities across America. A destination where health and happiness come together to help people get well, stay well and live well." To maintain a competitive advantage, Walgreens offers their employees career advancement and training opportunities for career development.
Related Topics