Comparison of Ddc and Lc Scheme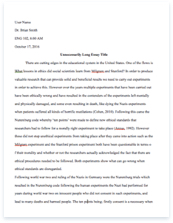 The whole doc is available only for registered users
Pages: 5
Word count: 1028
Category: Library
A limited time offer! Get a custom sample essay written according to your requirements urgent 3h delivery guaranteed
Order Now
Dewey decimal classification and Library of Congress Classification are the two most widely used classification schemes and both are very effective tools for organizing materials in public and academic libraries Singh (2011) states that the Dewey decimal classification scheme is a system of library classification that classifies all topics, knowledge and information into ten main classes numbered from 000 to 900, which together cover the entire world of knowledge. These ten classes are further divided into ten divisions which are also divided into ten sections. The system has value because of its well-defined categories, well-developed hierarchies, and rich network of relationships among topics, worldwide use, and language-independent representation of concepts The DDC's coverage is comprehensive. Primary arrangement is by discipline, and within each main class a reasonable level of specifity is achieved. Library of Congress Classification System (LCC) is a system which groups books according to subjects. The scheme separates all knowledge into classes. Each major class is identified by one letter of the alphabet. Subclasses are identified by combinations of letters, the first letter representing the major class and the second the more specific subclass. Subtopics within classes and subclasses are further broken down into numerical subgroups.
COMPARISONS AND DIFFERENCES BETWEEN DDC AND LCC
Both the DDC and LC systems facilitate access to the wealth of books published in the English language that are relevant to the multidisciplinary. They both originated from the USA but they are different in nature and structure As it is with the Dewey decimal system, the Library of Congress system uses a cutter number that usually identifies the author's name and books title. Both the classification schemes provide for adjustment to the differences in the physical form of books and the treatment of subject matter by having form divisions (subdivisions) in the schemes. With regards to the notation, DDC is so popular in that its notation is easy to follow. It is an example of a pure notation, using only Arabic numerals and thus there is no confusion about which type of symbol to be cited first. LCC uses a mixed notation whereby main classes and their major sections are represented by letters, with Arabic numerals used to represent divisions within those classes and sections. Batley (2005) states that unlike other schemes LCC is not based on theories of classification or the organization of knowledge.
It was devised as a practical tool to classify the US National Library collection and was not originally intended to be adopted by other libraries. As a consequence of its purely practical purpose, no attempt was made to create an elegant or logical structure. LCC is not so much an embodiment of knowledge, more a detailed topic listing. This means that, unlike in the case of DDC, there is no advantage to be gained from learning the structure of the scheme by using the print version. Whereas the DDC groups the books into 10 classes, the LC classifies them into subgroups or subdivisions The library of congress differs from the Dewey decimal system in its use of letters instead of numbers. DDC class numbers can be abridged at many levels to fit different sized collections, LCC notation cannot easily be abridged (except to cut back to the initial 1-3 letters) DDC has 4 volumes in full edition, 1 volume abridged edition, full and abridged web versions and is used by a wide range of sizes and types of libraries in 138 countries mainly school libraries, public libraries, special libraries, college and university libraries while the LCC has 41 volumes, no abridged edition Full web version and is primarily used in large and medium-sized academic and research libraries in English-speaking countries and also some specialized collections that are part of a larger general library, e.g., a university law library, may be classed in LCC when the rest of the collection is not.
LCC is a utilitarian classification with only one subject in view, the arrangement of its stock. The order and the extent of the subdivisions are conditioned by the character of book and, as a result, the notation is distributed over subjects as written in books rather than subject in the abstract. Differing from LCC, DDC is a hierarchical classification, applying the principle of development from the general to the specific in disciplinary and subject relationships. Notations display the hierarchical features in the lengthening of the basic number by one digit for successive divisions. Both schemes have much difference in content.
LCC embraces all human knowledge into 20 main classes. Each letter stands for one main class while each main class can further be divided by means of a second letter e.g. main class A (General works) may have subclasses AA through AZ. A good classification scheme cannot do without an index which is an alphabetical listing of the terms used in the schedule, with the corresponding notations attached. Unfortunately LCC has no general index to the whole scheme. Instead most classes have their own alphabetical indexes, the fullness of each varying from class to class. Each index is meant for each class to which it is appended. The list of subject headings used by the Library of Congress can also be used to supplement the indexes as class numbers are given with many of the headings. DDC, however has a relative index which provides references in alphabetical order to all subjects and terms appearing in the schedule.
CONCLUSION
While some librarians and other bibliophiles have a strong preference for either Dewey or the LOC system, many others concede that both systems have flaws and that libraries should follow practices that are best for their respective collections. Many public libraries, for example, continue to use Dewey while some academic libraries have made the switch to LOC to allow for greater specialization in identifying resources. Neither scheme is perfect, but advantages outweigh disadvantages. Both schemes have been used successfully for many years and benefit from good levels of support and regular revisions.
REFERENCES
Batley, S. (2005). Classification in Theory and Practice. England: Chandos Publishing. Singh, S. (2011). The Theory and Practice of the Dewey Decimal Classification System. Delhi: Isha Books. http://www.loc.gov/rr/business/beonline/toolkit.html
Related Topics