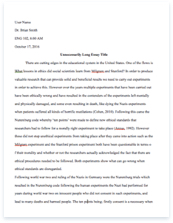 The whole doc is available only for registered users
A limited time offer! Get a custom sample essay written according to your requirements urgent 3h delivery guaranteed
Order Now
Introduction and Purpose of Trait and Skills Theory
We have as many definitions of leadership as there are persons who have tried to define leadership. The definition of leadership trait theory by Derue, D. Scott, Nahrgang, Jennifer D., Wellman, Ned, Humphrey, Stephen E., who reviews and correlates the research on leader traits and behaviors, and takes measures toward a differentiated theory of how leader traits and behaviors influence leadership effectiveness. Utilizing a three-stage process: 1.) a narrative review of the literature, a theoretical model was developed that organizes the current literature and models leader traits and behaviors affects on leadership. 2.) the validity of selected leader traits and behaviors using a compilation of previously published meta-analytic data and new meta-analyses was definitively tested, 3.) Inquires of a sample set of relationships from our theoretical model to determine if leader behaviors are one possible avenue through which individual traits sway leadership effectiveness was done. Another paper supporting skills theory is that of Marie-Line Germain, Theoretical Framework Theories of Leadership; this paper is to investigate the extent to which expert and leader characteristics converge, if at all. In order to accomplish that goal, a review of key research journal articles and books on the topics of leadership trait theory and expertise was performed, the result of which is presented in her paper.
The debate of whether leadership is a behavior, a trait, or a skill has been continuous. It began with an examination of identifying qualities of great persons. Leadership skills at that time were esteemed to be a privilege of birth: leaders were born, not made (Kirkpatrick & Locke, 1996; Cawthon, 1996). One had to be of the right breed to lead; all others had to be led. No matter the amount of yearning or learning, one's destiny could not change. The beginning of the paradigm shifted to include the impetus of situations on leadership. Recalling the critical role of traits in effective leadership is currently a re-paradigm shift (Bryman, 1992; Lord, DeVader, & Alliger, 1986). The trait approach of leadership is currently having a rebirth with researchers. In 1991, Kirkpatrick and Locke asserted that non-leaders converge on six traits: drive, the desire to lead, honesty and integrity, self-confidence, cognitive ability, and knowledge of the business. Judge, Bono, Ilies, and Gerhardt (2002) found a strong relationship between Goldberg's (1990) Big-Five traits and leadership, extraversion being the trait the most associated with it. Unequivocally, decades of research show that having certain personality traits is associated with being an effective leader.
The Research Questions and Significance:
Each group of researchers pose very pointed questions. On the paper of Derue, D. Scott, Nahrgang, Jennifer D., Wellman, Ned, Humphrey, Stephen E., ask the following: Does the leader behavior paradigm provide the basis for new theory? Does meta-analytic evidence also suggests that leader behaviors are important predictors of leadership effectiveness? In the same sense, Marie-Line Germain, seeks to find answers for correlations between leader and expert traits. Results suggest that leaders and experts may share similar characteristics. However, the concept of expertise also encompasses skills theory. Sample Populations
The articles sampled by Derue, D. Scott, Nahrgang, Jennifer D., Wellman, Ned, Humphrey, Stephen E., is a collection of other works: Previously published meta-analytic estimates; update previously published meta-analytic estimates, and conducts our own meta-analyses of primary studies. Table 1 provides the data of the relations among all study variables. In total, 59 studies consisting of 13 existing meta-analyses and 46 primary studies were included, to examine these hypotheses, used in the final analysis. Of the 143 bi-variate relationships estimated in Table 2, 90 of the estimates were drawn from previously published meta-analyses, and 53 were estimated via our own meta-analyses of primary studies or via updating previously published meta-analyses. Marie-Line Germain also sampled a collection of works: A compilation of research reviews on the trait theory of leadership and data about the area of expertise, this paper attempts to find a connection between leader and expert traits. Data conclusions indicate that leaders and experts have similar characteristics. Surprisingly, the definition of expertise also covers skills theory. Limitations
Because a sufficient number of primary studies are needed to obtain a meta-analytic estimate, Derue, D. Scott, Nahrgang, Jennifer D., Wellman, Ned, Humphrey, Stephen E. were limited by the extant body of leadership research: 1.)they could not test all of the components of their conceptual model due to a lack of research on specific leader traits, behaviors, and attribution processes, i.e., they were forced to omit behavioral leadership theories such as ethical leadership (Brown, Trevino, & Harrison, 2005), servant leadership (Greenleaf, Spears, & Covey, 2002), and empowering leadership (Arnold, Arad, Rhoades, & Drasgow, 2000), 2.) they was based upon, leader-focused view of leadership, now practical because most of the current research acknowledges that leadership is structured as a top-down, leader focused. Current theories of leadership have formulated a collective process that flows through mutual influence of participants at all levels of an organization. 3.) Finally, this study was unable to explore borderline conditions that related to their integrated trait-behavioral model. Acknowledging the possibility of contingent variables, that explains the effect of traits and behaviors on factors of leadership effectiveness results. Marie-Line Germain limitations on trait theory is that it doesn't have encouraging predictive power (Gleitman, Fridlund & Reisberg, 2004).
There were meta-analysis, many traits studied and yielding unsubstantial results. Germain, did not clarify why personality is linked to leadership. Lastly, is situational specificity? For instance, if one is high on an extraversion and an openness measure, are they effective across the board? Research shows that trait theory suffers from the need to outline the trait(s) that make up leadership at the expertise level and of describing which traits work best in which specific situations. The Lack of definition of the variables scientifically does not indicate a need to elimination the topic. The trait approach data suggests that organizations would be more productive if the managers had specific duties comparable to a specific trait. Organizations should post the traits they need for current positions. A trait assessment could be a predictor of qualities for promotion, demotion in the company. This could better utilize experts and how they could fit into the company structure. A trait plan gives companies a standard for what to look for if we want to be experts. The question of expertise traits and skills being taught; i.e. considers continuing professional development as a means of developing professional expertise. Effective experts are individuals who are ambitious, driven, and outgoing and other qualities. These qualities and morals appear to be inborn and not of an academic nature. It appears that some individuals may be better equipped to assume leadership roles; leadership training can direct their abilities.
Results and Conclusions
This study of Derue, D. Scott, Nahrgang, Jennifer D., Wellman, Ned, Humphrey, Stephen E., correlates common trait and behavioral indices of leadership and tests how different traits and behaviors align to predict a leadership effectiveness standard. This study begins to reverse the current idea of information gathering in the leadership literature, and thusly, lends cohesion to leadership data. Marie-Line Germains study summarizes current leadership and expertise traits based on findings in the expertise literature and in leadership theories. Characteristics of leadership are ensconced in expertise. The links between expertise and leadership traits are substantial; i. e. Common Leadership and Expertise Traits and Skills: Leadership Construct, Ambitious, Able to judge / assess, Outgoing, Self-confident / Self-assured Knowledge, Problem-solving skills Intuitive, Able to deduce, Able to improve, Charisma, Drive, Expertise construct.
References:
Kirkpatrick & Locke, 1996, Cawthon, 1996 (digital.library.unt.edu/ark:/67531/metadc84290/m2/…/dissertation.pdf‎ Bryman, 1992; Lord, DeVader, & Alliger, 1986 eadershiptheories.blogspot.com/2010/02/trait-approach.html‎ Judge, Bono, Ilies, and Gerhardt (2002) www.salkforum.se/kurs08/papers/Sjoberg%20Sofia.pdf‎ Goldberg's (1990) ages.uoregon.edu/sanjay/pubs/bigfive.pd
Brown, Trevino, & Harrison, 2005 www.leadershipreview.org/2008spring/article2.pdf Greenleaf, Spears, & Covey,
2002 www.amazon.com › … › Elections & Political Process › Leadership‎ Day, Gronn, & Salas, 2004; Pearce & Conger, 2003; Morgeson, DeRue, & Karam, 2010 Gleitman, Fridlund & Reisberg, 2004 Psychology, sixth edition. [John Jonides; Paul … Publisher: New York; London: Norton, 2004. Edition/Format: Book
Related Topics