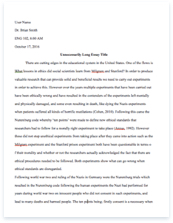 The whole doc is available only for registered users
A limited time offer! Get a custom sample essay written according to your requirements urgent 3h delivery guaranteed
Order Now
A fierce thunderstorm had just brought brief relief to the sweltering mid-August temperatures in Tampa, Florida, as Elise Ferguson, president of the writing implements division of U.S. Home, Clique Pens, stared at the notepad in front of her. She had jotted some thoughts about just whose needs were more important for Clique to satisfy—its retailers or its consumers? Fortunately, the 2013 back-to-school sales of her core writing implements product lines appeared to be on goal for a 3% increase over 2012. These sales were not without a cost, however, as various discounts, allowances, and other off-invoice deals had pushed gross profit margin down from 42% in 2010 to just over 36% in 2012. (See Exhibit 1.) Another one of Ferguson's primary goals for Clique was to stop this decline in gross profit margin percentage and grow its overall gross profit by 4%. She hoped to accomplish this by growing revenues and increasing the gross profit margin. At this point, she felt it was unlikely that the latter would happen this year (2013).
Ferguson wondered, were all these "giveaways" to retailers necessary? If so, couldn't the monies be shifted to a form referred to generally as Market Development Funds (MDF), which would in theory allow Clique to have more control over their use in driving sales of its products, rather than just increasing retailer margins? Clique had spent considerable effort on wringing costs out of its supply chain, and Ferguson was fairly certain that the deterioration in margins was being driven solely by these trade discounts. Ferguson had held several recent meetings with Logan Chen, division VP of marketing, and his product managers, for their views on this issue. She had also had similar meetings with Ross McMillan, division VP of sales, and several of his key account managers. Chen and his staff felt strongly that reducing trade discounts to pay for marketing-controlled, consumer-oriented MDF, coupled with additional consumer-targeted marketing programs, was the best way to ensure that consumers were receiving the full benefit of Clique's promotional dollars. He was certain this would result in higher sales and profit for Clique.
HBS Senior Lecturer Frank V. Cespedes and Professor James Kindley, College of Charleston, prepared this case solely as a basis for class discussion and not as an endorsement, a source of primary data, or an illustration of effective or ineffective management. Although based on real events and despite occasional references to actual companies, this case is fictitious and any resemblance to actual persons or entities is coincidental. Copyright © 2013 President and Fellows of Harvard College. To order copies or request permission to reproduce materials, call 1-800-545-7685, write Harvard Business Publishing, Boston, MA 02163, or go to http://www.hbsp.harvard.edu. This publication may not be digitized, photocopied, or otherwise reproduced, posted, or transmitted, without the permission of Harvard Business School. This document is authorized for use only in MNGT6251 Marketing Management S2, 2015 by AGSM MBA Programs, University of New South Wales from March 2015 to September 2015. 9-914-525
DECEMBER 16, 2013
For exclusive use University of New South Wales, 2015 914-525 | Clique Pens: The Writing Implements Division of U.S. Home McMillan had a very different point of view. He and his staff believed Clique would lose considerable shelf space and sales to competitors if trade discounts were reduced in favor of marketing-controlled funds. He also argued that consumer advertising should be reduced to fund retailer-oriented MDF controlled by the sales team, which could then provide "deals" for specific accounts in response to competitive activities. McMillan was certain that this would increase Clique's retail shelf space and overall market share, leading to greater sales and more overall profit, albeit at a lower gross profit margin.
Ferguson knew that all of Clique's competitors provided a host of discounts and allowances to the trade in the war for retail space. She also knew that discounts, once given, seemed almost impossible to claw back. This meant that any new program (MDF) would have to be clearly "equal" or better in the retailers' eyes to their present Clique program to be adopted. She also was concerned that implementing any change would require keen cooperation between marketing and sales. Jotting down a few more thoughts, she recognized that she'd need to meet with Chen and McMillan soon, as retailer planning cycles were already underway for the critical back-to-school selling period for 2014. Fountain Pens, Ballpoint Pens, Mechanical Pencils: A Very Brief History The first practical fountain pen was invented by Louis Waterman in 1875. For 70 years the Waterman Pen Company led the world in the manufacture of fountains pens. But in the late 1950s, a shift to ballpoint pens swept the United States.
The Waterman Company continued to concentrate on its fountain pen line, its sales deteriorated, and the company was forced to sell to BIC (see below). Ballpoint pens trace their origin to John Loud, in 1888. The invention never really took off until Milton Reynolds managed to market them successfully in the 1940s. The early pens were plagued by leaking-ink problems that were later solved, in the 1950s, by Patrick Frawley, who named his ballpoint "Papermate." In 1958 M. Marcel Bich, a Frenchman well established as the leading European pen maker, bought the Waterman Company, forming Waterman–BIC Pen Company. Bich concentrated the company on ballpoint pens, and with aggressive pricing and promotion, the company became the market leader by the early 1970s.
The Waterman trademark was sold by Bich to a Zurich firm and was subsequently acquired by Newell (now Newell Rubbermaid). The brand continues to sell today. Mechanical pencils trace their origins back to 1822, in the United Kingdom. In 1860 the A. W. Faber company refined the design specifically for architects. The modern mechanical pencil emerged in 1915 from two inventors simultaneously: Tokuji Hayakawa, whose "lead-thrusting device" became the first product for what is now the Sharp Electronics Corporation; and Charles Keeren, from Illinois, who created the "ever-sharp" pencil. The present-day versions of these inventions have been improved over the years but still use advancing mechanisms for the lead that are little changed from the originals. Company History
U.S. Home was founded in 1978 by Bob Utley, formerly a stock trader for Smith Barney. Utley had watched a number of entrepreneurs, such as 1960s-era venture capitalist Jim Ling, accumulate enormous wealth by acquiring and assembling a hodgepodge of companies that became known as "diversified conglomerates." While Utley felt that the values assigned to these assemblages were out of line, he sensed that opportunities existed for someone who could put together fairly small BRIEFCASES | HARVARD BUSINESS SCHOOL
This document is authorized for use only in MNGT6251 Marketing Management S2, 2015 by AGSM MBA Programs, University of New South Wales from March 2015 to September 2015. For exclusive use University of New South Wales, 2015
Clique Pens: The Writing Implements Division of U.S. Home | 914-525 companies that had proprietary products with real value that could be enhanced with proper capitalization and strong management. He also wanted to take advantage of anticipated growth in chain discount stores, ultimately epitomized by Wal-Mart, by enabling a small business to meet the "big box" merchandising and supply chain requirements that were beyond the capabilities of all but the largest firms. With his own capital, plus funds raised from friends and associates, Utley started purchasing small consumer products companies that manufactured items that he felt were well suited to discount retailers. Utley was a pioneer in developing Asian suppliers, and mass retailers welcomed the values he brought them. Starting with bed and bath items, Utley acquired a range of companies, from hardware to ballpoint pens, over the next ten years. He would retain brands and company management, as possible, but consolidate them under the U.S.
Home corporate umbrella. Clique Pens was formed in 1922 by two Mennonite cousins in Kansas City, Missouri. The company originally made fountain pens similar to the classic Waterman pens and in the 1960s quickly adopted the new, inexpensive ballpoint design. Clique Pens were known for their utilitarian designs that reflected the founders' core values and for their "always ready" ink supply that did not require the writer to make several strokes with the pen before ink flowed. The ink formula was Clique's "secret sauce" and provided a key competitive distinction. In 1980, when Utley acquired it, Clique had a full line of writing implements and markers. Its sales at that time were around $17 million. Under U.S. Home, Clique has grown steadily, and in 2013 its stable of brands sold worldwide. (See Exhibit 1.) The U.S. Writing Implements Industry in 2013
Over 50 major consumer products firms competed in the writing implements business along with numerous small distributors who purchased generic items from global suppliers. More than 20 billion pens and pencils were sold worldwide in 2012. This unit volume has not been affected by electronic communication, to the surprise of many who predicted the end of handwriting when the digital age took root. Pens and pencils were sold in many types of retail outlets such as supermarkets, mass retailers, drug stores, warehouse clubs, department stores, and specialty stores. Manufacturers shipped direct and through distributors who often needed to "detail" the shelf space. Detailing involved keeping the retail displays stocked with merchandise properly presented. By 2013 the U.S. industry did about $5.5 billion at manufacturers' costs and was expected to grow at around 2% per year, in line with population growth. (See Exhibit 2.) The industry had some of the more prominent brand names in consumer products, such as BIC, Scripto, Pentel, Pilot, Papermate, and Sharpie. Many had sold consistently in the U.S. for more than fifty years.
Consumers tended to shun private-label and unknown brands of pens and pencils to buy familiar brand names, but had little specific brand loyalty. Pens and pencils were viewed as commodities, except at the high end. This resulted in a hyper-competitive battle for retail shelf space among mass brands. The battle was manifested in a proliferation of SKUs (stock keeping units), as major retailers requested custom designs and tailored shelf packs that allowed them some form of exclusivity from their competitors. Because retailers could choose among many well-known brands, they also could demand pricing concessions from manufacturers as they played them off against each other. Retailers could also extract additional allowances and discounts from manufacturers such as just-in-time delivery, shelf "detailing," stocking, and removal of slow-selling merchandise.
Special promotions, such as back-to school-assortments, end-aisle displays, and pallet programs,1 were often sold on consignment. As a result of these incentives, pens and pencils were highly profitable, high-turnover items for retailers, but were becoming less and less profitable for manufacturers as retail prices remained almost the same for over a decade. (See Exhibit 3.) Growth in the category required taking market share, which was quite difficult as retailers had so many brands from which to choose. A retailer didn't need Pentel, for example, if it had BIC and Pilot—unlike in other categories, such as electronics, where certain brands, like Apple, were mandatory for the retailer to carry. Marketing and Promotions
Clique's brand managers worked closely with various marketing and ad agencies to develop an integrated package of advertising, trade, and consumer promotions to maintain market share and profitability. On average, Clique allocated 15% of its total promotional budget to advertising, 30% to consumer promotions, and 55% to trade promotions. (See Exhibit 1.) Clique's competitors used similar allocations. Major retailers had consolidated over the period from 1980 to 2013, and the largest, such as Wal- Mart, Target, Walgreens, CVS, and Kroger, had been gaining power over most of their suppliers, even those with some of the best-known brands in the world. Manufacturers of products targeted to large audiences could not succeed without distribution in major retailers. As a result, most manufacturers had steadily increased promotional dollars devoted to the retailers (the trade), usually by reducing consumer advertising and promotion and by reducing profit margins. Clique's advertising and communication programs were aimed at several market segments consistent with its product line.
Innovation was touted loudly by all the companies in the industry, but it generally consisted of styling and other superficial changes as the basic pen and pencil technology remained stable. Consequently, advertising tended to focus on consumer promotions and price-off deals. These ads were often tagged with a retail "partner" and carried a statement such as "available at Target." Consumer promotions—mostly coupons—were distributed through a variety of media such as free-standing-inserts (FSIs) in Sunday newspapers, special marketing events (e.g., parking-lot promotions), in-store displays, and cash register receipts. Many of the receipt coupons were highly targeted, taking advantage of Clique research coupled with sophisticated point-of-sale (POS) data available from major retailers. Coupon redemption rates for writing implements were about 1.3%, lower than for most other consumer products. Manufacturers often used joint promotions with vendors such as notebook and stationery suppliers.
Clique's product managers occasionally worked together to promote something like a special pen and pencil pack. These types of promotions were difficult to execute, however, because they required special packing and handling, from manufacture through the supply chain to the point- of-sale, increasing costs as much as 10%. Clique also used social media, as possible, but the low consumer interest in the category made it a very minor part of the marketing effort. The marketing managers tried to work closely with sales in implementing pricing and off-invoice trade programs to distributors and retailers. Despite their concerted efforts, sales people often made an additional "deal" with a buyer to gain an order when he or she feel that it was needed. Elise Ferguson had data which indicated that over 80% of Clique's sales were sold on some type of deal, even though the eight-week back-to-school sales period was the only time Clique officially offered a 1 Pallet programs featured promotional goods stacked on a pallet generally placed in the aisle of the store.
Clique's sales force argued strongly that these deals were essential to hold and gain shelf space. Ferguson understood that, but also believed that the deals did little to obtain real merchandising support at the point-of-sale. She tended to side with Logan Chen and believed that employing discretionary funds would allow Clique to direct the monies toward more effective retail display and positioning and would support more co-op advertising2 that improved consumer demand for Clique products. Price discounts, in her view, were most effective for Clique if they went to the ultimate consumer. However, Ferguson had had some conversations with a few retail buyers about possibly changing the way discounts were administered. They told her candidly that a change in discount policy would likely require them to take an increase in regular retail prices of at least 5% in order to maintain their gross profit margins. It was not clear how that might affect Clique's sales. Ferguson made a note to explore the pricing issue in the upcoming meeting with Chen and McMillan. Retail Channel Management
The writing implement industry had no firm with enough brand- and market-share power to have a dominant role at retail. Competition for shelf space was fierce but retailers tended to be reluctant to alter "shelf share" once they had chosen their assortments. Writing implements took relatively little space to display, but even a small retailer had to offer a plethora of styles and types of pens, pencils, and markers at a number of price points and package configurations. (See Exhibit 4.) This resulted in a merchandising and buying nightmare. Stock-outs were common. It was not clear how discounts affected this issue, but forward-buying (retailers stocking up on discounted items and special deals) resulted in frequent over- and under-stocking. Many retailers responded by forcing distributors and manufacturers to hold inventory and provide it just-in-time (JIT), but this was very difficult to accomplish in the writing implements category because of the large number of SKUs retailers needed to carry.
Empty pegs in the display were common if inventory was managed too tightly. To make matters worse, even while demanding that distributors and manufacturers hold the inventory, most retailers still took the volume discount for their orders. This situation was exacerbated by the variety of methods that retail chains used to compensate their buyers. Some retailers based their buyers' bonuses on the spread between gross manufacturer's prices and the net prices achieved. Others based bonuses on obtaining "dating" or favorable payment terms, such as 2% 60 net 61 days. Still others used return on investment or on assets, and some used dollars sold per square foot. Clique's salespeople tended to be very accommodating for specific buyer and account "needs," which resulted in serious inconsistencies in promotional and pricing programs from account to account. This caused obvious problems with Clique's customer service and accounts receivable personnel. It was not clear to Ferguson if MDF would help alleviate this problem, but she certainly felt it could not make matters worse. Consumer Purchasing Behavior
Writing implements were purchased frequently for business and household use. Of U.S. consumers, 65% purchased three or more pens and pencils two times per year. Of businesses, 100% purchased 10 or more pens and pencils three times per year. Writing implements were also sold through numerous distributors for advertising and promotion. These distributors sold many kinds of 2 Co-op advertising is advertising a retailer runs, such as a circular, which includes a manufacturer's product. The cost of the advertising is shared with the manufacturer in proportion to the ad's size and actual cost and usually related to the amount of product purchased.
Clique made approximately 7% of its sales to ad-specialty dealers, many of which provided businesses with pens and pencils custom-printed with their names and logos. Purchase of writing implements was not seasonal except for the back-to-school period from July 15 to September 1, when 18% of industry volume was sold. Pen and pencil suppliers promoted heavily during this period with both consumer and trade deals. Competitors fought for POS displays, end caps, and cash register space because customers often chose brand, package size, etc., on impulse. Although 85% of consumers knew what type of writing implement they wanted when they entered the store, they still were heavily influenced by point-of-sale displays and merchandising. Consumers responded to innovations such as Clique's Stylus smooth-roll, instantly drying ink; but real innovation like this was rare in the category.
Styling, colors, and fashion drove new product development for all firms. Retailers tended to be skeptical about the impact of these changes, having been burned too often by manufacturers' empty promises of product innovations that would boost sales. Their desire to be competitive within the category, however, caused them to go along with the changes in their displays and to accommodate the new items. The constant stream of changes, along with varying promotional programs, made it difficult to keep displays well stocked. Consumers were often faced with empty pegs or misplaced and possibly mispriced product. Over 85% of writing implements distributed through major retailers were sold in various packs consisting of two or more items, almost of which were sold in packaging hung on pegs. (See Exhibit 4.) These packages made it somewhat difficult for consumers to compare prices directly. For example, three mechanical pencils from one manufacturer might be sold for $3.87 and five might be sold for $5.34 from another.
Consumers paid attention to price-off deals when posted at the point- of-sale. However, the relative infrequency of purchase by consumers made it hard for them to discern product value. Few knew what the products "should cost" as they tried to compare pricing among the items in the display. Specialty retailers and outlets such as food and drug chains tended to carry four to six brands, offering a basic assortment of good, better, and best products. Office supply retailers carried many more brands and covered the full range of products available. Pricing was little different among brands in each category. Consumers almost never shopped around, even if their brand of choice was not available when the thought of buying pens or pencils occurred to them. Coupons were used by only 1.3% of consumers, and Clique's coupon redemption rate was in line with that. Meeting with Chen and McMillan
Ferguson asked Logan Chen, marketing VP, and Ross McMillan, sales VP, to join her in her office to discuss the MDF issue. She wanted especially to discuss the allocation of funding for marketing and sales (consumer and trade) initiatives in general and to learn each man's views on the best way for Clique to grow profits. She knew the two had already had numerous heated discussions about these topics. Chen started the conversation by saying he'd calculated that a shift to consumer-oriented MDF could generate an additional increase in retail sales of 5% and would result in an increase in gross profit margin of 2 points—from 36% to 38%—if marketing administered the funds. Chen wanted to use MDF to buy more co-op advertising and consumer-directed discounts, such as "instant coupons." McMillan had his own calculation: he said that implementing MDF as Chen wanted would result in a decrease in sales of over 9% if discounts were reduced, but conceded that a positive impact on gross profit margin of 2% could occur.
He was adamant that sales had to control any MDFs or other discounts, arguing that if sales had additional funds for "opportunistic" use, Clique could increase its market share by as much as .4% next year. Although the gross profit percentage would decrease, he asserted that the overall gross profit had a chance of increasing by 3.5%. McMillan also pointed out that retailers did not like instant coupons as they had to be put at the point-of-sale and taken down when the promotion ended; and, more important, a price reduction had a serious negative impact on their profits unless offset with additional discounts. McMillan added his opinion that the company was spending 30% more on advertising than necessary. He felt that consumers were not swayed by advertising and that the money could be used to take more shelf space from competitors by essentially buying it from retailers.
Chen had been adamant that consumers were losing touch with the Clique brand and that long- term sales would be reduced by cutting marketing efforts directed to the consumer. He was certain that profit margins could also be enhanced with advertising. He pointed out that numerous once- great brands that stopped promoting themselves to the consumer, like Schlitz beer, quickly shrank or died. Because Chen also had data indicating that consumers were not very price-sensitive, he believed that the sales force could implement a price increase that could help Clique and its retailers improve profits. His data indicated that a 6% price increase would produce only a 1% reduction in sales. McMillan became visibly annoyed as he listened to Chen. "No way that any retailer is going to take a price increase," he insisted. "Our competitors will continue to work on thin margins, and we'll lose to them.
They aren't spending as much on advertising either, so they have a real advantage on us now, and you're proposing that we give them further advantage. No one sees much difference in the products out there, so retailers are just going to go with the deal they perceive as giving them the most profit. We can't pull back discounts; and I can use additional MDF to take advantage of opportunities. For example, just last week our Midwestern regional manager had the chance to buy out a competitor at Walgreens if he had had funds available to do so." McMillan continued, "Besides, discounts to the consumer don't work for our accounts or us. Here's an example. We ran a test at Staples in 100 stores with our popular two-pack pen and pencil set in March. Its normal retail price would be $1.97. We priced it at 10% off—that's $1.78. The test stores sold 7% more units than comparable stores at regular price, but this resulted in lower retail sales revenues. And to put a further negative on this, the Staples buyer informed me that his overall unit sales did not increase at all in the test stores. He simply traded unit sales that would have gone to one of our competitors at a higher price for more of our units at a lower price."
Chen responded, "Our normal trade discounts for Staples consist of a volume allowance (5.5%), a warehouse allowance of 3%, and a stocking fee of 1.5%. Our wholesale price of the pen and pencil set you tested is $.94. Our cost of the set, delivered, is $.46. With those discounts, our gross profit margin is reduced from 51% to 45%. If we reduce the price so that the retailer makes the same mark-up [gross profit margin] he makes at regular price, instead of all the other discounts, then we make almost 7% more profit on the sales, the consumer gets a better value, and we gain market share." McMillan's face reddened. "We can't take away the warehouse and stocking allowances. I don't think we can even consider reducing the volume allowance.
But if I had MDF funds to run price-off promotions to offset the loss in profit to the retailer, some retailers might agree to maintain a lower retail price. The total cost to us wouldn't be much different than that of the current volume discount." Chen replied, "If we're going to drive more profitable sales for Clique, it has to be with funds that actually reach the consumer. On a longer-term basis, the consumer would be receiving a better value, and that should result in our taking market share from competitors. Also, taking control of the funds may allow us to be more consistent in our relationship with retailers. You have said many times that one of our biggest customer service and accounts receivable nightmares is the myriad discounts out there." Ferguson jumped in. "Wouldn't we save quite a bit of cost by having fewer discounts, even if the amount given up was the same? "Sure we'd save, but the world doesn't work like that," McMillan said. "The buyer at Staples gets a bonus heavily weighted to his realized gross margin, so discounts off our wholesale are extremely important to him.
The buyer at Wal-Mart pretty much lives with a set margin, around 35%, but is rewarded for obtaining things that affect cost, like warehouse allowances, roll-back promotions, and center-aisle programs; the buyer at Walgreens has a bonus with a component that rewards dating and payment discounts. We have to tailor our programs to these different angles of self-interest. If I went to the Wal-Mart buyer with MDF funds, she'd just laugh and tell me to discount our price more." Ferguson spoke up. "Look, we can't allow our margins to erode further. Ross, can we implement a price increase as Logan has outlined? If not, can we deploy funds that allow us to gain market share by providing discounts directly to the consumer, but still allow the retailer to make acceptable profit? And do you really think our advertising does nothing to help in this war? I don't think we can ignore the extreme importance of supporting our brands."
Then Ferguson turned to Chen. "Logan, you rightly argue that our customers should perceive a higher value benefit from lower price, but will they really? Can value differences be discerned with the crazy pricing out there—one competitor with a three-pack for $2.56 versus our two-pack at $1.78? Are the products really differentiated at all in the consumers' minds? Does the retailer see any difference, except price? How much spending is required to maintain our brand?" Ferguson then spoke to both men. "We have to compete for retail space, and the consumer's mind, in a way that enables us to stop the continuing erosion of our brand's power with our major accounts, and it can't be driven just by lowering our prices. And one more thing, we need to resolve this dilemma between marketing and sales—this battling back and forth needs to end. You have 48 hours to come up with a plan to increase our gross profit that will work with our retailers and motivate our consumers. We'll meet again Friday afternoon."
Related Topics