Classical Conditioning Therapy: Studying Ted Bundy's Case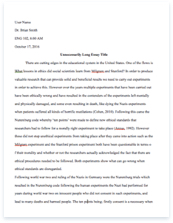 The whole doc is available only for registered users
A limited time offer! Get a custom sample essay written according to your requirements urgent 3h delivery guaranteed
Order Now
            Classical conditioning is a process wherein organisms gain knowledge on how to respond to a certain stimulus that did not produce the same response previously. The once "neutral" stimulus paired with another stimulus influence production of that response. Behaviorists explain this as a form of contiguity, connecting the two stimuli with respect to their relatively close time of occurrence arranged externally. Also known as Pavlovian conditioning, this emphasizes that the subject produces the learned response involuntarily rather than in an operant or voluntary manner.
            For serial murderers like Ted Bundy, classical conditioning may help internalize or explain well the role of fantasies. Sexually sadistic themes tend to cause masturbation for many sexual murderers. Comparing it with other sexual offenders, it is believed that selective reinforcement of deviant fantasies, as paired or association with repeated masturbation, supplies driving force for sexual homicide, specifically the organized type (Van, 1999, p.161).
            A study made by MacCulloch and colleagues focused on the evaluation of sadistic fantasy on people with psychopathic personality disorder known to have committed sexual crimes. It was found that there were preceding fantasies before the crimes were committed. These offenders, realizing it only when they apprehended, made progression to a more sadistic behavioral "try-outs" associated with fantasy (Van, 1999, p. 161).
            Van (1999) mentioned about a motivational model for sexual homicide in accordance to the role of fantasy produced five factors that contribute to committing the crime. Early attachments, early psychologic trauma, patterned responses generating sexual desires, violence in fantasy life, and the so-called "feedback filter" that encourages repetitive thinking patterns were the factors identified. One of the results of this study reflected that nearly half of the offenders experienced physical and sexual abuse, with high percentage of effect influenced by emotional neglect. (162)
            Ted Bundy's life revolved in the most of the situations mentioned above. Having a dysfunctional family renders a lot emotional neglect. Ted is one of the best examples that would illustrate sexual crimes, being known as a serial murderer at his time.
Related Topics