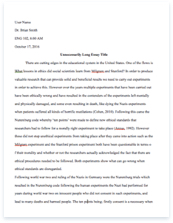 The whole doc is available only for registered users
A limited time offer! Get a custom sample essay written according to your requirements urgent 3h delivery guaranteed
Order Now
CIPP evaluation model is a very compressive framework that has been used for years in guiding evaluation of different programs, projects, products, institutions, systems, and others. CIPP model delves on context, input, processes and product as important approaches in the evaluation process (Payne, 1994). CIPP model using these four approaches provides a systematic review of the curriculum development process and assess whether the curriculum actually meets the intended purposes.
Any evaluation of a curriculum must follow the four elementary approaches. In context evaluation, there is examination and description of the context of the program, assessing needs and goals, determination of objectives, and whether the objectives will meet needs. This is helpful in decision making process (Payne, 1994). Evaluating the BSN nursing program at Illinois Wesleyan University using this model, it can be found out that the context of the curriculum is geared towards increasing student knowledge to handle patient cases. The curriculum has been well integrated with other courses and there is a need for the course and job needs.  However, there may be need to create more links between research/extension and the course
Inputs element evaluates different factors necessary for students going through the curriculum. This include aspects like student ability, learning skills, motivation, living conditions, existing knowledge, smart objectives, course content, and others (Payne, 1994). Looking into the nursing program, these requirements have been well factored as there is a match between course requirements, student and teacher's ability, and relevance. There is a balance between theory and practices as there are presumably enough hours for theory/practice and teacher research. However, there are few incentives to motivate students since the curriculum details the normal learning process.
The element of process looks into the actual process of learning. This looks to things like student work load, student participation, teaching and learning problems, communication process, knowledge transfer and application, maintaining discipline, and many others (Stufflebeam, 2000). BSN nursing program at Illinois Wesleyan University has met these requirements in different ways. However, there are little incentives that are geared towards solving problems arising from application of skills learned in classroom and creation of self-awareness among students.
Product element looks into the final assessment in the program. This includes final exam, informal assessment, quality assessment, process of evaluation, and others (Stufflebeam, 2000). The curriculum has met requirements of this approach in specific ways but there is no integration of the process of evaluation in theory and practical evaluation.
This team analysis should be different from previous one since this has been more detailed and in a procedural manner. Through the analysis there are four issues arising from each of the four elements that need to be assessed. First the curriculum has not created framework that link extension/research and class content. This means that the curriculum may have difficulties in adopting current research findings. Second, the curriculum does not provide more incentives to motivate students. The curriculum just takes students through normal learning process but there are no incentives to motivate them. Third, there are many problems that nurses face in hospitals but the curriculum has not provided for structured way in which these problems can be resolved and creation of self-awareness of individual student ability. Lastly, there the curriculum has not provided for structure way to integrate student performance in theory and practices since they are assessed differently.
Reference:
Payne, D.A. (1994). Designing educational project and program evaluations. Boston: Kluwer Academic
Stufflebeam, L. (2000). The CIPP model for evaluation. Boston: Kluwer Academic Publishers.
Related Topics