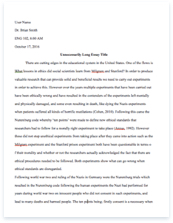 The whole doc is available only for registered users
A limited time offer! Get a custom sample essay written according to your requirements urgent 3h delivery guaranteed
Order Now
Does Chipotle have any core competencies and, if so, what are they? Chipotle have their set of core competencies, which includes: A focused menu which could be customized by a customer, good employee training that results to good customer service, being able to utilize fair-trade meats and organic vegetables, and creating a restaurant where the kitchen is design for efficient operations and where employees can easily interact with customers. These core competencies have helped Chipotle grow into the company that it is now. These core capabilities are vital to their strategy and they were able to utilize their resources more efficiently with the help of these capabilities. By doing a focused menu, Chipotle was able to bring in fresh ingredients to their stores and they were also able to manage the costs of these ingredients more effectively and avoid complications, which is the reason why most of Chipotle's menu items have not changed since it opened. Their menu items can be customized to a customer's preference, wherein a customer can choose what ingredients they want to be in their taco or burrito while moving along the line where an employee will add the ingredients while entertaining the customer; this adds a nice touch to their customer service.
Chipotle has also been able to attract employees because of their favorable work conditions, wherein employees get training that has a high standard and a high chance for promotion. This has helped Chipotle grow into what it is now, since their employees also get to grow their careers there. Statistics show that ninety-eight percent of Chipotle's salaried managers and hourly managers were promoted from crew members, which shows that Chipotle really gives their employees room to grow, which gives them a workforce that is effective and performance oriented. This factor, along with a kitchen that has a simple but functional design, helps Chipotle's employees perform better and provide better customer service. Another core competency of Chipotle is that they are able to look for fair trade suppliers and farmers with organic farms to supply them with ingredients, which sets them apart from other fast-food chains. Although this was a process, because there simply wasn't a huge supply for products in that industry, so they were the ones who helped organic farmers to gradually increase supplies for these products and they source their products from local farms where restaurants were located. These are the internal activities that Chipotle was able to do and execute so well.
What are the primary and secondary components of Chipotle's value chain? The primary value chain of Chipotle consists of its supply-chain management wherein they order from food industry suppliers that could give them the quality that they demanded, instead of ordering direct from manufacturers or farmers. This gives them reliability, quality, efficiency, and a forward facing price protocols so that prices wouldn't suddenly rise or fall in large variations. The next component of the primary value chain would be its operations, which is composed of employees working two shifts. These employees are also trained to work at the different workstations in the kitchen, which allows greater efficiency especially during times when there is high traffic. They are also trained to interact with customers and make decisions when working at their stations. They are managed by kitchen managers and service managers, who in turn, are managed by an apprentice manager. The apprentice manager then reports to the general manager, which is a top management position important to Chipotle.
The next component is marketing, which like other companies, they market using print ads, television, radio, and online ads. They also organized their own festival in Chicago wherein there was food, music, and ideas. Chipotle's executives believe that marketing is important for Chipotle to share to consumers what the Chipotle experience was. The next component is the service; Chipotle has done a great job in training their employees. This is an important part of their value chain since the employees do everything inside the store as they employ classic cooking techniques instead of automated techniques. The employees also make sure that they give each customer "The Chipotle Experience" and to give customers their orders fast without having a "fast-food" experience. The secondary components of Chipotle's value chain consist of research and development for finding new restaurant sites and construction of new restaurants. It also involves research and development for a new restaurant concept that focuses on Southeast Asian food.
Other secondary component of their value chain includes their general administration and human resource management. Chipotle has an excellent human resource management system, because they are able to train employees to a high standard of service and the fact that many of their middle to high managers like apprentice managers and general managers were promoted from lower positions. It shows how their training provided employees with the tools needed to succeed and grow in their respective careers. Because of good human resource management, many crew members were able to grow and become salaried or hourly managers. What are the chief components of Chipotle's strategy? Which one of the five generic competitive strategies most closely approximates the competitive approach that Chipotle is employing? The chief components of Chipotle's strategy are: serving a menu with a few focused products, instead of a wide range of products wherein it would be harder to handle logistically and prices of ingredients would be more expensive. This menu consists of burritos, tacos, burrito bowls, and salads that customers can customize to their liking.
Another component is using high-quality ingredients and traditional cooking methods instead of using automated methods, these enables them to create fresh, tasty dishes that can be served to customers minutes after it was ordered. The next component is creating a restaurant with a simple design, but with a very functional kitchen. These components, along with employees that are trained well and fresh, organic, and fair trade ingredients is the strategy that Chipotle employ to serve fresh, healthy fast food with fast food pricing. The generic competitive strategy that most closely approximates Chipotle's strategy is the best-cost provider strategy. They employ this strategy because they want to provide a restaurant experience with fast service just like fast-food restaurants. So they are a hybrid type and unlike traditional fast-food, where the foods are always considered unhealthy, they want to serve healthy food fast and at a lower price, because it is the vision of its founder Steve Ells "to change the way people think about and eat fast food".
Because of this, Chipotle was able to give customers more value to their money, while beating their price expectations and also serve their food quickly. Chipotle was also able to differentiate themselves from competitors because they used fair trade meats and organic vegetables as their ingredients and customers are also able to customize their orders to their liking. d) What does an analysis of the data in case Exhibit 1 reveal about Chipotle's financial and operating performance? Looking at the analysis of data of Chipotle in Exhibit 1 shows that their strategy is working effectively, this is because they were able to maintain their costs while posting revenue growth each year. It also shows that there is still room for growth in the industry, as they are gaining more market share. We can see this by looking at the overall picture of the restaurant industry in the United States, which is six hundred and sixty billion dollars, the fast casual segment takes up just four percent of this overall industry, accounting for thirty-one billion dollars. This really just shows the very huge potential available to Chipotle in the market.
It can also be seen that the costs that they incur increase each year, but this is a good thing, because there is also an increase in revenue, which shows that they are expanding and spending more on raw materials and labor because they have opened up more branches, thus; their net income is also steadily increasing per year. The working capital ratio of Chipotle is two point ninety-three, which means that they have enough current assets to pay their current liabilities. But the working capital ratio exceeds two, it either mean they are not investing their cash or that they have too much inventory. e) What action recommendations would you make to Chipotle's top executives to strengthen growth and profitability? I think that Chipotle's strategy is working quite well already, and that they should just continue to abide by it and update it. It is important to update their strategy because change is always constant, especially on a market.
They should tweak their strategy to fit into a change in the market, but they should still do these adjustments in accordance to their vision and mission. I also think that they could still improve their supply chain system by looking for more organic and fair trade suppliers or investing in those suppliers, this is because sometimes they are forced to use regular meats that are fed with growth hormones because of the lack in supply of these fair trade and organic products. I also think that for Chipotle to be able to grow and compete head to head with other fast food giants, especially Taco Bell, who is the leader in their segment; then they should expand globally to more countries. Especially to Asian countries, because like here in the Philippines, we have Taco Bell, but Chipotle is not here, so I think they should start planning to globalize.
Related Topics