Children And Young People Communicating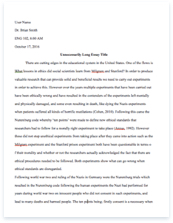 The whole doc is available only for registered users
OPEN DOC
A limited time offer! Get a custom sample essay written according to your requirements urgent 3h delivery guaranteed
Order Now
The following essay will explore and demonstrate an understanding of how children and young people communicate, learn and develop through language and literacy and reflect on the role the practitioner plays in providing a communication rich environment to do this. Lev Vygotsky emphasised the important role that language plays in the development of thought. He said that by talking with children built up their knowledge of language by using everyday experiences, which also helped build concepts. Piaget, on the other hand, believed that the use of language followed the development of the concept. Emphasis will be placed upon the links between early speech and listening skills and the ability to read.
Communication is a complicated process that demands putting together information from many sources, and expressing thoughts with clarity and relevant content, according to established conventions and an awareness of our conduct through the reactions of others to what we say and do (Sage, 2006:1)
Communication has been described as the process where information is transmitted from one person to another. This includes the use of both verbal and non-verbal means to convey a message. Non-verbal communication plays a huge part in face to face communication and includes facial expressions as well as bodily and is only partially spoken. While young children are still learning verbal skills the non-verbal ways in which we communicate play a vital role in their lives. Children learn a lot of their communication skills verbal and non verbal through play and exploration as well as by observing and interacting with others. Within the early year's setting it is important to establish consistent ways of communicating as it will help to avoid misunderstanding for the staff and the children and they come to know what to expect and how to react appropriately. Research shows high-quality early learning and care is important because children who attend higher quality preschool provision tend to do better throughout primary school, particularly in reading. Department for Education, 2012
Before practitioners and teachers set out to teach and encourage language development certain elements that make up language and communication skills need to be defined and understood in order to model correct use of language and how to build on the existing skills that individual children already hold. Language skills are made up of both speaking and listening and both need to be learnt.
Practitioners need to be able to use their observation skills to assess what children know already and what to do in terms of supporting and extending children's development as readers and writers. Nutbrown, 1999:72
Children with speech, language or communication needs are at a much higher risk of difficulties with reading, writing and spelling later within their education. If children aren't able to say words correctly, they will be more likely to have greater difficulties in 'sounding out' words for reading and spelling, or writing them down. If they can't understand the words they hear, they will struggle to understand what they have read. There are support networks available for early years settings to offer training and guidance in how to deliver effective communication groups particularly aimed at childrens attention and listening skills. Parents are invited to attend workshops within the setting and shown the skills to hopefully use within the home environment too. The earlier the groups start the more effective the skills will be when the children are expected to be ready to learn to read and write independently. According to the ICAN organisation 50-90% of children with persistent speech, language and communication difficulties go on to have reading difficulties.
Children who live in deprived areas or who have English as an additional language or an identified special educational need are more likely to experience these types of difficulties this is evident in the published results for the phonics check 2012 . Children who grow up in an environment that is not rich in language and print are recognised to be at a distinct advantage and benefit from being in nursery and pre-school settings where practitioners and carers spend time reading to them and convey this as a positive and fun activity. Providing supportive materials for role play is a way of further developing an interest in reading and print in the environment and using the child's individual interests to captivate them.
Literacy development begins in the first three years of life, and even babies as young as six weeks old are developmentally ready to begin early literacy activities such as being read to by a caring adult. Knowing when and how babies and toddlers develop literacy skills can help in fostering their development in appropriate ways. Children should be provided with environments that encourage literacy exploration and their emergent reading and writing behaviours should be valued and supported by their teachers. The children should be surrounded with an environment that depicts and promotes language in the form of both spoken and written word so that it becomes a natural part of their life and not forced, this will provide them with a curiosity to build upon. Early years practitioners need to ensure that children understand the diversity of language and literacy as well as support children's early literacy development by providing many oppurtunities for reading together in a supportive and caring environment. Literacy culture starts immediately a child is born and builds up rapidly as the child joins preschool.
By using illustrations as well as or instead of printed words the imagination of a child grows immensely and encourages the use of more and more words verbally. This is one of the starting points of early reading. By illustrating sections of a story or particular events, children can improve their interpretation and comprehension by adding to what they already know or being encouraged by a supportive adult or their peers to try new ideas. Children employ responses and personal understanding when they see story characters visually and are able to take ownership of their stories and use their imagination to enhance it. This in time and with emergent writing skills being developed leads to independent writing and initiatives such as "The Big Write" being used in primary schools children are encouraged to build on a planted idea and use their learnt skills to develop further.
As speaking and listening skills develop so do reading skills as children begin to learn how to explain their ideas clearly verbally they can also express opinions about events and ideas in stories and poems. By having the confidence to speak and listen about topics that are of interest to them they are able to use that confidence to ask for help or use learnt strategies to help understand new words. The older children get the more precise their use of grammar and vocabulary becomes this transfers to their reading skills by being able to understand a range of texts and content and evaluating what is written showing a clear comprehension. By providing the opportunity for children to ask questions and providing areas of discussion around various pieces of writing teachers and practitioners can support growing vocabulary and forms of expression. Skills such as prediction, evaluation and reflection are learnt.
The Rose Report (DfES 2006) concluded that a systematic synthetic approach to the teaching of phonics showed the most successful results. However it was also acknowledged that schools need to provide students with rich reading experiences and place importance on the development of oral language skills. Following the review, the Literacy framework for primary schools was renewed which was implemented in 2008 at the same time as the early years foundation stage curriculum. The Letters and Sounds programme reflects both of these documents and provides teachers and practitioners with tools and activities to teach phonics and provide children with the confidence and fluency in order to decode and segment words independently.
Reading is a complex and sophisticated art, requiring a curriculum geared to doing much more than getting children to sound out words Edwards and Knight, 2001:78
Phase One of the Letters and Sounds programme is specifically aimed at pre-reading and is expected to start at age approximately age three in pre-school and nursery settings. Activities concentrate on developing children's speaking and listening skills, phonological awareness and oral blending and segmenting. These activities are intended to be used as part of a broad and rich language curriculum that has speaking and listening at its centre, links language with physical and practical experiences, and provides an environment rich in print and abundant in opportunities to engage with books. Phase One activities pave the way for children to make a good start in reading and writing and teach skills that continue to grow throughout their academic life. It is not intended to be the only source of teaching literacy.
Childcare practitioners can offer everyday routines that can promote the use of communication with children. These can be conversations at snack times and meal times, changing babies and toddlers nappies, to putting on coats and shoes to go outside. Whether it is the play area with the swings and slides or whether it is the leaves and twigs on the ground and whether we will see any animals. By constantly talking to the child and showing positive body language gives encouragement to the child to join in and get involved in the communication process and positive use of language and associated skills.
Readers and writers can flourish when a variety of models of literacy are presented to children and when the literacy environment is richly provided for. Nutbrown, 1999:72
Journal Article: Nursery World: Catherine Gaunt, 27 September 2012
Nearly Half of All Six Year Olds Fail Phonics Reading Check
Background
The article discusses the published results of the latest test for all primary school children at the end of year one. The test is to determine by simple assessment whether the children have reached the expected level of phonic decoding. It's aim is to identify any children who may need additional help so they are given support by their school to improve their reading skills. Any children who do need meet the required standard will retake the test at the end of year 2 so that the school can track pupils until they are able to decode effectively.
Pupils who have identified special educational needs will have necessary adjustments and support provided as required. It will be a short, simple screening check to make sure that all pupils have grasped fundamental phonic skills. It comprises a list of 40 words and non-words, which a child will read one-to-one with a teacher. Half the words cover phonic skills which tend to be covered in Reception, and half the words are based on Year 1 phonic skills. Children at the end of Year 1 will be asked to read 20 words and 20 "made-up words" such as "zog" or "vot" to their teachers. (appendix 1) Main Content
The results showed that just over half of all boys met the expected standard while 62 per cent of girls did. 44 percent of children who were eligible for free school meals passed the check compared to 61 per cent of their peers. Research has shown that families earning the least money were less likely to read with their children every day compared to families who have larger salaries. This seems to be a trend that follows throughout children's education with children entitled to free school meals consistently achieving lower grades than children with no entitlement At its annual conference, the National Union of Teachers (NUT) attacked the phonics check, saying it risked making failures of five-year-olds. Its general secretary, Christine Blower, said the check would not be good for pupils: "Five years old is too young to fail. They will know that they have not got it right and we think that will be demoralising".
Reading should be encouraged as a natural part of education and life and a way of discovering information to enhance interests and knowledge. In some peoples opinion the test has done no more that reduce reading to yet another target that young children have to meet or not meet. The NUT says nine out of 10 of its members who took part in an online survey said the check would give teachers no extra information on their pupils. Via ongoing classroom assessments teachers already should have identified the children who require extra support and be providing such support as needed not waiting until an assessment is carried out to determine the children who are finding it difficult. The phonics screening check was developed by phonics experts and in consultation with headteachers, teachers and other experts.
It was piloted in around 300 schools during 2011 and was independently evaluated and found to be a fair way to assess the children's ability. According to OFSTED the standards of reading and writing at age 11 can be greatly influenced by the teaching of sounds and letters and phonics within the early years. The 12 top rated schools within the country in 2010 used a method of rigorous and systematic phonics lessons to teach reading and writing. Research shows high-quality early learning and care is important because children who attend higher quality preschool provision tend to do better throughout primary school, particularly in reading. Department for Education, 2012
Ms Christine Gilbert, Head of OFSTED has said the schools represented a wide range of communities but shared some key similarities – they all had high expectations of all children and taught pupils to read using phonics. "They are passionate in their belief that every child can learn to read," she said. "Teaching children to read is at the heart of their curriculum. Rigorous, intensive and systematic phonics teaching underpins reading, spelling and writing." Phonics is widely used in schools often in combination with other methods of teaching children to read. Once children can 'decode' a word using phonics, they need other knowledge to understand the meaning and follow the story. Comprehension and phonics are both crucial components of reading. To some extent therefore it is not what is taught that is the issue but the way that it is taught. If phonic instruction is to be the key method of reading instruction then it must be engaging or children will switch off from day one. By using children's individual interests to teach skills in alliteration and recognising rhyme.
The Rose Report (DfES 2006) concluded that a systematic synthetic approach to the teaching of phonics showed the most successful results. However it was also acknowledge that schools need to provide students with rich reading experiences and place importance on the development of oral language skills. This is reflected within the content of the article, it is recognised that teachers should be able to adapt their teaching to the individual learning styles of the children as each one will learn in a different way. This is an underlying theme throughout the early years foundation stage curriculum which runs parallel to the teaching of phonics within reception classes and should therefore be considered when planning for the individual child.
Conclusion
When we understand how language and communication develops, we are in a better position to promote that development. By first ensuring that every child has a safe, secure environment and then by providing appropriate materials and activities to facilitate language development, practitioners and teachers can maximize each child's potential. Children need to speak and be spoken to continuously, and engaged in conversation from the very first days and weeks of their lives. Adults working with children have the ability to make a major difference in their education and their outcomes for the rest of their life. By providing children with a stable, supportive environment in which they can flourish and be themselves is what makes a quality provision.
Helping children to overcome barriers in their learning or difficult situations they may face in their lives takes great skill and energy and a deep understanding of child development and the theories of why and how children learn in the way that they do as individuals. The highly trained more qualified workforce of recent years has aimed to ensure better delivery of the early years curriculum closing the achievement gap between disadvantaged, special educational needs children or children of varying cultures helping to reach the highest standards and provide better outcomes for their future. Quality early learning and childcare can make a real difference to children's future success in school and later life, and help them to fulfil their full potential. Department for Education 2012
Related Topics