Character Analysis With the Concept of Hegemonic Masculinity and Representational Intersectionality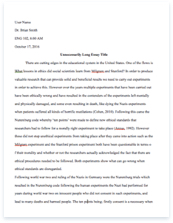 The whole doc is available only for registered users
A limited time offer! Get a custom sample essay written according to your requirements urgent 3h delivery guaranteed
Order Now
The American adaptation of The Office reinforces various stereotypes found in the workplace through humor. This sitcom follows the daily lives of the employees at the Dunder Mifflin Paper Company located in Scranton, Pennsylvania. The whole point of the show is to satirize the culture of the business world. Although there is a relatively diverse group of employees in the workspace, offensive or inappropriate jokes and comments are commonly made in normal conversations. Race, sex, class and even religion are humorized mainly by the white male regional manager, Michael Scott, and similarly the assistant to the regional manager, Dwight Schrute. Through this, I am going to analyze the way certain characters act and are treated in the workplace using the concept of hegemonic masculinity and representational intersectionality between race, gender and sexuality.
Gender is one of the major issues within the corporate world, and it is very apparent through its depiction in The Office. Every female employee is either looked down upon or highly sexualized in the Scranton Branch of Dunder Mifflin. Pam Beesly is the very polite and reserved receptionist who constantly has comments made about the way she looks or dresses and is desired by a majority of the men in the office. Michael and accountant Kevin are known for suggestively talking to her about her own chest and appearance. This brought to mind "Foucault, Femininity, and the Modernization of Patriarchal Power", where Bartky states, "To succeed in the provision of a beautiful or sexy body gains a woman attention and some admiration but little real respect and rarely and social power," (75). It does not matter how qualified a woman may be, her appearance isis what will determine how she is treated in a workplace. Among all the women in the office, Kelly Kapoor is the only woman of color. She is depicted as the annoying boy crazy female of the office. Not only is she sexualized but she is also discriminated for her race. In one of the first episodes where they give out employee awards, she is given the "Spicy Curry" trophy and is clearly offended by it.
In episode two of season one titled "Diversity Day", Michael comes up with a game to have all of his employees play in order to teach them about diversity in the workplace. He writes different races on index cards and hands them out to each person instructing them to put their card on their forehead. The purpose of the game is to get each other to guess the race on their own index card. As the game starts, you see most of the employees making remarks such as, "I admire your culture's success in America," or "I like your food," but Michael and Dwight push for the more racial and stereotypical comments like, "It's the olympics of suffering. Slavery vs. the Holocaust," when talking to their black co-worker Stanley, and "Shalom. I'd like to apply for a loan," when talking to female receptionist, Pam. This displays how white male employees, especially bosses, have the ability to say or do what they want with little to no repercussions.
Stanley Hudson is one of the sales representatives at Dunder Mifflin who is known for being very serious and perpetually grumpy. He is one of the few black employees, so in episode five of season one titled "Basketball", Michael automatically assumes Stanley would be a star player in their employee games. Stanley gets out on the court clearly not very good at basketball and Michael begins to question his "blackness". This affirms the stereotype that all black men are athletic and know how to play basketball. Similarly, later on the the series a new character, Martin, is introduced for an episode or two. Martin is another black male employee, but he is kept a close eye on because he served time in prison. Michael finds this out and tries, but ultimately fails, to get the story out of Martin without being racist. It is revealed that he served time for insider trading much to Michael's disappointment, reinforcing the stereotype that all black men are violent criminals. He then tries to help Martin relive his time in jail and prove that the office is better than prison by becoming "Prison Mike", resulting in Marvin's decision to quit.
The last character I want to talk about is accountant Oscar Martinez. He is the one and only Latino employee at the Dunder Mifflin Scranton Branch. And not only is he Latino, but he is also the only homosexual character in the whole show. In "Nothing queer about queer television: televized construction of gay masculinities", Guillermo Avila-Saavedra states that in the past most, if not all, gay characters were portrayed as flamboyant and effeminate; whereas nowadays it is possible for a man to be both gay and masculine. Oscar was also one of the very few openly gay characters to be on any television show when the series was actually airing, and he was also one of the only really masculine gay characters portrayed on television. In the opener of season three Michael calls Oscar "faggy" for liking Shakespeare in Love rather than Die Hard. Toby the human resources representative is called in to tell Michael that using that kind of language is inappropriate because Oscar really is homosexual and finds it offensive. Michael finally understands and goes to apologize only to end up outing Oscar to the entire office. This causes major issues because fellow accountant Angela hates the idea of homosexuality and openly discriminates Oscar. The whole episode ends with Michael attempting to prove a point by kissing Oscar, only to have the Vice President of Sales give Oscar paid vacation time as compensation so he does not sue the company. He is shown leaving for vacation with his partner saying, "It pays to be gay."
The Office uses inappropriate and dry humor to satirize the American business culture. The way in which gender and sexuality or race and sexuality intersect to create an even tougher discrimination for minority groups just goes to show that the more intersections there are, the harder it is to find representation. Representational intersectionality in shows such as this createeven more hardship in minority group struggles in the workplace.
Related Topics