Cause and Effect of Poor Education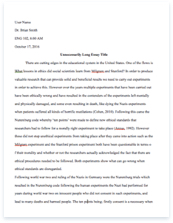 The whole doc is available only for registered users
A limited time offer! Get a custom sample essay written according to your requirements urgent 3h delivery guaranteed
Order Now
To be successful in life one must have an education. It is the right of every American to have an education. Does each person have the means and ability to receive an education? Unfortunately, in society today it is getting more and more difficult and less and less affordable to get an education to attempt to be successful in life and in turn to have a career that will support the American dream.
Some of the causes of poor education stem from the background and financial situation of a family. It seems the closer to the poverty level one may be the less of an education they will receive. Family history of lack of education also plays a role in the lack of education. If parents and/or grandparents have a high school education it is more likely that each generation thereafter will graduate high school. A family history of college graduates would cause a more likely graduation of future generations as well.
Making a choice to stay in school, graduate and proceed to college is a personal decision. Those who choose to take this path are not guaranteed but will be much more likely to be successful in life. Those who choose not to take this path will have more of a challenge in today's world to have a successful career and have the ability to support themselves and their family. This in turn can cause one's lifestyle to take a less than desirable path and become part of a less desirable lifestyle.
Most who live at or below poverty level do not have the opportunity to or do not have the drive to obtain an education. These factors lead to a lifestyle that can be the demise of their lives. Drugs, promiscuity, teen pregnancy, violence, gangs, street life and many other negative life experiences become a way of life. Unfortunately, once this lifestyle becomes something one is accustomed to it is hard to get away from. This lifestyle paves a path of destructiveness and jail is often the place any further education they receive will come from. This in turn breeds a more educated criminal who is now more aware of how to be more unproductive in society. In this unproductive society of criminal behavior, promiscuity and teenage pregnancy, the cycle will continue with the children that are born into this lifestyle. A parent in and out of jail sometimes causes children to be in and out of foster homes or living with relatives of their parents. Financial assistance, housing assistance and assistance for providing food becomes the responsibility of the government because the parents are either in jail or incapable of providing for the children born into a poverty lifestyle.
It takes a strong willed person to break the cycle of the negative effects of a poor education or the lack of an education. Those who have the strength to break the cycle will have a successful life with a lot of effort and support. Hopefully this is something I will have the pleasure of seeing more of in my lifetime.
Related Topics