Career & Technical Education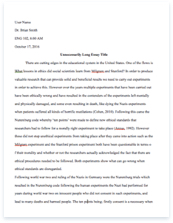 The whole doc is available only for registered users
A limited time offer! Get a custom sample essay written according to your requirements urgent 3h delivery guaranteed
Order Now
1. Provide a summary of the legal requirements in your state regarding child abuse and neglect (including contact information for the appropriate agency) and also your program's policy regarding your responsibility to report child abuse and neglect.
Completed
2. Include the current certificate of completion of a certified pediatric first-aid training course (includes treatment for blocked airway and provides rescue breathing for infants and young children). Certification must have been within the past three years.
3. Use the Internet, public library or your program's professional library to obtain the name and contact information for an agency that supplies information on nutrition for children and/or nutrition education for families.
4. Provide a sample of your weekly plan that includes goals for children's learning and development, brief description of planned learning experiences and also accommodations for children with special needs (whether for children you currently serve or may serve in the future).
Competency Goal II
5. Select four songs, finger-plays, word games or poems that you can use to promote phonological awareness. Describe strategies to promote phonological awareness among children whose home language is other than English.
6. Describe nine learning experiences that promote physical, cognitive and creative development – three for young infants, three for mobile infants and three for toddlers. Describe the goals, materials and teaching strategies used.
Competency Goal III
7. Provide the titles, authors, publishers and copyright dates and a short summary of ten age-appropriate children's books that you use to support development of children's self-concept and self-esteem, and to help children deal with life's challenges. (additional information)
8. Use the Internet, public library or your program's professional library to obtain at least two resources designed to assist teachers in constructively dealing with children with challenging behaviors (such as aggressive behavior like hitting or biting or shyness).
9. Provide the name and telephone number of an agency in the community where you work for making referrals to family
counseling.
Competency Goal IV
10. Find out where to obtain resources, materials and translation services for families whose home language is other than English. Provide the agency name and contact information.
11. Document your program's policies that specify parents' responsibilities and what the program does for parents.
Competency Goal V
12. Provide three samples of record-keeping forms used in early childhood programs. Include an accident report, emergency form and a third form of your choice.
Competency Goal VI
13. Use the Internet, public library or your program's professional library to obtain the name, address and phone number of your state's agency that regulates child care centers and homes. Make a copy of the section(s) that describes qualification requirements for personnel (teachers, directors and assistants). Describe two important requirements related to your job responsibilities.
14. Review the websites of two or three national early childhood associations (one with a local affiliate) to obtain information about membership, their resources and how to order. Download at least two resources from the Internet that will enhance your work.
15. Obtain four pamphlets or articles designed to help parents understand how young children develop and learn. Articles must help parents understand how babies and toddlers (birth to age three) develop and learn. At least one article must be related to brain development.
16. Locate an observation tool to use in recording information about children's behavior. One copy should be blank; the other copy should be filled out as a sample of your observation of an individual child (the child's name should not be included).
17. Obtain contact information for at least two agencies in the community that provide resources and services for children with disabilities.
Related Topics