Bring Your Own Device Program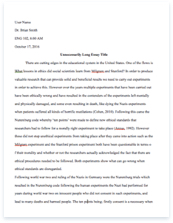 The whole doc is available only for registered users
A limited time offer! Get a custom sample essay written according to your requirements urgent 3h delivery guaranteed
Order Now
Bring Your Own Device ProgramImagine if you could bring your phone to school and use it as an educational purpose without your phone being taken away or being yelled at? That dream is a reality for students who attend schools that participate in a "Bring Your Own Device" program. Many educational institutions are moving towards having a Bring Your Own Device program. Many people believe the downside of BYOD programs in the classroom are caused by the high risk of security threats and the interruptions of distractions in the learning of students. The positives of Bring Your Own Device programs far outweigh the negatives. It has been reported that 49% of participating students feel they are more productive with being able to use their own device during school. Schools should adapt to the "Bring Your Own Device" programs to help engage learning for students. Bring Your Own Device programs have been adapted by school systems across the country.
The BYOD program allows employees or students to bring their own device for work or educational use only. The program has a strict policy in which everyone has to follow, if a policy statement is broke, one may be banned from using a device of their own. Many schools have started BYOD programs but for students who cannot afford their own devices can oftentimes rent from their library for little to no fee of charge. Many educators promote BYOD to use new up to date technology to enhance and engage students and their learning. Having a Bring Your Own Device program in school systems can open up new career interests for students. By having new up to date technology and curriculum built heavily in technology can help students become more engaged and interested in what they are learning. A quote by Jennifer Fleming, "Teaching in the Internet age means we must teach tomorrow's skills today" (Fleming). This quote explains how teachers have to also be updated to teach their students skills that have not even been used in today's world of technology. Having kid's education surrounded by technology, they become more familiar with problems in software and could potentially find a job inside the technology.
They could also create new jobs or products, and open up new technology jobs for themselves and others in the future. In addition to future careers in technology, teachers must be educated on how to use and incorporate technology into their lesson plans. In many of the polices from BYOD programs have teachers take training and courses heavily in technology. Teachers also attend interventions on how to incorporate education and technology together to create a stronger curriculum. A quote by Bill Gates, "Technology is just a tool. In terms of getting the kids working together and motivating them, the teacher is most important" (Gates). This quote explains how teachers are still very important in a technology driven classroom, as they help motivate and encourage their students to continue working with technology. Many teachers believe that it is important for technology to be in the classroom as it is necessary for students to thrive in the real world they are destined to face. Also, economics play a big role in BYOD programs for school districts. Schools still need to be sensitive to the low-class students who may not have access to their own devices to bring to school.
Some school districts themselves have financial issues or may not be able to upgrade their wireless networks or adding technology enhancements for students. Therefore, if students who are able to bring their own devices, have made it cheaper for districts as the money could go towards renting devices to those who do not have a device. Extra money can also go to apps to enhance learning for each student.Also, technology helps engage students in the curriculum through communication. One may think that using electronics in the classroom would be distracting and cut off communication, but actually there are ways to block such distractions. There are many ways to block out distractions for students on devices such as denying access on certain websites when connected to the wireless network. A quote by Marion Ginapolis, "It is not about the technology; it's about sharing knowledge and information, communicating efficiently, building learning communities and creating a culture of professionalism in schools. These are the key responsibilities of all educational leaders" (Ginapolis).
Technology opens up the ways a student can learn and having a student bring their own device, they may be more interested and want to learn more. For example, using google docs has changed students learning through being able to collaborate with other students and working on work at any location.On the other hand, having the gateway to electronics inside schools can bring cheating inside the classroom. "About 35% out of 2,000 middle school and high school students have said that they have cheated on a test with a cellphone according to CBS news report" (Wallace). An expert opinion by Harvard professor, Gretchen Brion-Meisels, "If students believe that what and how they are learning does not seem relevant or useful, Brion-Meisels says, cheating is more likely to occur"( Brion-Meisels). This quote is showing that having technology that is useful and important, students will more than likely want to participate in learning.
"Another expert opinion by many educators, have seen a expansion of technology tools that have a great use in the classroom, but are also timesavers used by students with their assignments or used for cheating" (Walker).  However, when students have electronics in the classroom, distractions may become a problem. Students in a study by the University of Nebraska-Lincoln estimated that, on average, "they spent 20 percent of their classroom time using digital devices for activities unrelated to class. Most students reported text messaging emailing, web-surfing, checking social media and even playing games were a big part of distractions during class". A survey by McCoy attempted to measure how much class time students spent being distracted by digital devices in the classroom.
"Nearly 11 percent said they spent more than 50 percent of their class time using their phones and other digital devices for non-class purposes" according to the study by the University of Nebraska-Lincoln. School districts should allow students and teachers to use their own electronics to incorporate stronger participation and interest into the classroom. Having a Bring Your Own Device program gives student a new insight into the future of their careers. One important part of the bring your own device program is making sure teachers have had etiquette training, so they can assist and teach their students in the best way possible. The bring your own device program can help a school district save money by individuals bringing their own device, and not having to buy everyone a device. Communication is also a key aspect in building a successful bring your own device program and also in a student's life. Do you think Bring Your Own Device programs are truly important in today's students curriculum or are they just distractions from learning?
Works Cited
Alderton, Bryce. "Elementary Schools Adopt Bring-Your-Own Laptop or Tablet." TCA Regional News, 20 Nov. 2014, search-proquest-com.ndcproxy.mnpals.net/docview/1627157872?pq-origsite.Ashley. "Digital Distraction in Class Is on the Rise."
Therapy Toronto News, Journal of Media Education, 25 Jan. 2016, therapytoronto.ca/news/2016/01/digital-distraction-in-class-is-on-the-rise/. Beach, Martha. "How Schools Are Implementing 'Bring Your Own Device'."
Education for Today and Tomorrow | L'Education Aujourd'hui Et Demain, www.teachmag.com/archives/7706.Deal, Aditi. "10 Educational Technology Quotes." TeachBytes, WordPress.com, 9 Dec. 2016, teachbytes.com/2012/03/01/10-educational-technology-quotes/.Goudy.
"'Bring Your Own Devices' Program at Vanier Used for Education." Moose Jaw Times Herald, 18 June 2012, search-proquest-com.ndcproxy.mnpals.net/docview/2003093348?pq-origsite=summon&accountid=4885.Gupta, Priyanka. "20 Popular Technology in Education Quotes." EdTechReview, 14 Sept. 2015, edtechreview.in/news/2112-technology-in-education-quotes.Room 241 Team.
"Bring Your Own Device (BYOD) Schools: Pros and Cons." Concordia University-Portland, 16 Nov. 2017, education.cu-portland.edu/blog/classroom-resources/what-is-byod-bring-your-own-device-and-why-should-teachers-care/.University of Nebraska-Lincoln.
"Study: Digital Distraction in Class Is on the Rise." Study: Digital Distraction in Class Is on the Rise | News Releases | University of Nebraska-Lincoln, University of Nebraska–Lincoln, 15 Jan. 2016, 2:02 am, newsroom.unl.edu/releases/2016/01/15/Study%3A+Digital+distraction+in+class+is+on+the+rise.Takahashi, Paul.
"Clark County Students Cleared to Start Bringing Own Laptops, Tablets to School."
McClatchy – Tribune Business News, 21 June 2013, search-proquest-com.ndcproxy.mnpals.net/docview/1370156941?pq-origsite=summon&accountid=4885.Walker, Tim.
"Technology Makes It Easier, But What Do We Really Know About Why Students Cheat?" NEA Today, National Education Association , 18 Sept. 2017, neatoday.org/2017/09/15/why-students-cheat.
Wallace, Kelly. "High-Tech Cheating On The Rise At Schools." CBS News, CBS Interactive, 17 June 2009, www.cbsnews.com/news/high-tech-cheating-on-the-rise-at-schools/.
Related Topics