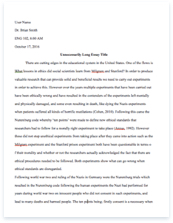 The whole doc is available only for registered users
A limited time offer! Get a custom sample essay written according to your requirements urgent 3h delivery guaranteed
Order Now
One might say that there was a "personality" clash between Knowlton and Fester. What personality model could you use to describe the clash? Finding of Fact 1: Personality factors were displayed in the case study of which two of the five factors were expressed by Mr. Knowlton and Mr. Fester. Personality factor of agreeableness was expressed by Mr. Knowlton because he portrayed himself to be a friendly and cordial team player in front of his boss Mr. Jerrold and new co-worker Mr. Fester during their initial meeting. Mr. Fester expressed the extraversion personality in which he was energetic and eager to contribute to projects instantaneously. Furthermore, Mr. Knowlton agreed with his boss externally to have Mr. Fester work with him on the same team, however, had mixed feelings internally. Recommendation: Dr. Jerrod as the supervisor should have preplanned the introduction of Mr. Fester to his employees. It is essential that new members understand the importance of initial introductions of newly hired personnel. Additionally, this would have justified the reason and importance of Mr. Fester to Mr. Knowlton and the rest of team.
I believe a preplanned expectance of Mr. Fester to the lab team would have been more pleasing to the staff. The staff would have expected and understood the role of Mr. Fester and his partnership with Mr. Knowlton and to the team as whole. Lacking the prior knowledge of the expectance of Mr. Fester to the team resulted in the team becoming resistant to the change. Justification of finding: The fact that Mr. Knowlton and Mr. Fester had personality conflicts was evident during their interaction at the lab. Dr. Jerrod had no consideration for the positions or mindsets of his employees to include Mr. Knowlton. Furthermore, Mr. Knowlton agreed externally with Dr. Jerrod on Mr. Fester joining the team when internally he had mixed feelings.
Analysis of the OB Concept 1: Agreeableness is an organizational behavior expressed my Mr. Knowlton during the case study. Especially when Dr. Jerrod asked Mr. Knowlton "What do you think of him?" Knowlton replied truthfully "that he thought Fester was very bright and probably very competent. Jerrold looked pleased. Knowlton nodded in agreement, instantly wishing that Fester not be placed with him." (Hellriegel & Slocum, 2011, p. 548) These personality factors can be located in chapter 3 of the text. Agreeableness is defined as "a person's ability to get along with others. They are considerate, friendly, helpful, and willing to compromise their interests. "(Hellriegel & Slocum, 2011, p. 79) Mr. Knowlton compromised his interests to save face in front of his boss to avoid confrontation. Additionally, Mr. Fester expressed extraversion as an organizational behavior which is "the degree to which a person seeks the company of others.
They are comfortable talking with others, speak up in a group, and are assertive, talkative, and open to establish new interpersonal relationships." (Hellriegel & Slocum, 2011, p. 80) In the case study he portrayed this attributes as he seemed eager to jump right in the lab work. His actions were intimidating to Mr. Knowlton and the others in the group were confused as well. Reactive recommendations: Mr. Jerrod should have discussed the arrival of Mr. Fester to the group during the team's daily meetings. This action would have deterred the resistance that Mr. Knowlton felt and the others. Mr. Fester's arrival was a shock to the team and his eagerness was intimidating and appalling to the team that it even resulted in Mr. Knowlton resigning and accepting a job elsewhere. I recommend that Mr. Jerrod call a meeting and properly introduce Mr. Fester to the group and have the entire team introduce themselves and perhaps have him shadow Mr. Knowlton without input or recommendation, considering he is new.
Proactive recommendations: The Company should implement a formal introduction process of newly hired staff members. The process would begin by the supervisor having a pre-planned meeting involving current team members with a briefing that includes the newly hired personnel and their roles. Furthermore, it is imperative for new members of the team to be integrated and implement the Leader-Member Exchange (LMX) which can be found in chapter 11 of the text. The phases are stranger phase, acquaintance phase and mature partnership phase. (Hellriegel & Slocum, 2011, p. 323)
This leadership development trait is especially important to me and should be a guide to follow when integrating new personnel into a team. The next step would be the introduction of the newly assigned personnel and each person should be introduced with proper titles and their roles within the organization; this will ensure that respected supervisor roles and key roles are respected. The introduction of established leadership chain is explained so that regard to the management is understood by the newly hired staff members. This should be implemented because in the case study Dr. Jerrold did not apply this action and Mr. Fester was not aware of his role and Mr. Knowlton's existing role and this caused confusion for all key characters. The duties that Mr. Fester carried out was conflicting with Mr. Knowlton's role that he seemed to shut down and eventually leave the company.
Third step, after the formal introduction brief the lead supervisor should implement is take the two team leaders and have a private meeting for all of them to initiate a bond on their own. The bond would further extend out to their team. For instance, Dr. Jerrold should have linked Mr. Fester and Mr. Knowlton up and allowed them to have dinner or have an off-site meeting to get acquainted. This approach would have broken up an unnecessary conflicts in the workplace for the both of them and the team members as they expressed they uneasiness around Mr. Fester. Furthermore, the supervisor should hold a monthly ice-breaker activity so that new and current staff members can interact with one another. My team does this a lot especially when we begin to experience tension in the workplace and it seems to alleviate some social barriers. Lastly, without a tangible new orientation process for newly hired staff members, newcomers may experience resistance towards their supervisors and coworkers and this can be detrimental to the work environment and the work itself. Case study Question 2:
What leadership style did Knowlton need from Dr. Jerrold after Fester arrived? Did he receive this? Explain. Finding of Fact 2: The leadership style that Mr. Knowlton needed from Dr. Jerrold was the facilitate style which is when " the leader presents the problem to the team in a meeting, acts as a facilitator, defines the problems to be solved, and sets the boundaries within which the decision must be made. The goal is to get agreement on a decision." (Hellriegel & Slocum, 2011, p. 308) This style was not utilized by Dr. Jerrold as a supervisor as he just asked the question to Mr. Knowlton without consulting all the staff members as a team. The facilitation as a group on a decision would have benefitted the team so that the entire team will come to an agreement as a whole. This was evident when the tension amongst the staff began to arise and Mr. Knowlton ended up leaving the job without a formal announcement.
Recommendation: A meeting should be called for the entire lab in where the head supervisor, Dr. Jerrold should facilitate and have the team speak out on issues that is currently affecting the lab at the current moment. This move may have compelled Mr. Knowlton to speak up regarding his internal issues of mixed feelings. Additionally, it may have shed some light on Mr. Fester regarding his ways of being too assertive and pushy. Dr. Jerrold should provide an outline of a design of how the teams will contribute and assigned specific roles to Mr. Knowlton and Mr. Fester and specify teams. The facilitation should focus on current issues and projects for the lab and upcoming projects and assign Mr. Fester and Mr. Knowlton to different one's so they still have a sense of responsibility. Justification of finding: The failure in communication amongst the group was evident in the case study "Knowlton has little difficulty making a convincing case whether Fester's brilliance actually was sufficient recompense for the beginning of his team's breaking up. " (Hellriegel & Slocum, 2011, p. 308)
Furthermore, it appeared in the case study that Dr. Jerrod began to favor more of Mr. Fester's works. This became awkward for Mr. Knowlton and it questioned his intellectual attributes and contributions to organization. Analysis of the OB Concept 2: Facilitate leadership style is an organizational behavior that I think would have been helpful in this case study. The team concept was missing and the Dr. Jerrold could have alleviate the tensions among the team as a whole. In addition, considering the situation, the variables such as team support is "the degree to which the subordinates relate to the interests of the organization as a whole to solve the problem." (Hellriegel & Slocum, 2011, p. 309) The key attributes is common goal as a team to unite and rectify challenges and in their case the encounters with Mr. Fester.
Reactive recommendations: Dr. Jerrold should include all members of the lab in developing effective ways of communication to ensure that staff members rebuild a rapport and bridge communication gaps amongst all staff members. He should call a meeting or training session to stop the miscommunication or non-communication that was happening within the organization and did not foster cohesion. Proactive recommendations: The company should implement a "communication focused" type training that will enhance the communication skills within the organization. All employees at all levels should be included. The training should encompass techniques and methods that will create effective communication channels and will regain team cohesion.
The training should incorporate activities and demonstrations focusing on ways to combat stress within the workplace and address possible hostile work environments. In example, Dr. Jerrold was shocked to learn that Mr. Knowlton was departing the company, which tells us that he was unaware of the activities within the organization. This is not effective communication and supervisors should considerate and have a considerate attitude towards their employees regardless of their indifferences. In addition, the training should incorporate the various ways that communication can be utilized such as addressing diversity issues, confronting hostile environmental issues, job satisfaction, personal problems or other circumstances hindering job performance. Various issues occurring within the workplace can be combated through effective communication between supervisor and subordinates. Case study Question 3:
Was Knowlton's team effective before Fester arrived? After Fester arrived? Why? Why not? Finding of Fact 3: Team empowerment is an organizational behavior that was expressed by Mr. Knowlton's team prior to Mr. Fester's arrival to the lab. It was effective as stated in the case study "The members of Knowlton's group including the secretaries, sat around the table in the conference room for a group meeting. He had always prided himself on the fact that the team as a whole guided and evaluated its work." (Hellriegel & Slocum, 2011, p. 548) Team empowerment is about the team members having confidence in one another and each person having significance. Furthermore, after Mr. Fester's arrival the team began to divide up due to tension and the assertiveness he brought upon the group. Recommendation: The leadership should re-foster the loss of team empowerment and an initiative should start with the head supervisor.
Apparently, the team cohesion had lost its power when a shift in personnel took place and the only recommended solution is to the team back together and Dr. Jerrold needs to take control of his team and bridge the gaps and instill team empowerment again. Justification of finding: The fact that Mr. Fester's arrival to the lab brought a division on the team is evident that team lacked team empowerment. The morning meeting with Mr. Knowlton's team had establish cohesion and fostered team empowerment and every member was valued. However, when Mr. Fester joined the group they had divided up because they felt uneasy working around him. Analysis of the OB Concept 3: Team empowerment is important and was relevant prior to Mr. Fester joining the team. Team empowerment refers to the "degree to which its members perceive the group as being competent, having choice in how they carry out tasks, and experiencing a sense of importance." (Hellriegel & Slocum, 2011, p. 350)
In addition, adapting the team empowerment serves as an added tool for every team member to have a sense of belonging and after Mr. Fester's arrival and Mr. Knowlton's departure the team lost that empowerment. Good leaders should foster that positive empowerment allowing the team to strive for excellence. Reactive recommendations: An urgent needs to be called to gather the team members and discuss that there will be changes to get the team back together and rebuild the effectiveness of the teams. However, as a reactive solution a long-term solution to prevent this from happening is to plan for several aspects to occur that will involve regaining the team member's trust and loyalty back. The meeting should focus on short-term goals to fix the broken gap and stipulate to employees that their individual contributions to the team assist in inspiring the lab's overall performance. Proactive recommendations: The long term proactive recommendations would be creating a plan that would include an initial meeting highlighting the issues and challenges the lab is faced with on team empowerment. Allow, for a facilitation with people who do not work at the company to serve as host of the meeting.
This technique can be effective because some members may be attuned to speaking to unfamiliar faces rather than personnel they work with. Next, set a date for an ice-breaker social event that will allow employees time away from the lab to mingle and reunite ensuring to implement techniques involving team building aspects. Methods that will incorporate the team building events are like getting to know each other all over again and make it fun so that the employees will be more relaxed. Finally, get feedback from the team members on how their view of team concepts and emphasize that their feedback is valuable. Consideration, facilitators should keep employees motivated and allow for collaborations on strengths and weaknesses and how they can share with one another or contribute to the team. Case study Question 4:
What changes in conflict management should Dr. Jerrold make to prevent another Knowlton problem? Changes that would assist Dr. Jerrold in preventing the problem that happened with Mr. Knowlton would be implementing mandatory training that employees must attend regularly to avoid conflicts. As the saying goes that practice makes perfect and if the organization needs to send the message to the staff consistent effective training should start as an improvement in short-comings. The training should focus on desired outcomes to resolve conflict and focus on team building concepts.
The training can serve as a promotion of a better work environment and perhaps may bridge the seams that were falling apart as a result of the Mr. Knowlton case. In addition, methodologies should be incorporated and adapted to be utilized by employees when negative outcomes are perceived by any staff member and does not necessarily have to be a supervisor. Encouraging all members that they are leader's helps to foster a team of trust and loyalty. This training can assist in attaining a better and stronger organizational culture that will shape current and new employee's alike.
Works Cited
Hellriegel & Slocum. (2011). Organizational Behavior. Mason: Cengage Learning.
Related Topics