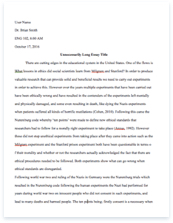 The whole doc is available only for registered users
A limited time offer! Get a custom sample essay written according to your requirements urgent 3h delivery guaranteed
Order Now
Being professional can mean many different things. It can mean looking professional with the way you dress or how your hair is styled. It can also mean having great interpersonal and communication skills. Another thing that can make someone seem professional is having exquisite posture. All of these things make people seem more presentable and approachable which makes them also seem professional. So, what makes a person look professional? Choosing the Professional Law Firm job field the person pictured in the image does look professional. The reason that he looks professional is because he is dressed in appropriate attire. He has on a suit that looks pressed and is wearing a tie with it. These factors make the man look professional because it is what is expected of someone in this field to look like. The man was smiling which also makes him look like he is confident in himself, which is something that a person would look for in a professional.
He has spectacular communication skills and superior posture, which helps in his professional appearance. The only thing that could be determined as looking unprofessional is that his hair is out of place. Some people could look at this as him being disheveled and not being able to handle the workload required of him. Appropriate attire for someone working in the field of psychology is formal business attire. Unless the psychologist is working with children then usually the attire is a bit more casual (Gavazzi, 2011). "Women have to be careful because some men may misinterpret clothing perceived as too attractive, especially in combination with the use of first names, as an invitation to a boundary crossing" (Gavazzi, 2011, Para. 2). It is appropriate for women to wear dress shirts with either a long skirt or dress pants. It is also appropriate for them to wear some type of dress shoes whether they have heels or not. What makes someone a professional in psychology; one thing is their appearance.
Appearance is a key factor in looking professional in any field. "In a survey by OfficeTeam, 93% of managers polled said a person's style of dress at work influences his or her chances of earning a promotion; one-third said on-the-job attire "significantly" affects an employee's advancement prospects" (Hosking, 2009, Attire). The way a person dresses in the field of psychology makes them seem professional. Another thing that makes someone look professional is the way they communicate. If a person is able to communicate well both verbally and written then they look more professional then if they cannot communicate well. Another skill that makes a person in the psychology field is being organized. If a client comes into a disorganized office they are more likely to turn around and leave because of not trusting the Psychologist rather than if they were organized. One behavioral attribute that I practice that identifies me as a professional is strong communication skills.
I have the ability to talk to many people no matter what their age and be able to talk to them like a peer. Another attribute that identifies me as a professional is good posture. It is very rare that you do not see me sitting or standing up straight. I also identify with is being aware of personal space. I do not like my personal space invaded so I do not invade somebody else's. When it comes to work I make sure that I am always dressed to impress. Meaning I am in dress pants with an appropriate dress top. I make sure that not too much skin is showing with the top. I also, as stated before, have fantastic communication skills. I can sit and talk with pretty much anybody. I make sure that I am standing and sitting up straight which leads to good posture; this makes one look more professional. I always make sure to walk into a room with a smile on my face.
This makes people feel more welcomed by you and they find that professional. I also carry myself with plenty of self confidence but yet not too much of it. Having self confidence is a great thing and makes you look professional. However, the downfall of that is having too much self confidence which makes people look at you like you think that you are too good for them. This will make you look unprofessional. Looking professional can mean a multitude of things. I personally, think that it means having the right appearance for the right job. It also means having fantastic communication skills, having the right amount of self confidence, and having good posture. However, if you would ask somebody else what looking professional means they could tell you a whole bunch of other qualities. What professional looks like depends on the individual person that is being asked.
References
Gavazzi, J. (2011, June 21). Where Ethics is more than a Code. Retrieved July 15, 2014, from http://www.papsyblog.org/2011/06/what-should-i-wear-to-work.html Hosking, R. (2009). Career ladder. OfficePro, 69(8), 5-5.
Related Topics