Beatniks of the 1950s and the Counter-Culture of the 1960s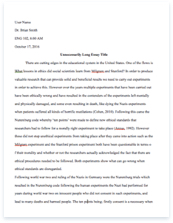 The whole doc is available only for registered users
A limited time offer! Get a custom sample essay written according to your requirements urgent 3h delivery guaranteed
Order Now
From the 1950s to the 1960s, a lot of social changes transpired. People started to question the status quo and rebel against the majority. These reactions were brought forth by the public's conservatism and embrace with consumerism. As a result various movements have emerged who openly voiced out their perceptions, ideas and attitudes towards culture, economy, politics and other aspects of the society.
            In the 1950s, a socio-cultural movement had emerged called the Beatniks. The main goal of the movement was to "subscribed to an anti-materialistic lifestyle in the wake of WWII" (AbsoluteAstronomy.com, 2009). Generally, the beatniks opposed American "values, customs and tastes" and supported radical politics and exotic jazz, art and literature" (Bartleby.com). Along with the formation of this group was the manifestation of the Beat culture which emphasized the significance of individualism that was promoted by New York literary writers. This kind of lifestyle and way of thinking was perceived as a real threat to the "postwar social order that was exemplified in middle class suburbia." Because of this, many thought that the Beatniks were purely against and rejected the norm. But in hindsight, the Beat movement had a more multifaceted and nuance relationship with society (Nash).
Meanwhile, the cultural revolution initiated by the Beatniks flourished by the 1960s but this time, the principles promoted have intensified and reached a wider audience. This was the period when the counterculture was born. The youth were the principal actors for this change. They used "music, politics, and alternative lifestyles" to advance the counterculture. More so, this was the time when people started to go against the flow, practice the "Judeo-Christian tradition," use drugs like marijuana, challenge authority, care for the environment, profess sexual freedom and promote gender and race equality (Hoffman).
These two eras represented the awakening of the society to uphold their independence against the traditional. The Beatniks paved the way for the manifestation of the counterculture which influenced the development of the present modern society.
References
AbsoluteAstronomy.com. (2009). Beatnik. Retrieved May 23, 2009, from http://www.absoluteastronomy.com/topics/Beatnik
Bartleby.com. (n.d.). Beatnik. Retrieved May 23, 2009, from http://bartleby.com/59/17/beatniks.html
Hoffman, A. (n.d.). 1960's Counterculture. Retrieved May 23, 2009, from http://www.artsandmusicpa.com/popculture/60%27scountercult.htm
Nash, C. (n.d.). "An Ephemeral Oddity"?: The Beat Generation and American Culture. Retrieved May 23, 2009, from http://www.nottingham.ac.uk/english/working_with_english/special_issues/literary_fads_and_fashions/Nash_31_07_06.pdf
Related Topics